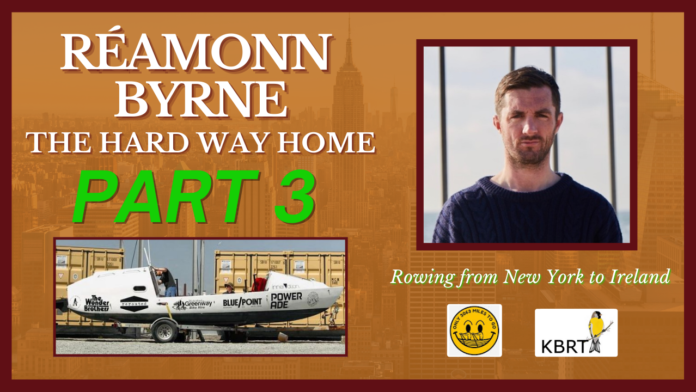 Réamonn Byrne from The Hard Way Home returns to reflect on his team's attempt to row a 25-foot boat from New York to Ireland over the summer.
Réamonn, Chris McCaffrey and Ryen Cosgro were embarking on a 3000-mile voyage to raise funds for the Kevin Bell Repatriation Trust.
The journey was plagued by setbacks and the lads had to be pulled ashore to Cape Cod just one week into their initial voyage.
They set sail again in July and appeared to be going well while overcoming more problems – including the boats rudder getting seriously damaged – but eventually had to end the journey because of a technical failure.
They were about two-thirds of the way to Ireland before eventually getting picked up by a massive oil tanker.
Read More: End of the Line For Valiant Hard Way Home Crew
Ray gives Michael a recap on the trials and tribulations of trip, the problems they faced and if they will attempt the feat again.
Ray is now back working at his Chelsea Restaurant in Manhattan, called Worthwild, so the pair also delve into the current state of the New York City hospitality scene and how inflation is just the latest blow to the industry.
Check out our previous podcast with Colin Bell to find out more about Kevin Bell Repatriation Trust, which is on our website https://thelonghallpodcast.com/
We also have stories on Jason Quigley's world title fight in New Hampshire Friday, an uplifting story on the near 150 Irish runners who completed the New York City Marathon last Sunday and the revealing of the new Shannon Gaels pitch in Queens!
You can also read about other Irish American sports stories and other news items on the site. Let us know what you think by leaving us a comment on Facebook, Instagram and Twitter, @thelonghallpodcast Subscribe to be the first to be notified of a new episode!!
PODCAST: Réamonn Byrne – The Hard Way Home – Rowing From New York to Ireland