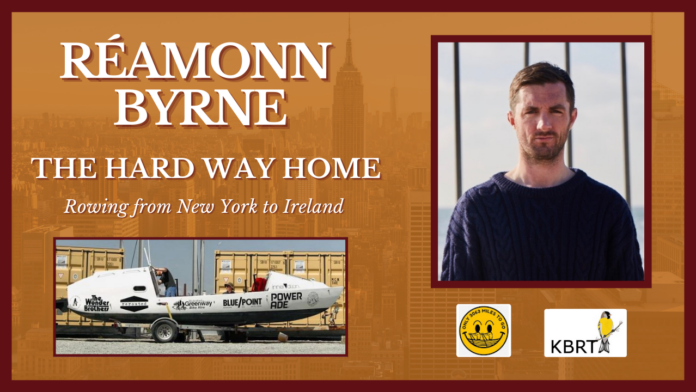 On this week's podcast Michael speaks to Waterford man Réamonn Byrne who is about to embark on a daunting journey to row a boat across the Atlantic – from New York to Ireland.
Réamonn, along with Americans Chris McCaffrey and Ryen Cosgro, will attempt to row a 25-foot long rowboat unassisted from Montauk to Dungarvan in County Waterford in aid of The Kevin Bell Repatriation Trust.
The 3,000-mile voyage is called The Hard Way Home and Réamonn talks about how it came about, the logistics in putting it together, the team's preparations and the dangers which lay ahead in navigating the world's second-largest ocean.
The Hard Way Home journey is expected to take around 70 days to complete and the team has been plagued by delays due to unfavorable weather conditions.
To keep up to date with the latest developments of The Hard Way Home follow the team on Instagram or Facebook on the handle @thehardwayhome. The team will also be posting updates to social media throughout the trip.
If you'd like to support the team, CLICK HERE to donate or check out their website thehardwayhome.com 
You can follow us on Facebook, Instagram and Twitter and please make sure you subscribe to the podcast on YouTube and your streaming provider so that you are instantly notified on new episode releases.
We are currently expanding this site to cover more Irish American news stories so if you would like to suggest a story or submit one yourself please message us on social media.
Réamonn is also the co-owner of WorthWild, an upscale restaurant in the Chelsea neighborhood of Manhattan and he touches on the challenges the hospitality industry in New York City has faced during COVID and his predictions on the future of the industry.
He also tells me why he chose to raise money for the Kevin Bell Repatriation Trust which brings the remains of loved ones home to Ireland if they have died tragically abroad.
The charity was discussed in detail in our previous podcast with Colin Bell who set up the Trust.