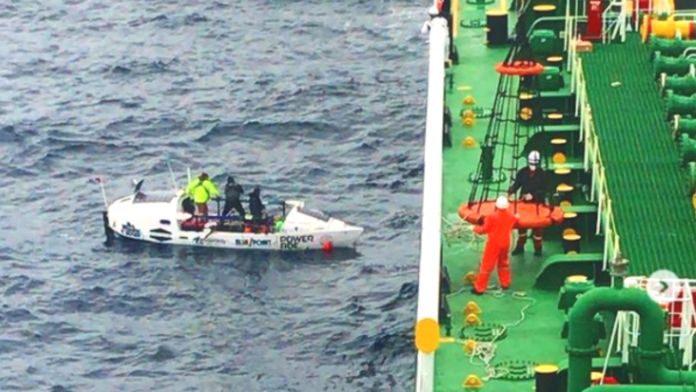 Aug. 31, 2021 By Michael Dorgan 
The goal of three men to row a boat from New York to Ireland has come up short of the finish line – however, their success can be more accurately measured in bravery, determination and perseverance.
Réamonn Byrne, from Waterford, along with Americans Chris McCaffrey and Ryen Cosgro were embarking on an inspirational 3,000-mile voyage to raise money for charity but technological failures have forced them to abandon the trek indefinitely.
The team, known as The Hard Way Home, were weeks at sea rowing a 25-foot boat nicknamed "Barney" but announced Friday they had been pulled aboard a large oil tanker somewhere in the Atlantic Ocean.
The crew were picked up more than 1,000 nautical miles out from shore and are all safe, Byrne told the Long Hall Podcast website.
It brings to an end a captivating and inspiring journey that was besieged by setbacks – which only seemed to embolden the team to complete the gruelling task.
"After dodging so many bullets and coming up with solution after solution to keep it moving we've unfortunately run out of luck," the team wrote on Instagram.
"We can't go on with communications and safety systems dark, so while obviously disappointing, it's a decision that makes itself.
"Still processing it all but I know we have gained everything but the glory and are better men than the day we departed."
View this post on Instagram
The team wrote that the boat's new power system began failing them by displaying error messages and then switching on and off. They wrote that it could not be fixed without a spare motherboard and, with their safety at risk, had to call a halt to the epic voyage.
The latest problem arose after they had already repaired the rudder being ripped off the back of the boat caused by a massive wave crashing into it. The boat also capsized a number of times, they wrote.
The team initially set sail in June to raise funds for the Kevin Bell Repatriation Fund Trust, an Irish-based charity that covers the cost of bringing a loved one's remains back home to Ireland if they have died under tragic circumstances.
Around a week later they had to be pulled ashore to Cape Cod in Massachusetts to fix some mechanical failures.
PODCAST: Réamonn Byrne – The Hard Way Home – Rowing From New York to Ireland
They set off again in mid-July and had been at sea for a number of weeks before more problems arose.
When the team notified their followers on Instagram that they were forced to call off the journey – the messages poured in.
"Still just an insane effort and so much determination. Lesser people would have been broken earlier," said one poster.
"Your courage and pure grit has inspired all of us on here and none more than the courage you showed when it mattered most," wrote another.
We at The Long Hall Podcast commend them for their grit and determination, and who's to say they might not try it again next year?
They are safe and raised awareness of a noteworthy cause in the Kevin Bell Repatriation Trust. For that, and all they have achieved, we salute them.
We hope to have Ray back on the podcast soon for an update.
If you'd like to support the team in their efforts to raise money for the Kevin Bell Repatriation Trust, CLICK HERE to donate or check out their website thehardwayhome.com
To keep up to date with the latest developments of the team follow them on @thehardwayhome.
View this post on Instagram
View this post on Instagram