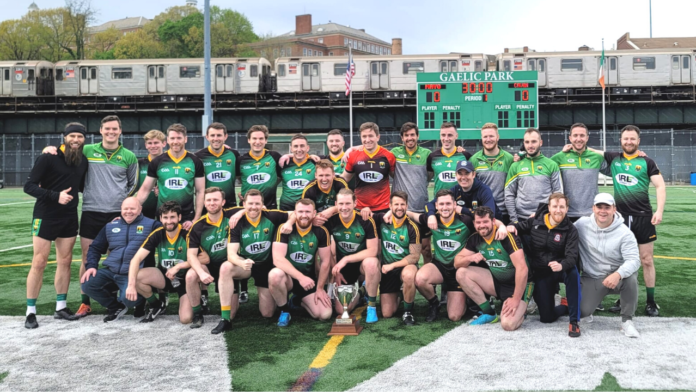 2022 New York Senior Football League Final
Brooklyn Shamrocks 2-13 Westmeath 1-13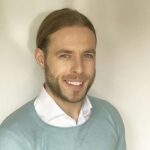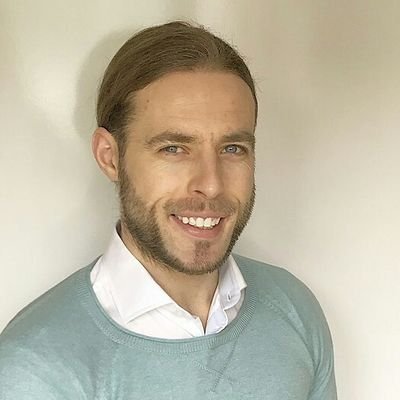 By Michael Dorgan at Gaelic Park
Brooklyn Shamrocks claimed their first-ever trophy in the New York senior football ranks Sunday edging Westmeath in the league title decider.
"The Rocks" did enough to topple the Lake County who were right in contention up until the final whistle despite playing the entire second half with a men less – midfielder Brian Travers was shown the sideline on the stroke of halftime following a late tackle.
The win marks a major milestone in Brooklyn's long history having been established in 1955. The club is competing in the senior division for the second year under manager Tommy McConvey having won the Intermediate Championship in 2020.
Westmeath won the Intermediate title last year after multiple final defeats and are back at the top level for the first time since 2005.
As with all league games this year, both teams lined out with 13 men a side Sunday which allowed for oceans of space at headquarters and the overcast weather ensured playing conditions were ideal.
Brooklyn was quickest out of the blocks and raced into a 6 points to 2 lead after 20 minutes with midfielder Mark Barrett hitting three excellent points while New York forward Niall Madine also raised three white flags.
Westmeath would rue a number of wides in the early exchanges but rallied back with three points on the bounce courtesy of two from Finnegan and a Carmody right-footed effort —  New York player Dan O'Sullivan and Patrick O'Connor were pulling the strings for Westmeath
Possession was even enough in the first half and play was a bit scrappy at times with various stoppages for injuries and fouls.
The game really burst into life just before halftime when Madine found Adam George who fired at goal but his shot was well blocked by the diving Nally. Adam scooped the spilled ball soccer-style up to Madine whose left-footed shot was bravely saved by Guerin. However, the ball fell back to Madine who turned onto his right and angrily belted the ball into the net.
O'Sullivan popped up with his second for Westmeath soon after following some impressive fielding by O'Connor in the middle of the park but substitute Culhane canceled that score out seconds later.
PODCAST: "Katie Taylor is Absolutely NUTS!" Gavan Casey Reviews the Taylor v Serrano Fight at MSG Last Night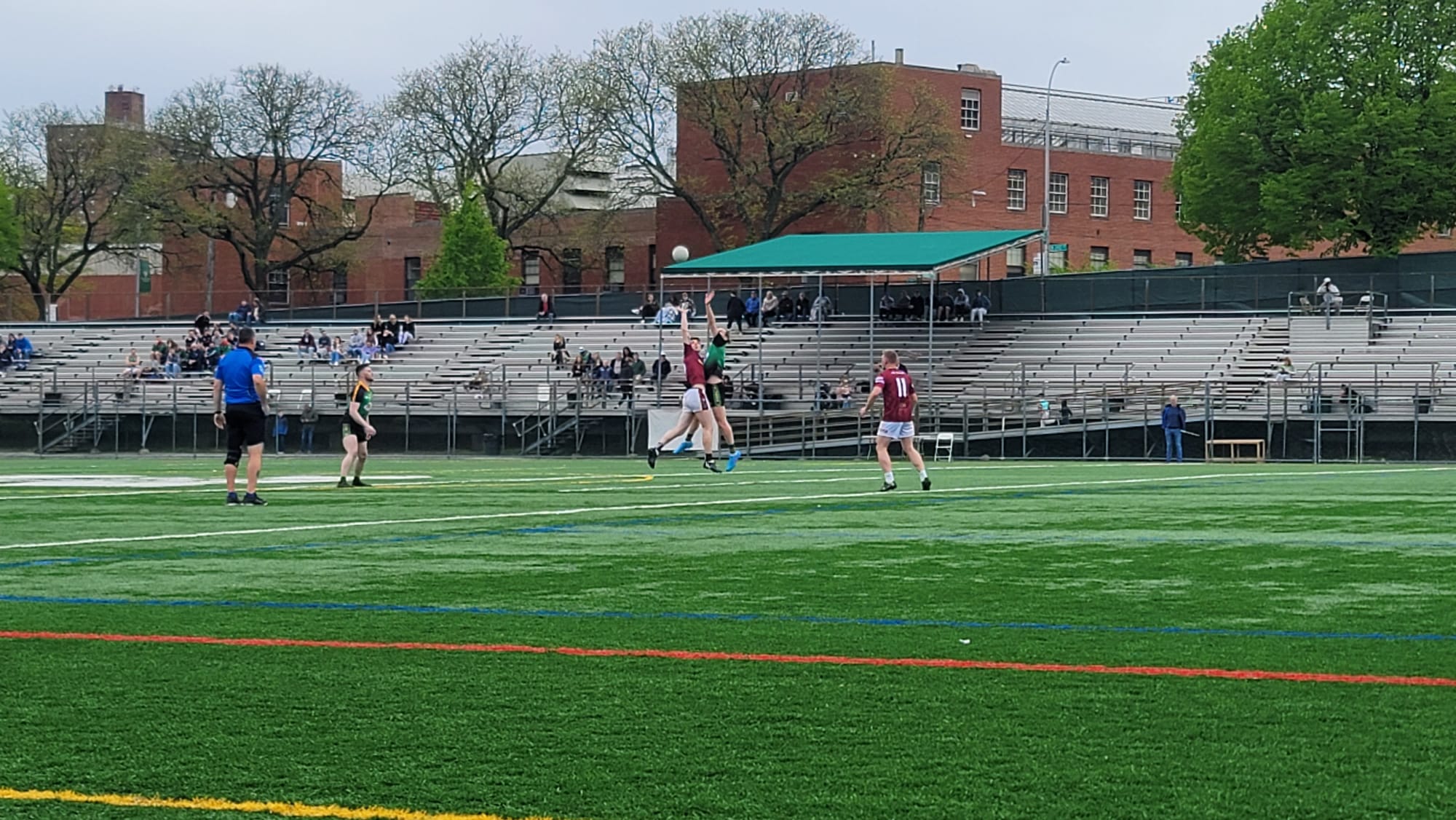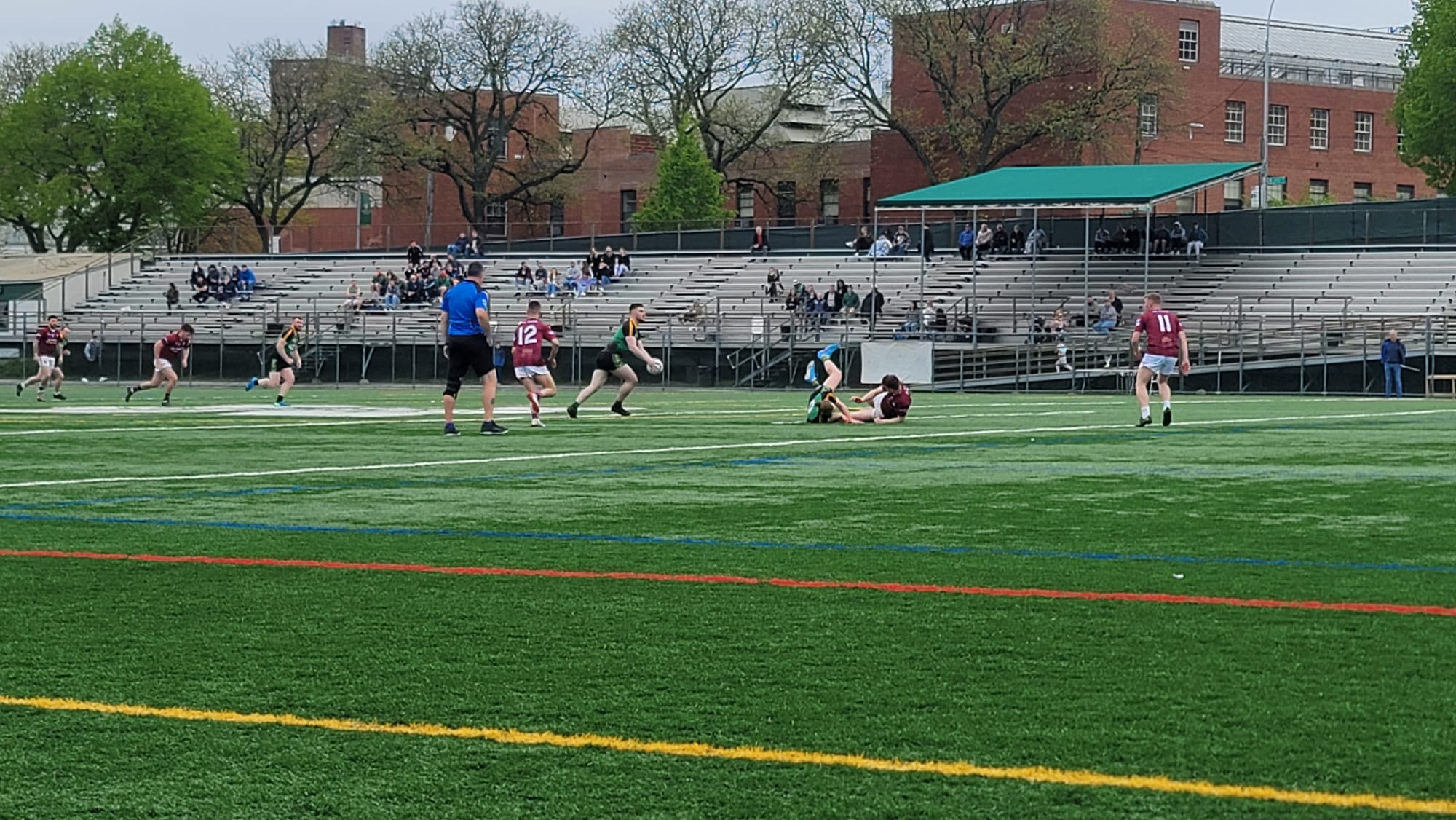 Westmeath reduced the deficit back to a single point as we headed into injury time when Carmody's outstretched left hand got to a high dropping ball ahead of Cunningham. After some dispute about a square ball infraction referee Patrick Donohue correctly left the goal stand.
Then the turning point of the game came. Culhane was speeding down the left flank and offloaded but was hit late with a crunching tackle by Travers. Donohue indicated a black card and with the Kildare man already on yellow — the final outcome was to be red.
Cunningham, who is also New York's netminder, pointed the resulting dead ball to leave the half-time score 1-8 to 1-6 in favor of Brooklyn.
It appeared like a tall order for Westmeath in the second half and straight from the throw in Gillespie found Madine with a high ball only for the powerful forward to be pulled back by Nally and referee Patrick Donohue quickly waved for a penalty.
Up stepped Madine, but the spot-kick was excellently saved by Guerin to his right-hand side. Guerin was quickest to the rebound too and punched the grounded ball to safety. It should be noted that Guerin also pulled off penalty heroics in last year's final.
The save emboldened Westmeath and they worked a good score from the rebound which was finished off by O'Connor bringing the deficit back to a single point.
McDermott and O'Sullivan hit two unanswered points to edge Westmeath ahead before Madine leveled matters as a cracking contest was now unfolding.
Stones did have the ball in the Brooklyn net — but after some discussions with his umpires, Donohue disallowed the score as the big forward was adjudged to have been in the small square. Two major square ball calls by the referee — and two which he got absolutely correct.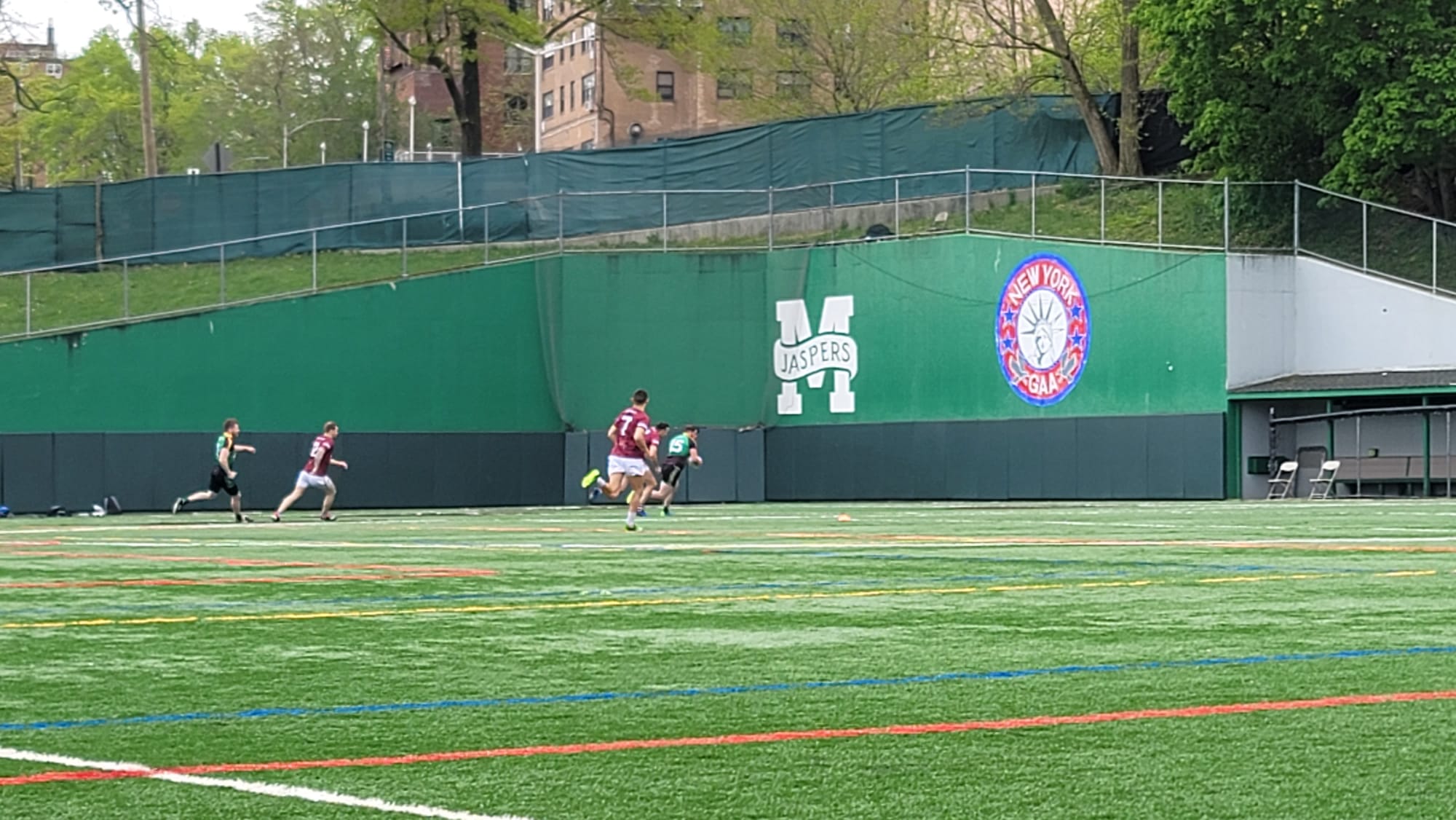 It was nip and tuck now with points by O'Connor and Finnegan for Westmeath and Devlin and Culhane for Brooklyn squaring things again at 1-12 apiece before Malone and Madine nudged Brooklyn two ahead.
Then, as Madine looked set to pop over an easy free from inside the D, the shrewd forward went short to Gillespie in search of a killer goal. Gillespie turned Sean Moore, and referee Donohue adjudged the cornerback to have pulled him to the ground — despite appeals from Moore and Guerin.
Madine handed the spot-kick duties over to Culhane who made no mistake — incidentally sending the ball into the same corner Madine picked earlier but Guerin went the opposite way this time around — 2-13 to 1-11.
PODCAST: Pat Spillane – Kerry Football Legend Reflects on New York v Sligo
With around 5 minutes of regulation time remaining — and Brooklyn's extra man advantage —  it seemed a simple matter of the Rocks playing down the clock. But Westmeath were nothing if not dogged and they pulled two points back courtesy of McDermott and then O'Connor.
They tried valiantly to work an equalizing goal but the buzzer rang out and county chair Joan Henchy presented winning captain Conor Connolly with his history-making cup.
Both teams have quality squads and are sure to be competitive in this year's championship which gets underway next week.
Brooklyn: Michael Cunningham; Redmond Hanna, Alan Campbell, David Langen, Connor Connolly (Capt.), Andrew McGowan, Antony Devlin, Mark Barrett, Kevin Hannigan, Stephan Malone, Adam George, Aidan Lawlor, Niall Madine.
Scorers for Brooklyn: Madine 1-5 (0-2 frees), Culhane 1-2 (1-0 pen), Barrett 0-3, Malone 0-1, Devlin 0-1, Cunningham, 0-1 (0-1 frees).
Subs used: Shane Gillespie, David Culhane, Ollie McLean, Shane Boyle.
Westmeath: Pat Guerin; Sean Moore, Keith Scally, Trevor Holloway, Mark Nally, Dan O'Sullivan, Stephen Monaghan, Brian Travers, Dylan McDermott, Patrick O'Connor, Phelim Finnegan, Darragh Carmody, Adam stones.
Subs used: Conor Lynam, Ger McPartland, Brendan Oates.
Scorers for Westmeath: Carmody 1-1, O Connor 0-3, McDermott 0-2 (0-1 frees), O'Sullivan 0-3, Finnegan 0-3 (0-2 frees), Nally 0-1
Referee: Patrick Donohue
View this post on Instagram