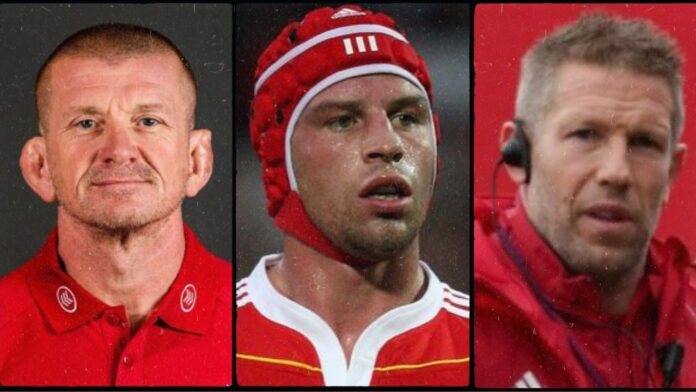 Oct. 14, 2023
The hugely popular Friends of Munster annual dinner took place at the New York Athletic Club last week with 300 people packing out the venue to raise valuable funds for the next generation of Munster stars.
Attendees were treated to a very insightful conversation between Munster head coach Graham Rowntree and RTE's Marie Crowe, while the journalist also spoke to Munster legend Denis Leamy and current Munster fullback Mike Haley.
There was also an auction, while the URC trophy was also on display. Ahead of the dinner, Michael spoke to head coach Graham Rowntree, Denis Leamy, who won two Heineken Cup medals with the province, and Colm McMahon, a former Munster player who is the head of rugby development at the club.
As mentioned during the last podcast with Donncha O Callaghan, Munster is looking for charitable people to sign up for its Patron Programme that helps fund player development in the province, email [email protected] for more.
First up, Michael Dorgan speaks to Graham Rowntree, Munster's Head Coach.
Munster legend Denis Leamy, a two-time Heineken Cup winner, talks to Michael about his role as a trainer with the province, last year's URC win, as well as Ireland's game against the All-Blacks on Saturday.
He also talks about youth development, his difficulty retiring from rugby early due to injury, and his time as a teenager working at Coolmore Stud.
Colm McMahon speaks to Michael about his role as the head of rugby development and the importance of the Friends of Munster Dinner.
McMahon is a former Munster player and spoke at the Friends of Munster Dinner, outlining its importance in developing the next crop of Munster stars.
View this post on Instagram
View this post on Instagram