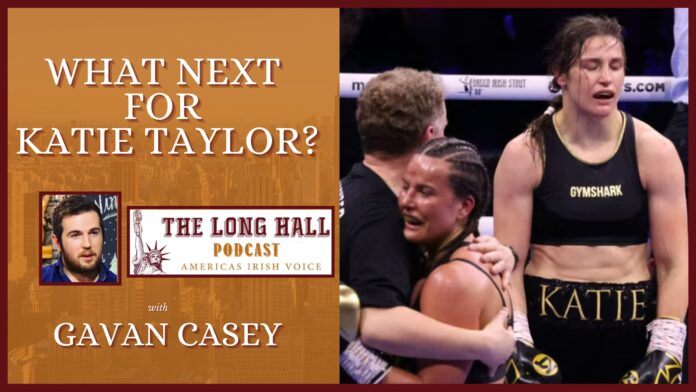 Katie Taylor suffered the first defeat in her professional to England's Chantelle Cameron Saturday.
The defeat raises serious questions about her future in the sport, with a rematch now likely. Gavan Casey of the42.ie is back to give his expert analysis on her future.
Taylor went down 96-94, 96-94, 95-95 with Cameron successfully retaining her undisputed junior welterweight titles.
Watch highlights of the fight here
Gavan's analysis on the42.ie here
00:00 – Intro 00:18 – Looking Back on "Homecoming" Event in 3Arena 03:32 – Comparing 3Arena atmosphere to MSG Last April for Serrano Fight 05:38 – Review of Katie Taylor v Chantelle Cameron Fight 09:56 – Tactics of Katie Taylor v Chantelle Cameron Fight 11:42 – What Next for Katie Taylor, will a Rematch Happen? 18:24 – Will the Katie Taylor v Amanda Aerrano Ever Happen, and If so, Where? 20:14 – Is Big Time Boxing Now Back in Dublin, Ireland? 23:23 – Who are Ireland's Biggest Boxers Right Now? 25:48 – Will Michael Conlan Defeat Luis Alberto Lopez? 26:39 – Chantelle Cameron Came, Saw and Conquered 29:59 – Was Katie Taylor's Ring Walk v Chantelle Cameron Too Long?