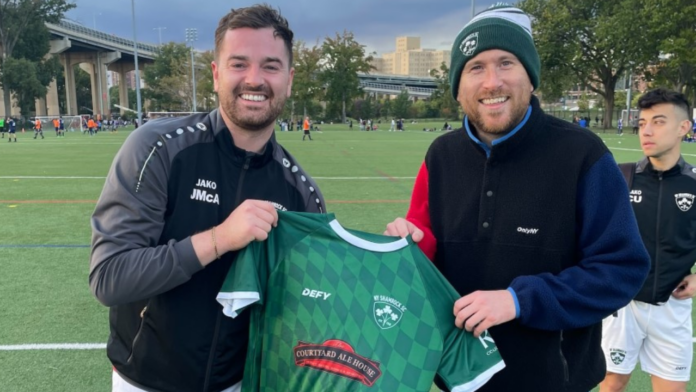 A round-up of games played by the New York Shamrocks last weekend 
Oct. 19, 2021 By Ger Shivnan
It was a perfect weekend for the three Shamrocks teams that had cup matches last weekend, with all three winning at Randall's Island.
Over 30s
First up were Kevin McPhillips' Over 30s in the Marth Cup. The Shamrocks started well dominating all sectors but failed to trouble the scoreboard. The opener eventually did come courtesy of a close-range finish from Chris Cox following a sustained bout of pressure.
NY Polet struck back almost immediately, breaking the Shamrock offside trap to draw level.
Polet then took the lead when a break from their box saw Shamrocks shorthanded at the back and a cool finish beyond Kieran McGovern was the result.
Before half time Shamrocks were level. A well-delivered corner was met by the head of Ollie Lutton to restore parity.
The second half began like the first, Shamrocks having the better of the exchanges, but then a slight momentum shift came and Polet, dominating for a spell, took the lead again.
Shamrocks regrouped but play was fractured at best with the home side struggling to create chances.
Read More: NY Shamrocks Week 5 Report: McPhillips Inspires His Over 30s to Victory
As the game went past the 70-minute mark Shamrocks began to exert pressure that was leading to chances.
Joey Zorbo was beginning to find space and cause the defense trouble. Ger Shivnan crossed for Lutton but it was just at an awkward height for the midfielder to make contact.
Minutes later Shivnan had a chance that in reality, he should have pulled back to Lutton but he flashed his shot wide. Eventually, the ever industrious Gil Christenberry pounced on a loose ball in the box and sent the game to penalties.
The Rocks booked their passage to the next round courtesy of the accurate strikes from Ollie Lutton, Matt Moccia, Chris Cox and Charlie O'Loughlin and two fine saves from Kieran McGovern. Next up for the 30s are Rosedale Social FC.
First Team
The First Team progressed to the next round of the Flamhaft Cup thanks to the tactical masterclass by coach Stuart Colbert.
A goal-less first half – despite being a man to the good – saw Colbert opt to move his rangy center back John McAleenan to center forward to add an aerial threat to the attack.
Ten minutes into the half Colbert's inspired move paid dividends when the South Bronx keeper made a mess of a header back to him and the wily McAleenan made no mistake from two yards out.
It was only mere minutes later when McAleenan's predatory instincts were to the fore with a smart finish to double his side's advantage.
Read More: Fully Vaccinated Irish Travelers Will Be Able to Enter US From November 8
The game was blown up early following unsavory scenes after South Bronx United were reduced to 9 men when their center forward accosted the referee.
It was mere formality for Colbert's men who were only going to pile on the agony as the game continued. The early whistle did deny McAleenan his hat-trick though Colbert may have opted to withdraw his star striker who is still on the path back to full fitness. Borgetto await Colbert's side in the next round.
Reserves
In the D'Arpino Cup, Robbie O'Neil's Reserves had a solid 2-0 win over Ukrainians with goals from Mikey Brunton and Paul McDaid.
The result was marred by a bad challenge on Reserves striker Joe Connolly who was forced off as a result. The Club would like to wish Joe,all the best in his recovery.
Follow NY Shamrocks on Instagram, Facebook and Twitter.
Shamrocks Adult teams 2021/22 Season:
Men's First – CSL Div. 1 (reigning champions)
Men's Reserves – CSL Reserves Div. 1 (reigning champions)
Over 30s – CSL Division 3 Eas
Legends Over 40s – CSL Over 40s (Long Island Soccer League League Cup 20/21 winners)
Women's – NYMWSL Division A
NY Shamrocks PRO Ger Shivnan will be coming on the podcast in a few weeks, stay tuned!
Kevin Grogan, a former Manchester United and Republic of Ireland youth player, has managed Shamrock's first team in the past. See our podcast with Kevin below.