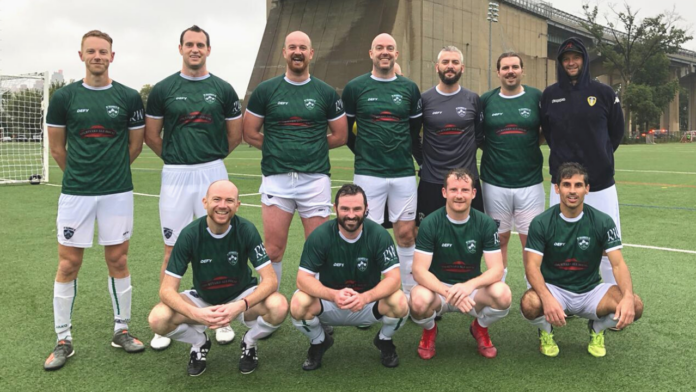 A round-up of games played by the New York Shamrocks last weekend 
Oct. 13, 2021 By Ger Shivnan
Over 30s – CSL Division 3 Eas
Player-coach Kevin McPhillips led by example with a fine first-half goal to help his understrength Shamrocks Over 30s side cruise to a 2-0 win against a much younger Desportiva Sociedad at a rainswept Randall's Island Sunday afternoon.
McPhillips' team – short of almost ten squad members – started with the Legends pairing of John Riordan and Ger Shivnan up front after they had played the previous 90 minutes for their own team.
In spite of this, the Over 30s started the game with attacking intent, dominating exchanges in defense and midfield.
This control saw the Shamrocks create several good chances resulting in a disallowed goal inside the first twenty minutes.
Matt Moccia and Mike Dineen were in complete control in midfield and their enterprise paid off in the closing stages of the first half when John Riordan pounced on a loose ball and made his way towards goal. His smart cut-back was met by the well-positioned McPhillips whose perfect left-footed finish gave his side the ideal platform going in at the break.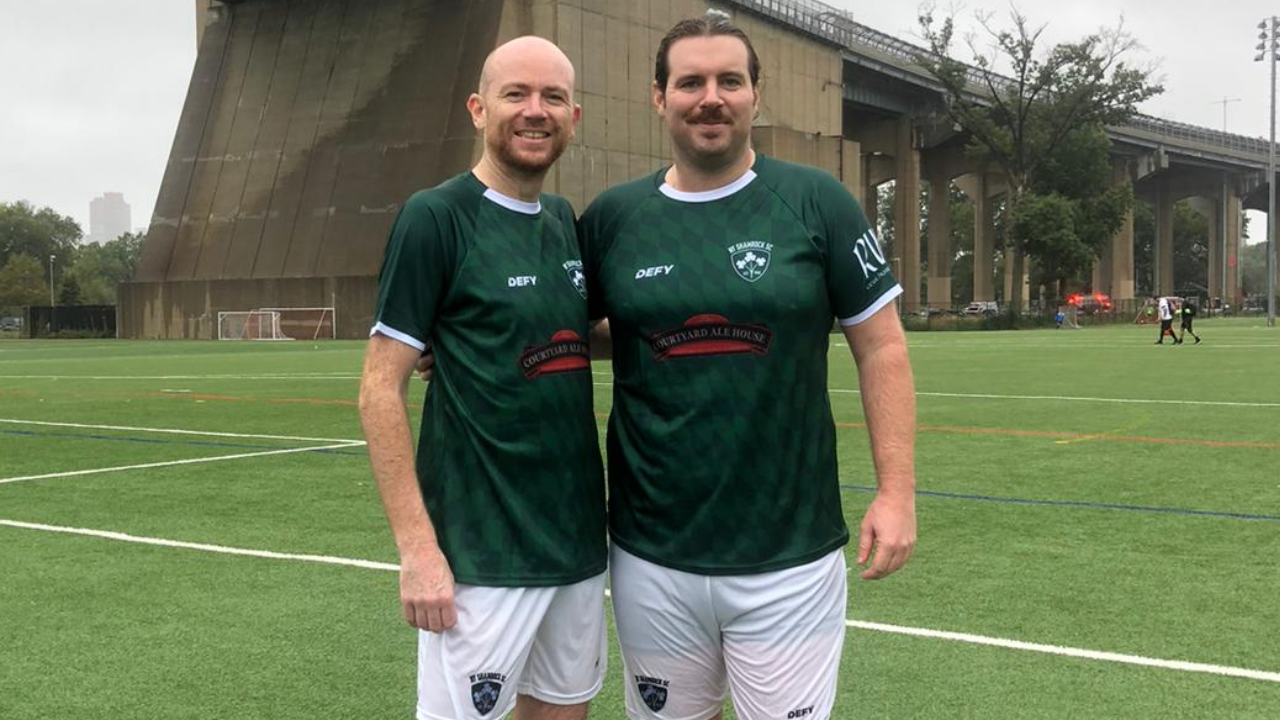 The second half began in a similar fashion with the Shamrocks defense completely dominant as Charles O'Loughlin raked passes forward to set up several dangerous attacks. Gil Christenberry was a constant menace on the left flank turning defense to attack on several occasions.
The second goal arrived when another O'Loughlin pass found Shivnan free on the right side of the box and his cross from the byline was met by the incoming Riordan who back flicked the cross beyond the Desportiva keeper.
Shamrocks continued to create chances but were unable to extend their lead. The two goals proved to be enough to see McPhillips' men take a vital three points. McPhillips is a second-generation Shamrock.
PODCAST: Former Man Utd & Ireland Youth Player Kevin Grogan
First Team Fail To Halt Slide – CSL Div. 1.
The first team, missing several key starters, sustained a heavy 5-0 loss to Richmond FC Saturday evening.
Shamrocks found themselves a goal down after 12 minutes and from there on it was always going to be a battle to get anything from the game. The Rocks did create chances but were unable to fashion an equalizer from them.
In the 50th minute, Richmond got their second. This forced Shamrocks to take more risks and try to attack in greater numbers. Unfortunately, the brave strategy did not work and on 75 minutes  Richmond struck for the third time.
With the game over as a contest, Richmond added another two goals towards the end of the regulation time to complete a tough day at the office for Stuart Colbert's men.
Stand-in coach Robbie O'Neill said it was a "tough loss but when a team is so short on numbers [it's] hard to be competitive in this division".
Reserves Fine Form Continues – CSL Reserves Div. 1 
Shamrocks Reserves secured a comprehensive 6-1 win over Richmond Reserves Saturday evening. The Shamrocks' start was not the brightest but they soon settled and began to pick Richmond apart.
On 20 minutes Mikey Brunton got his first goal for the club after an assist from Mikey McGreevey. McGreevey then took the ball from the Richmond center half and ran through himself to make it 2-0.
Read More: NY Shamrocks Week 4 Report: Tough Weekend for The Shamrocks
In the second half, Shamrocks began to completely outplay Richmond and Joe Connolly made it three with a delightful finish. Soon afterward, Connolly claimed a second after McGreevey jinked his way through the Richmond defense to assist again.
Mikey Brunton got his second with a great finish from the edge of the box while Quinn McLoughlin got his first for the club with a powerful finish from 16 yards leaving the keeper with no chance.
Legends Struggles Continue – CSL Over 40s
In spite of a 2-1 defeat, Shamrocks Legends enjoyed a great tussle with America FC at Randall's Island Sunday.
America's first-half lead was canceled out by a brilliant close-range Jeff Farrell volley from a perfectly executed Stevie Doyle free-kick, swung in from the right.
With 15 minutes to go, an America corner ended in a goalmouth scramble and they claimed the advantage and ultimately the win.
"We battled very well to the end," said player-coach John Riordan.
"We definitely deserved something out of the game. Another couple of injuries left us with no subs which meant the players on the field had to work extra hard.
"It was an enjoyable game but we need to start getting back to winning ways."
The Shamrocks Women earned a forfeit victory over NYC United.
Follow NY Shamrocks on Instagram, Facebook and Twitter.
—-
Shamrocks Adult teams 2021/22 Season:
Men's First – CSL Div. 1 (reigning champions)
Men's Reserves – CSL Reserves Div. 1 (reigning champions)
Over 30s – CSL Division 3 Eas
Legends Over 40s – CSL Over 40s (Long Island Soccer League League Cup 20/21 winners)
Women's – NYMWSL Division A
NY Shamrocks PRO Ger Shivnan will be coming on the podcast in a few weeks, stay tuned!
Kevin Grogan, a former Manchester United and Republic of Ireland youth player, has managed Shamrock's first team in the past. See our podcast with Kevin below.