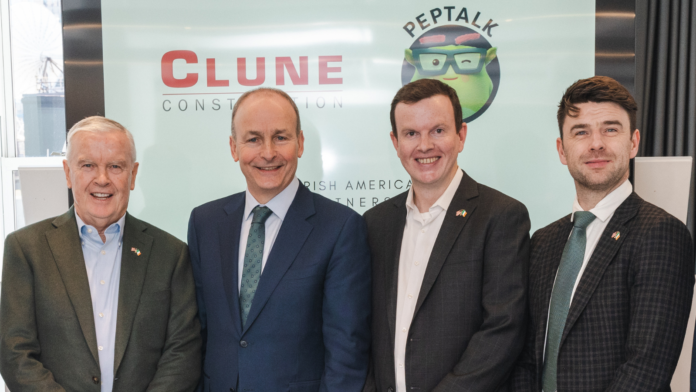 March 20. 2023 Staff Report
A major New York-based construction company has enlisted a start-up company co-founded by a former Dublin footballer to help improve its staff team engagement, retention and performance.
Clune Construction Company, which has offices in cities such as Chicago, Dallas, Los Angeles, and San Francisco; and Washington DC., has teamed up with PepTalk as their employee engagement solution.
PepTalk provides employee engagement through its Team Experience platform (TX). It was founded in Ireland by former Dublin footballer Bernard Brogan and his lawyer brother James Brogan as well as former Twitter executive Michelle Fogarty.
PepTalk believes that an employee's team and manager are at the center of their experience in an organization. Through Check-In, TeamTalks and Leadership Labs, PepTalk delivers a unique solution for employees, managers, and organizations.
The announcement was hosted in Clune's New York office last week, and the guest of honor was An Tánaiste, Mr. Micheál Martin TD, Ireland's Minister for Foreign Affairs and Minister for Defense.
"Employee engagement in all industries results in happy employees; in construction, it also contributes to a safe job site," said Sean Clune, Managing Director, of New York Operations for Clune Construction.
"With PepTalk, we can check in on our people and ensure they go home safely."
The PepTalk representatives said that employee engagement directly impacts safety, attrition, and mental health. Managers impact employees' mental health as much as a spouse or partner, and more than 80% of employees would rather have good mental health than a high-paying job, they said, citing research.
The impact on deskless workers can be even greater, with increased burnout and disengagement due to a lack of automation. High employee turnover is a KPI that deskless organizations often find hard to control, they said.
"We are very proud to be announcing our relationship with Clune NY," said James Brogan.
"They lead the industry in their commitment to employee engagement and safety. One of Clune's core mantras is that they ensure everyone goes home at the end of the day exactly as they arrived, and we are beyond proud to help them achieve this goal.
"We know from research that happy employees are safe employees, and energized workers will avoid 64% of accidents."
Martin said he was delighted to see two Irish companies — Clune Construction and PepTalk — working together in the Big Apple.
"Irish talent has long found a home in New York, not least in construction, and with companies like PepTalk, we see the new wave of Irish technology companies empowering even more success in the years to come."
About Clune Construction
Clune Construction Company is a national general contractor with offices in Chicago; Dallas; Los Angeles; Phoenix; New York; San Francisco; and Washington, DC.
The company employs more than 600 employees and manages over $1 billion in commercial and mission-critical projects annually. www.clunegc.com.
About PepTalk
PepTalk, founded in 2017 and with offices in Dublin, London and New York, is the world's first Team Experience (TX) platform that enables managers and their teams to connect, engage and perform at their best in the new world of work.
The platform is underpinned by behavioral psychology and uniquely combines data analytics and cutting-edge action programs to deliver improvements in employee engagement, manager effectiveness, and team performance. PepTalk works with a variety of leading corporations such as Verizon, PayPal, Clune Construction and Northern Trust.