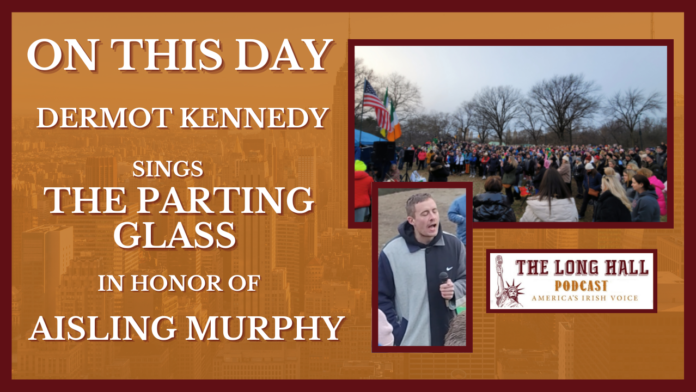 Jan. 23, 2023 Staff Report
On this day last year – Jan. 23, 2022 – Dermot Kennedy sang The Parting Glass in Central Park to Honor Ashling Murphy.
Kennedy sang the song in front of Hundreds of Irish people who had gathered to take part in a 4km run or walk around the park — where $32,000 was raised for Women's Aid Ireland, which supports female victims of domestic abuse.
We originally posted an edited version of the song as part of a video report — but this is the full version.
Around 120 Irish people replicated the run in Central Park on Sunday, Jan. 22, 2023, where thousands of more dollars were raised. The run/walk was organized by Amy Brett, Sarah Cosgrave and Niamh Reilly.
Read More: Irish Honor Ashling Murphy in Central Park, Dermot Kennedy Sings The Parting Glass