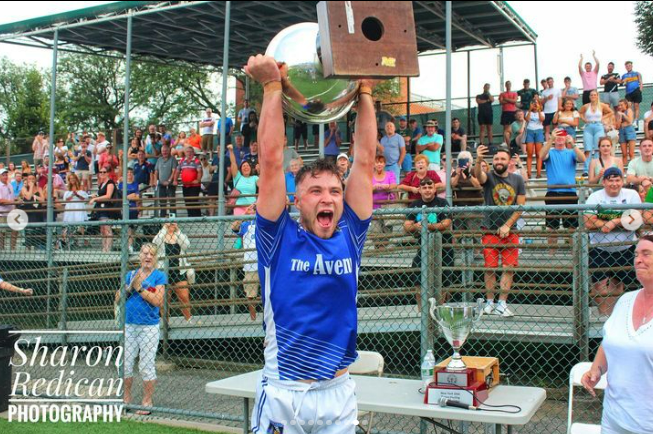 2022 New York Senior Hurling Final
Waterford New York 6-17 Hoboken Guards 2-25 (AET)
By Tommy Kavanagh — via the New York GAA App
In a game for the ages, Waterford Club NY clinched their first ever New York Senior Hurling title with a dramatic win over 2020 champions Hoboken Guards
County Final Sunday here in New York is no different than County Final day in Dublin, in Wexford, or in Kilkenny. Finals are for winning and medals are for collecting, like many of the games greats have done before. From TJ Reid to Padraig Maher, Ollie Moran, to Eoin Kelly and Liam Cahill winning the coveted Michael Flannery Cup is regarded "as good as any county medal in Ireland".
This year Waterford New York would suit up to face the mighty men in red Hoboken Guards.
Coming into the game Waterford had qualified first and was certainly glad to do so bypassing a semi-final along the way, giving them time to get any injuries right and prepare as best they could to win their first NY Senior Hurling Title.
On the other side, Hoboken were being held together by tape; Paul Gordon their talisman, Stephen McAfee at center back, and Galway's starlet Johnny Glynn all carried injuries into the game. And if any of those needed to go off — or in Glynn's case even make an appearance at all — it was going to make it a tough afternoon.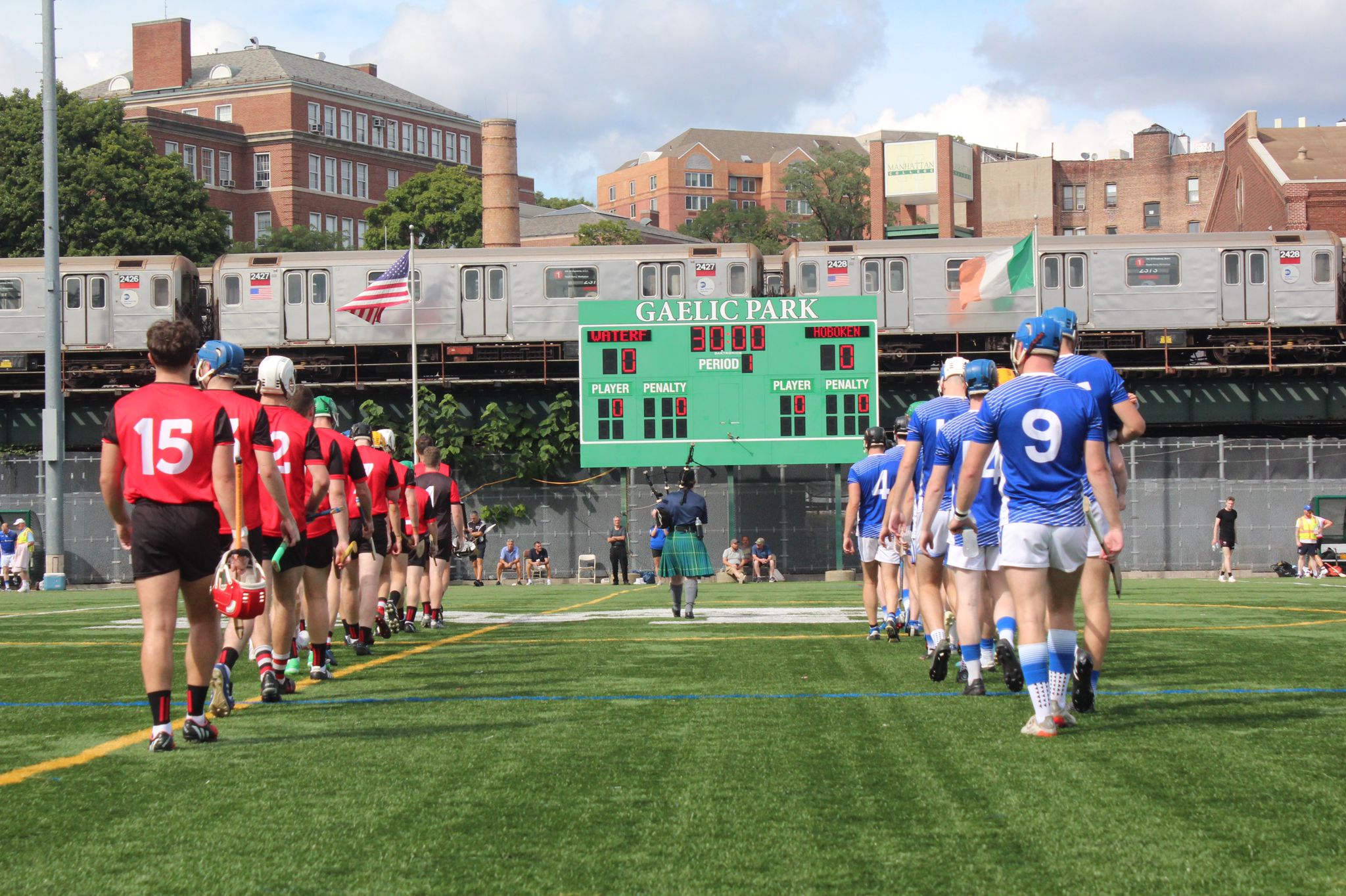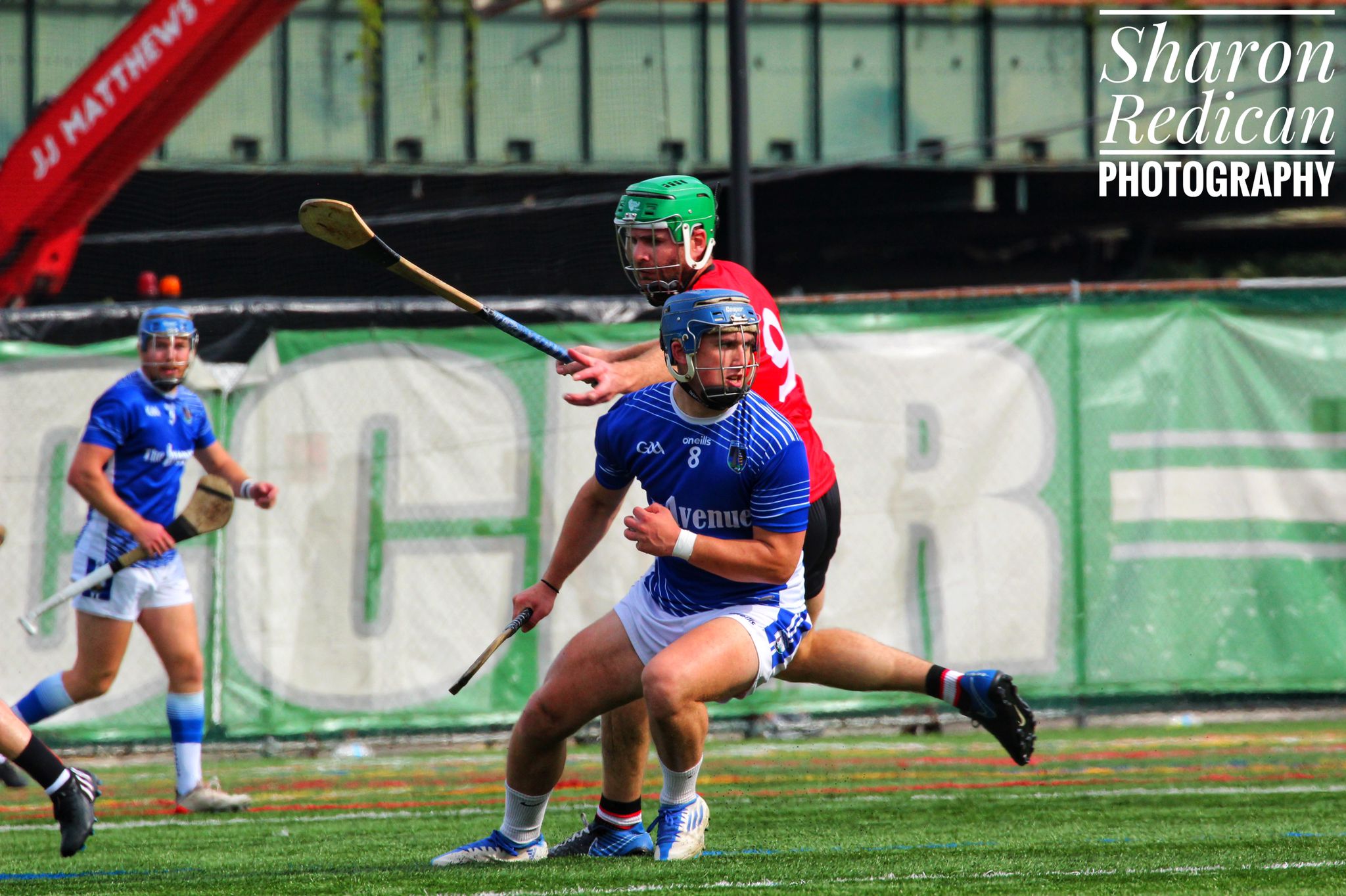 The first half started at top pace with both free takers swapping scores, first Paddy Commins the Galway man, and soon after Offaly's Luke O'Connor opened his account for the day.
Early on it was score for score, Aidan Organ popped up for Waterford with a lovely score under the stand and Conor Ryan from Hoboken responded with one of his own, Dara Walsh too got in on the action and slotted over a well-worked score opening up a 0-01 to 0-04 point lead for Hoboken.
The game would settle down a bit but only for a few minutes as the teams swapped scores again by Commins and O'Connor, Enda Fahey helped to keep Hoboken ahead with a nice one from play before Commins again tagged on another from play. Then out of nowhere, a long ball by Hoboken into their towering forwards, Luke O'Connor hit on the break, waltzed in past the Waterford back line and hung the ball up into the Waterford net, and nearly directly off the puckout, Gordon hit for another score this time a point that must have been gut punch for the Deise boys. O'Connor would add another two frees as the game neared the water break with Paddy Commins again on target to keep the blue's hopes alive.
Score at the water-break Hoboken 1-07 to Waterford 0-05.
After the brief stoppage both teams barreled into action again, big man Paul Gordon resumed play with a nice taken score for the jersey men. Then, on the very next play Waterford broke through the Hoboken half backline, a great run by Lynch, popped the ball to Commins who stylishly flicked the ball into Daire Murphy, and BANG goal – game on!
Read More: Leitrim Prove Too Strong for O'Donovan Rossa in NY Ladies Junior Football Final
Commins added another two frees both from long range with O'Connor and Ryan replying for Hoboken, it was end-to-end stuff. The first half finished strong as the players jockeyed to get in front at half as Deaglan Murphy (Waterford) and Enda Fahey (Hoboken) got themselves on the scoresheet to close out the first half with well-taken points from play.
The halftime score read Hoboken 1-11, Waterford 1-08.
At this point it seemed like Waterford who had put themselves around more and really worked hard for every score they got were going to find it hard to get ahead of Hoboken.
The reds looked to be at a canter and could find scores easier, especially from their long ball tactic from puck-outs and open play. Aside from the goal which was a set back the Hoboken backs, especially the inside line seemed to be well in command with no cracks emerging. Waterford would really need to push on if they had any hopes of getting over the line.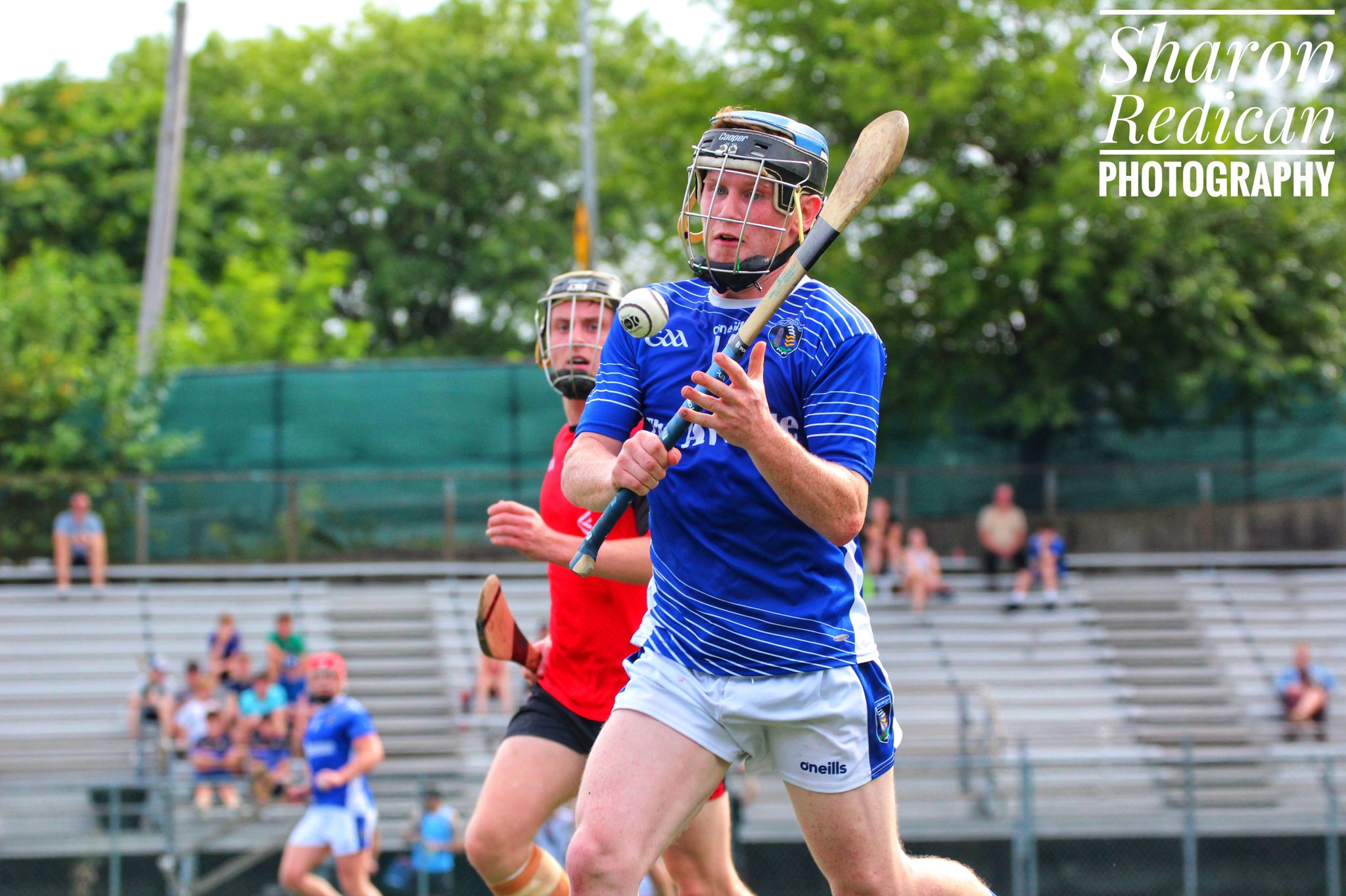 Things got tight as the second half began, and interestingly enough only five scores were registered in the 1st period of the second half before the water break. Waterford opened their account first with Jason O'Donohue on target from range, O'Connor added a free for Hoboken before Aidan Organ pointed after some great play by James Bermingham.
It was end to end play. O'Connor would add another free before Darren O'Donohue brother of the aforementioned Jason, wandered up the field from center back, actually losing the ball on two separate occasions only to win it back and slot it over the bar – an inspirational score.
Score at the second water break: Hoboken 1-13 to Waterford 1-11.
At this point in the game it looked like the tide was beginning to turn, Waterford seemed the fitter team, and with some of the key men for Hoboken carrying injuries would they be able to battle it out at this pace? time would tell.
Surprised surprise the next two scores were free's again swapped by O'Connor and Commins before Jason O'Donohue popped with a lovely taken score to level up the game.
Commins pointed from the restart to put the Deise boys in the lead for the first time in the game. But as we have previously mentioned in this series Hoboken don't go down easy and Enda Fahey responded to level things and O'Connor would put Hoboken back in the lead again with only 8 minutes to play.
What happened next will probably go down as one of the most bizarre circumstances to ever surround a hurling final in any county. Waterford hit on the break after a long ball by Cormac Condon with the Murphy brothers combining for a goal to give Waterford the lead.
Subsequently, the referee was called out to the middle of the field to consult with his linesman who indicated that referee Chris Dalton may have missed a foul during the play which — should it have been called — would have given a free to Hoboken resulting in the goal being disallowed.
First, the referee decided to take the goal down off the scoreboard and award a free to Hoboken, this set the Waterford management and players into a frenzy and they rushed to the referee looking for answers. The ref then decided to consult with both sets of umpires and after careful deliberation, he changed his mind again, awarded the goal, and ushered for the ball to be pucked out by Hoboken to restart the game. Crazy scenes.
Read More: New York GAA Hurling Roundup: Semi-Finals
Waterford were now back in the lead but the game wasn't even close to being over.
Gordon would go and field the puck out from McNamara, send in a long ball in Galway man Johnny Glynn who had entered the game with only minutes remaining, nursing a torn hamstring. Glynn won the ball and passed it onto Jack Morrissey who got half blocked, Paul Killeen came in and pulled on it, and eventually, Waterford Goalkeeper Ronan Callanan made the save and put the ball out for a 65.
Luke O'Connor who has been in top form all day converted the 65 leaving a point between the teams. It looked now like Waterford had their tails up but with a blink of an eye, Enda Fahey found himself on the ball and stroke a lovely score from halfway to level up the game. And now it looked like Hoboken were in the driving seat tagging on scores from Gordon, Conor Ryan, and again O'Connor to open a late 3-point lead with seconds left on the clock, Waterford looked dead and buried.
The only thing to do was the send a long ball into the Hoboken defense to see if could they muster up a goal and would you believe they did just that, Cormac Condon who was superb all day sent another long ball into the square which was pushed on by Deaglan Murphy and pulling on it first time was main man Paddy Commins, the right man in the right place. Teams were level again, as the clock stroke zero.
As the crowd got a chance to take a breath, word filtered around we were in for extra time. The score after 60 minutes was Waterford 3-15 to Hoboken 1-21.
The storyline of extra time was could Hoboken keep their players on the field, Fahey had gone off with an injury but was back, Niall Coen also took a heavy knock but seemed to be returning and would Glynn's hamstring hold up to make a nuisance of himself again in around the square. Others felt that Waterford had much the young and fitter side and would have the legs for extra minutes but only time would tell.
Hoboken began the stronger, Niall Coen popped over a nice point from play as the game resumed and quickly followed by another well-taken score by Luke O'Connor, Hoboken definitely starting the stronger.
In a blink, who responded for the blues but Paddy Commins, who got his side settled with a well-taken point way over on the far side of the field. At this stage, it seemed like both sets of players were exhausted and it was going to be a mental battle from here on out, the question being who could really empty the tank and push on to win the game.
Waterford capitalized first with another well-positioned pass into the forward line picked up again by Deaglan Murphy slotted into his brother Daire where he finished the back of the net. Waterford was now back in the lead again, but Hoboken did seem to find a foothold out around the middle of the field and Niall Coen popped up to strike over his second point of extra time, keeping the Hoboken lads well in touch. Seconds later Coen did it again, came out gathered a ball around the 45-yard line, took one look and slotted it over the bar to level the game once again.
As the first half of extra time came to a close, Waterford seemed to lose their way with some wayward passing and Hoboken managed to get themselves back in front, this time by O'Connor who took a well-worked score after a lot of hard work by Conor Ryan.
H/T ET – Waterford 4-16 to Hoboken 2-25
PODCAST: New York Hurling Division Chair Richie Hartnett
This was it – 10 minutes to define your season, could Hoboken win back the title that Tipperary took last year, or could Waterford finally capture their first NYGAA Senior Hurling Championship? As the crowd sat on the edge of their seat all afternoon no doubt there was an extra inch or two taken to move toward the action in anticipation as Chris Dalton threw in the ball for the last time.
Waterford immediately got on the attack and went straight for the jugular, Daire Murphy who doesn't seem to be able to score points hit the net again, again assisted by his brother Deaglan. The Murphys through their pace, first touch, and eye for goal really caused serious problems for Hoboken's full-back line. Paddy Commins would add another point from the restart as the Hoboken puckout was turned over which to be fair was a rarity all season and one of Hoboken's strong points.
Waterford though would have the last say and after some confusion around the back, goal machine Daire Murphy found himself with a tap-in opportunity to score, he did just that sending the ball into the Hoboken net for the fourth time in the game.
Waterford saw out the game and went on to capture the sought-after Michael Flannery Cup, lifted by their captain James Bermingham. To anyone in attendance or watching the game online, Waterford put themselves in a great position to win the game, going behind at four different times made it tough for them but credit to the players they never gave up and ultimately claimed the top prize. Hoboken on the other side will be disappointed not to have pushed on after they took an early two point lead in extra time, these are the games that Hoboken has closed out over the years and no doubt it will sting this off-season.
What a great summer of hurling we've had here in New York, well done to all the teams who participated and contributed along the way. Thanks to Chris Dalton and Noelle Comyn for their refereeing and to Tom Nugent for organizing all the sideline officials for all the games. Westmeath really made a championship of it this year with a late rally in their games, Tipperary put themselves in the mix late, Hoboken was competitive as ever but without a doubt, worthy winners of the 2022 NY Senior Hurling Champions is WaterfordNY – Well done.
Watch the 2022 New York Senior Football Final Below
** Please note that you can fast forward or rewind by 10 seconds by double tapping the side of your phone or pressing the arrow cursors on your desktop. You may need to click on the Facebook icon for this to work **