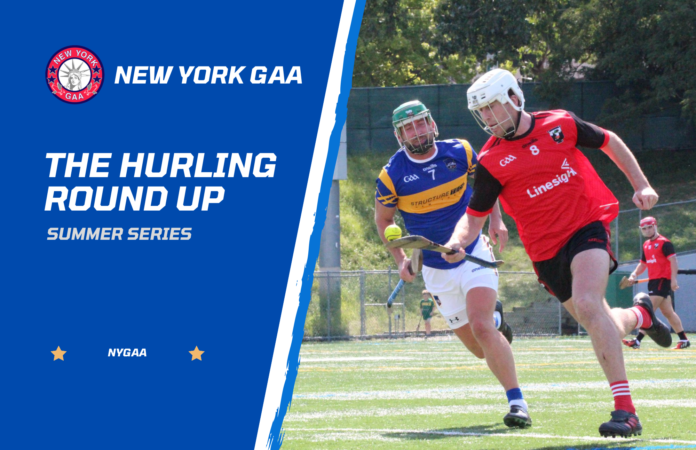 2022 New York Senior Hurling Championship Semi-Final
Hoboken 4-18 Tipperary New York 2-16
Aug. 18, 2022 via the New York GAA App
Semi-Finals can often produce a better game than the final itself but that certainly didn't seem to be the case in Gaelic Park on Sunday afternoon. Hoboken was bidding to reach the final again this year and recapture the title that alluded them last year.
Meanwhile, Tipperary who had struggled up to this stage in the competition were looking to put things right, put themselves in a final and give it a rattle to retain the cup two years in a row.
Inside the first 10 minutes of play, it seemed like Tipperary was up for the battle with 2 x Mikey Sheedy frees, a point from Geared Kennedy, and a goal from James McNaughton put them 1-04 to 0-04 in the lead, Hoboken scores coming from Niall Coen, Paul Killeen, and Luke O'Connor.
It certainly looked at this stage that we were in for a tremendous battle, things got even more exciting 7 minutes later when Hoboken found the net themselves and took the lead for the first time in the game (1-04 to 1-05).
(John O'Neill, Tipperary) – 📸 Photo Credit – Sharon Redican
Things would get better for the Jersey Boys adding two more goals inside the first half of play, one through a penalty from Luke O'Connor after Paul Killeen was taken down in the penalty area and another from the giant Paul Gordon who entered the field of play after 18/19 minutes and from there on out caused havoc with the Tipperary defense due to his size and power.
All of a sudden after leading early on Tipperary found themselves in a 6-point deficit with 30 minutes left to play.
(Keith Robinson, Tipperary) – 📸 Photo Credit – Sharon Redican
The second half produced some fine play early on with Tipperary battling back to keep their hopes alive, frees again by Mikey Sheedy and good score taking from Sean Elliot and John O'Neill as well as a fine taken goal by Darragh Peters kept the scoreboard ticking over and at the water break it looked like game on with only 3 points separating the teams (2-13 to 3-13).
Hoboken though didn't seem interested in making a game of it and hit for a goal and five more points again from O'Connor, Enda Fahey, Dara Walsh, and Paul Killeen who was superb throughout. The Tipperary boys could only muster up 4 points in response and looked dead and buried with minutes remaining on the clock.
Read More: New York GAA Hurling Roundup: Quarter Finals
(Dara Walsh, Hoboken) – 📸 Photo Credit – Sharon Redican
Hoboken, lead by Johnny Glynn and Paul Loughnane on the sideline will be thrilled with how their team performed and really the result never looked in doubt after they took that initial lead in the middle of the first half.
Tipperary will rue some easy scoring chances that could have kept things closer but it wasn't to be on the day.
Hoboken now goes on to compete with the boys in blue Waterford New York in the NY Senior Hurling Final which will take place on Sunday the 21st of August in Gaelic Park.
Both teams will be desperate to win with Waterford in completely new territory and Hoboken looking to make it a 5th winning season in 6 years.
Tipperary New York – Keith Robinson, Bryan Power, Henry Keyes, Johnny Burns, Darragh Hynes, Mark Ellis, Frankie Kennedy, Tommy Kavanagh, Gearoid Kennedy, Mikey Sheedy, James McNaughton, Darragh Peters, Sean Elliot, John O'Neill, Karl McDermott.
Hoboken Guards – Cillian McNamara, Harry O'Connor, James Rodgers, Gary Bennett, Brendan Furlong, Stephen McAfee, William Maloney, Dara Walsh, Brian Glynn, Conor Ryan, Paul Killeen, Enda Fahey, Luke O'Connor, Declan Fahey, Luke O'Connor. Subs – Paul Gordan
PODCAST: New York Hurling Division Chair Richie Hartnett