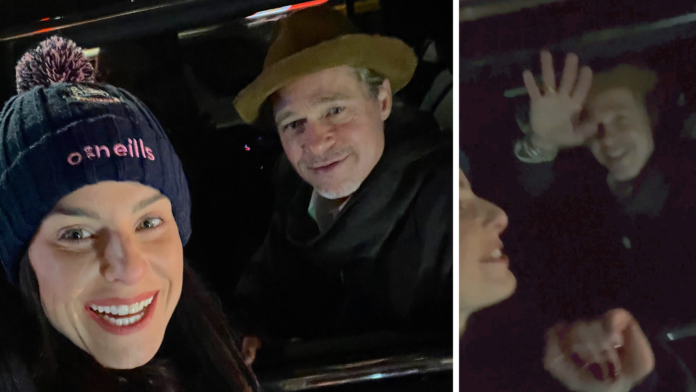 Nov. 25, 2022 By Brandon O'Neill
"YOU'RE GORRRRRGEOUS!!"
An Irish woman living in New York has gone viral after she posted a hilarious video of her chasing Brad Pitt and then getting a selfie with the superstar actor.
Laura Dorgan, a well-known Irish fitness trainer and influencer from Cork, posted the video to her Instagram page Wednesday and it has been widely shared across social media.
Laura was waiting for Pitt to come out of a screening of his upcoming movie "Babylon," at AMC Lincoln Square cinema in Manhattan, in order to get a selfie with the Academy award-winning actor.
Fans and the paparazzi were told to wait by a rail outside the cinema for Pitt to come over to them.
However, while actress Margot Robbie — who also stars in the flick — did come over, Pitt went to his car and was driven off.
Laura, who is the husband of The Long Hall Podcast host Michael Dorgan, then decided to chase Pitt's car for several blocks and finally tracked it down.
She pleaded with Pitt to lower his window for a selfie, which he graciously did.
"Ya go ahead," Pitt said.
"Say hi to my friends," Laura replied.
"Hello," Pitt said while waving into Laura's camera.
In typical Cork fashion, Laura then said:
"Oh my God, you're just handsome, oh my god you're gorgeous in real life!"
To which Pitt responds: "Irish?"
Laura even got her Cork GAA hat into the video!!
Watch the video below:
View this post on Instagram
PODCAST: Tim Herlihy – Lost Irish, Irish Whiskey Co-Founder
Laura's video has gotten 100,000 views on her channel alone. It is has been shared across various other social media channels and has been featured in publications such as Cork Beo, 96FM, Lovin.ie and LMFM.
There is also a longer version of the interaction – showing Robbie — which is in her story highlights.
It is not the first time one of Laura's videos has gone viral.
In 2019 she recreated the Joker dancing on steps in Brooklyn. The video and an accompanying photo was featured in publications across the world including Fox, the New York Post and in an advertisement during the Oscars.
View this post on Instagram