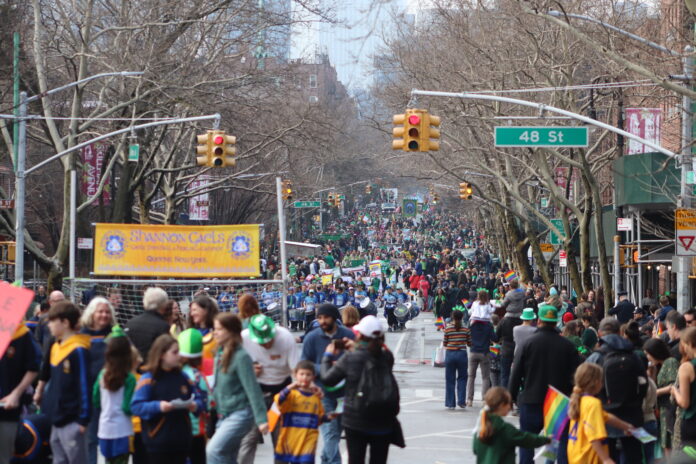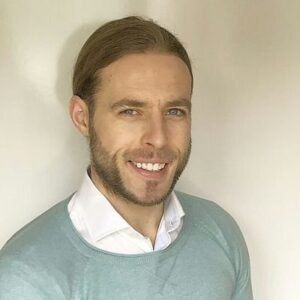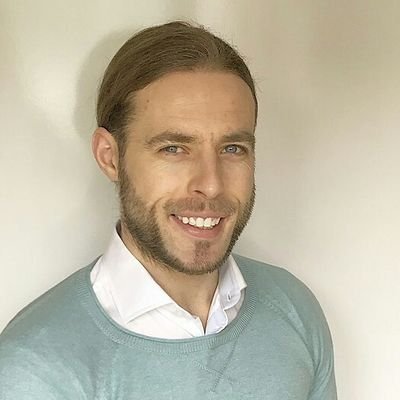 March 9, 2022 By Michael Dorgan
The St. Pats for All parade came roaring back to life Sunday as more than two thousand people took to the streets of Woodside and Sunnyside to celebrate Ireland, inclusivity and diversity.
The parade, which was canceled last year due to COVID restrictions, proved it had lost none of its allure, with organizers estimating the large turnout may have been the biggest since it was founded in 2000.
More than 80 groups ranging from Irish cultural societies to LGBTQ organizations officially registered to take part, but organizers said many more groups turned up on the day. The sidewalks were filled with adults and children donning emerald green attire while many waved rainbow flags as well as the Irish tricolor.
The luck of the Irish was on the side of parade-goers as a drizzle of rain finally gave way to some sunshine when marchers took off from the traditional starting point of Skillman Avenue and 43rd Street at around 1:30 p.m.
The parade was preceded by a series of speeches from local, state and federal legislators. About twenty elected officials gathered on stage – reflecting the parade's high standing among political leaders.
The festive crowd heard empowering and celebratory speeches about the parade's importance to the community while there were some emotional moments too as speakers paid tribute to the late Tarlach MacNiallais.
MacNiallais, an Irish immigrant from Belfast, had been an LGBTQ-rights and disability-rights activist as well as a long-time St. Pats For All board member. He died from COVID-19 in 2020 and his family members were Grand Marshalls of the parade. The parade was in his honor.
Among the legislators to attend the parade were U.S. Sen. Charles Schumer, Congresswomen Grace Meng and Carolyn Maloney, State Senators Michael Gianaris and Jessica Ramos as well as Assembly Members Catalina Cruz and Jessica González-Rojas.
The City Council Council was heavily represented and headed by lively Speaker Adrienne Adams. Queens Council Members Julie Won, Tiffany Cabán, Nantasha Williams, Sandra Ung, Linda Lee, Shekar Krishnan, Joann Ariola, Selvena Brooks-Powers and Lynn Schulman were also in attendance. Brooklyn Council Members Justin Brannan, Chi Ossé, Rita Joseph, Mercedes Narcisse, Crystal Hudson were also present along with Bronx Council Members Amanda Farías and Marjorie Velázquez as well as Manhattan Council Member Keith Powers.
Former Queens Council Member Danny Dromm, an LGBT activist who is of Irish heritage, also attended the event as did Queens Borough President Donovan Richards, Queens District Attorney Melinda Katz, New York State Comptroller Tom DiNapoli, New York City Comptroller Brad Lander, Lieutenant Governor Brian Benjamin and Consul General of Ireland in New York Helena Nolan.
Schumer recounted marching alongside MacNiallais during the last St Pats For All parade in 2020 — just weeks before his death. MacNiallais' brother Tony held up a large picture of the former activist during the speeches. Tony and his brother Brendan also passionately spoke about their sibling.
Schumer told the large crowd that the St. Pats For All parade reflects American values – and particularly New York values — of welcoming people from around the world who have been persecuted. He recounted how many Irish had to flee their country during the Famine in the 1840s while many members of the LGBT community found solace by moving to New York over the last 50 years.
"This parade has a great symmetry, we love our diversity in New York," Schumer said.
"We love the fact that we love one another and knowing the more diverse we are — and the more we welcome all kinds of people — the greater we are as well."
Maloney said that while Irish people fled oppression in their own country, they also faced discrimination in America.
"It wasn't too long ago that they had the signs up [reading] 'Irish need not apply,'" Maloney said.
"But then everybody got over it and we've got to get over any type of bigotry or exclusion that this country has. And that's what this parade is about. It's also about being proud of who you are proud of who you love."
An animated Richards said that the diverse crowd represented Queens and America as a whole.
"This is what America looks like, this is what America is all about – celebrating our diversity," Richards said.
"190 countries represented in Queens County, 350 languages and dialects spoken in Queens County. If you want to get a taste of the world, come down to Queens County."
Richards also slammed the organizers of Staten Island's St. Patrick's Day parade who still refuse to permit LGBT people to march. He said that the parade should not receive city funding until it changes its policy.
Won, who has represented the district since January, said that the parade was an example of community togetherness.
"This is what community looks like," Won said.
"Our hearts are full and our love is overflowing in these streets for everyone to celebrate."
She also paid tribute to MacNiallais for organizing the event in the past.
"Every step that we take today may we remember him," Won said.
The loudest cheers were left for a fired-up New York Attorney General Letitia James who said St. Pats For All participants were marching for the LGBT community, freedom, democracy and the people of Ukraine. James' boisterous campaign team was also present.
"And we march today because we love everyone, it's about acceptance, "James said.
"And so I will use the love… to protect the LGBT community in New York, in Texas, in Florida, in Ohio — in all of those red states that will not accept others because there is more of us than there are of them."
"We are one and we are back."
The parade was led by the FDNY bagpipe band and featured several other marching bands including the County Cork Pipes and Drums and New York City's Lesbian and Gay Big Apple Corps.
There was plenty of Irish tradition and regalia visible through Irish music and dance groups including the Niall O'Leary School of Irish Dancers, McManus Irish Dance, Sunnyside/ Maspeth Youth Trad group as well as the Irish Arts Center.
Fogo Azul, a 50 member, New York City-based all-women Brazilian Samba Reggae drum line band added some South American spice while the Hungry March Band for Hunger Strikers also caught the eye.
LGBT social groups were also present and among them were the Lavender and Green Alliance — a group established by St. Pats For All founder Brendan Fay in the 1990s — and the Stonewall Democrats of NYC.
A number of New York politicians marched behind their own respective banners, while a group of city council members marched with a New York City Council banner.
A variety of children's groups marched under banners including Girl Scouts of Greater New York and Cub Scout Pack 90 from Astoria while the Shannon Gaels carried a set of Gaelic games goalposts through the streets.
Sunnyside United Dogs Society were also out again this year with their canines who were dressed for the occasion.
Anti-nuclear weapons groups were also present including the New York Campaign to Abolish Nuclear Weapons (NYCAN), International Queers Against Nukes and Divest Nukes. Anti-war group Veterans Say No to Endless War and Militarism also marched.
Other groups included Sunnyside Community Services, NYC Midwives, Woodside on the Move and the Queens branch of Transporation Alternatives.
Watch all of the speeches from the 2022 St. Pats For All Parade Below