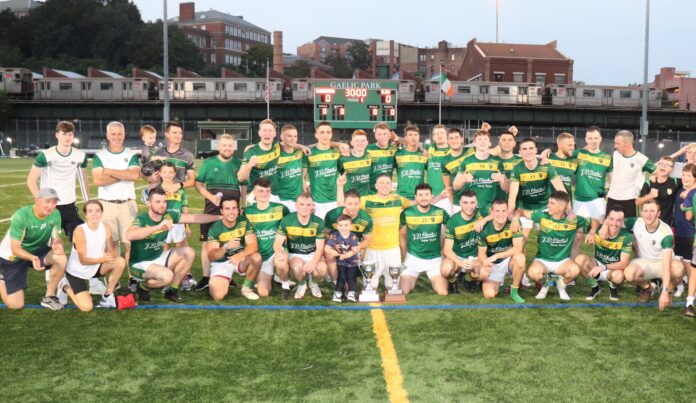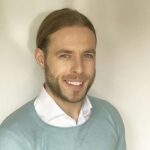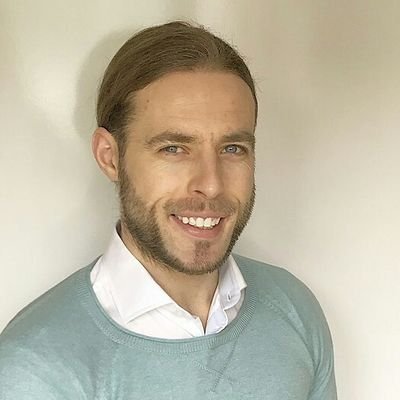 Sept. 16, 2021 By Michael Dorgan
St. Barnabas 1-15 Sligo 1-9
The all-American side St. Barnabas etched their names in history again Sunday by retaining the New York Senior Football Championship at Gaelic Park.
The homegrown side, having won the club's first-ever senior county title last year, completed back-to-back victories with a commanding win over Sligo in what was a repeat match-up of the 2020 decider.
Last year's final took a replay – followed by extra time – to find a winner but there was much less drama in this offering with St. Barnabas overcoming an early seven-point deficit to run out deserving six-point winners.
Former Galway All-Ireland winning hurler Johnny Glynn, stationed at full-forward for Sligo, caused havoc for the Barnabas defense early doors.
The towering Ardrahan man clocked one goal and two points – all from high balls – as Sligo raced into a 1-5 to 1 point lead after 10 minutes – despite losing Brian Glynn to a black card after two minutes for a third man tackle.
"We knew Sligo were going to come at us after the loss last year… and they were going to come at us with everything," said St. Barnabas joint manager Mikey Brosnan afterward.
"It took us 10 or 15 minutes to get it under control but we did after that and from there on I thought we kept the scoreboard ticking over."
"Keep taking points we kept telling the boys, put the ball over the bar… we'll get there, we'll get there, don't worry about it," Brosnan said. He manages the team with Johnny McGeeney.
Read More: Westmeath Edge Tipperary in Thrilling New York Junior Hurling Final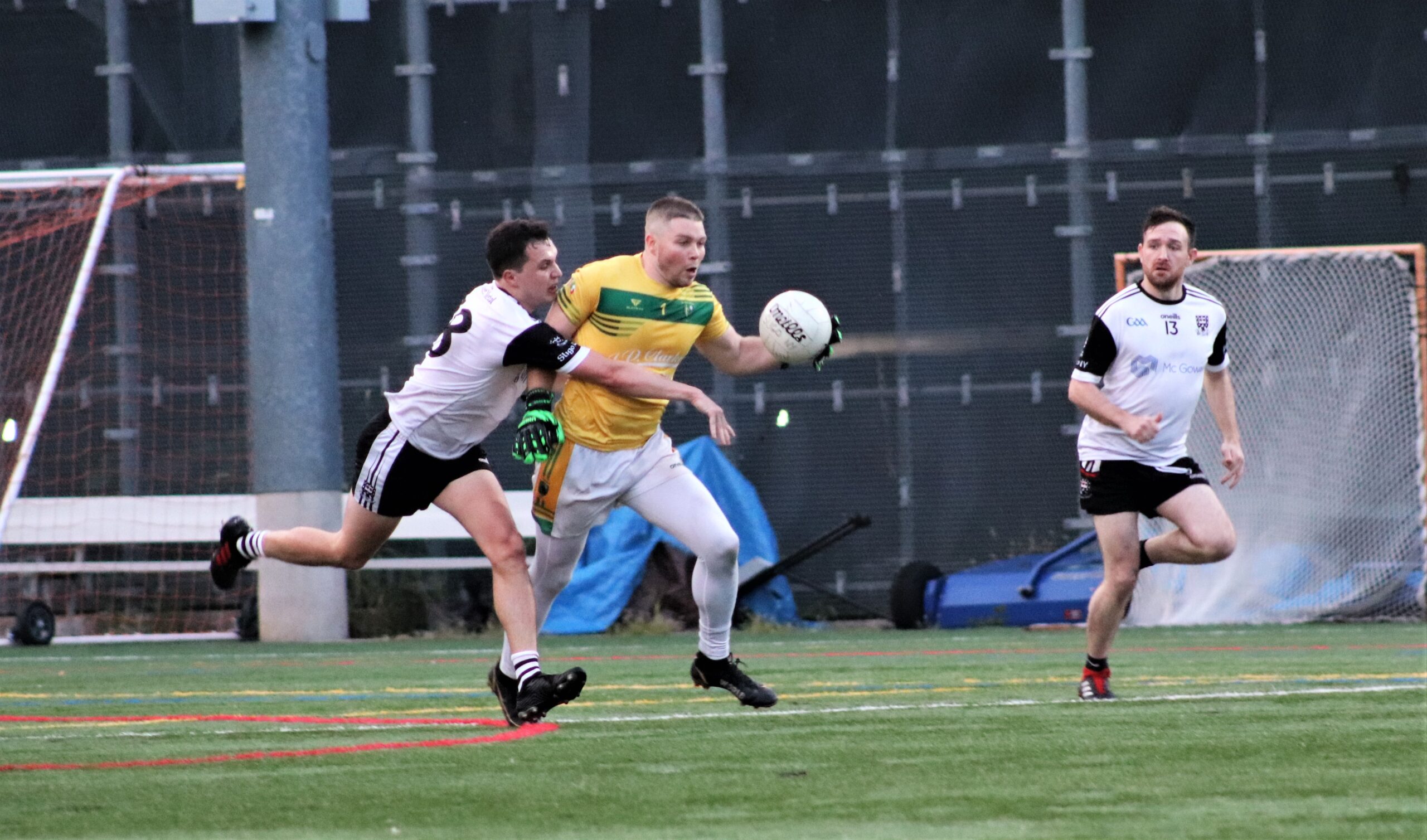 Barnabas steadied themselves and pulled two points back before the water break courtesy of a curling long-range effort by Timmy Fitzmaurice and a Ryan Kerley left footer on the turn.
Sean Reilly, potent from the dead ball all day, pointed a 45' on 19 minutes which was followed by a Mikey Brosnan free and a Conor Mathers score to bring the deficit to two points after 23 minutes.
Sligo then suffered a major blow when Glynn, who was now operating effectively in midfield, limped off with an apparent ankle injury.
Colin Keane then pointed for The Yeats County before the break to leave just a goal between the teams, 1-6 to 0-6.
Barnabas came out firing on all cylinders at the beginning of the second half and were more direct in their running at the Sligo defense.
A well-worked team move started by Barnabas keeper Brendan Cole resulted in Tiarnan Mathers – one of three brothers on the side – finding himself in front of goal but his shot was smothered by Sligo keeper Vinny Cadden.
Mathers then intercepted a Cadden short kick out and passed off to sub-Gearoid Kennedy who set up Conor Mathers. The young forward fired the ball into the roof of the net to draw the team's level after 34 minutes.
View this post on Instagram
Mikey Brosnan – son of joint manager Mike Brosnan – then edged Barnabas ahead with a point before Darragh McConnan pulled Sligo level at 1-7 apiece.
Kennedy won a dispossession in midfield and offloaded to Brosnan who pointed again to edge Barnabas ahead by the minimum.
That was followed by another placed ball effort by Reilly on the 40-meter mark to put Barnabas two ahead after some hard work by Peter Cronin.
Brosnan then added his fifth from a free and Sligo appeared short on ideas as the momentum fully swung behind the Barnabas men.
PODCAST: Fitness Trainer Seamus Keane
Barnabas almost sealed matters on 43 minutes when Conor Matters was brilliantly denied for his second goal by Cadden. Reilly then slotted offer the resultant 45′ for his third-placed score of the day.
Tony Donnelly, lively throughout with four points, pulled one back for Sligo to put just a kick of a ball between the teams with ten minutes to go.
Sligo's Micky Lenaghan brought the deficit back to two and the 1,500 strong crowd were on the edge of their seats anticipating the clash going down to the wire again.
But that was to be Sligo's last score of the day.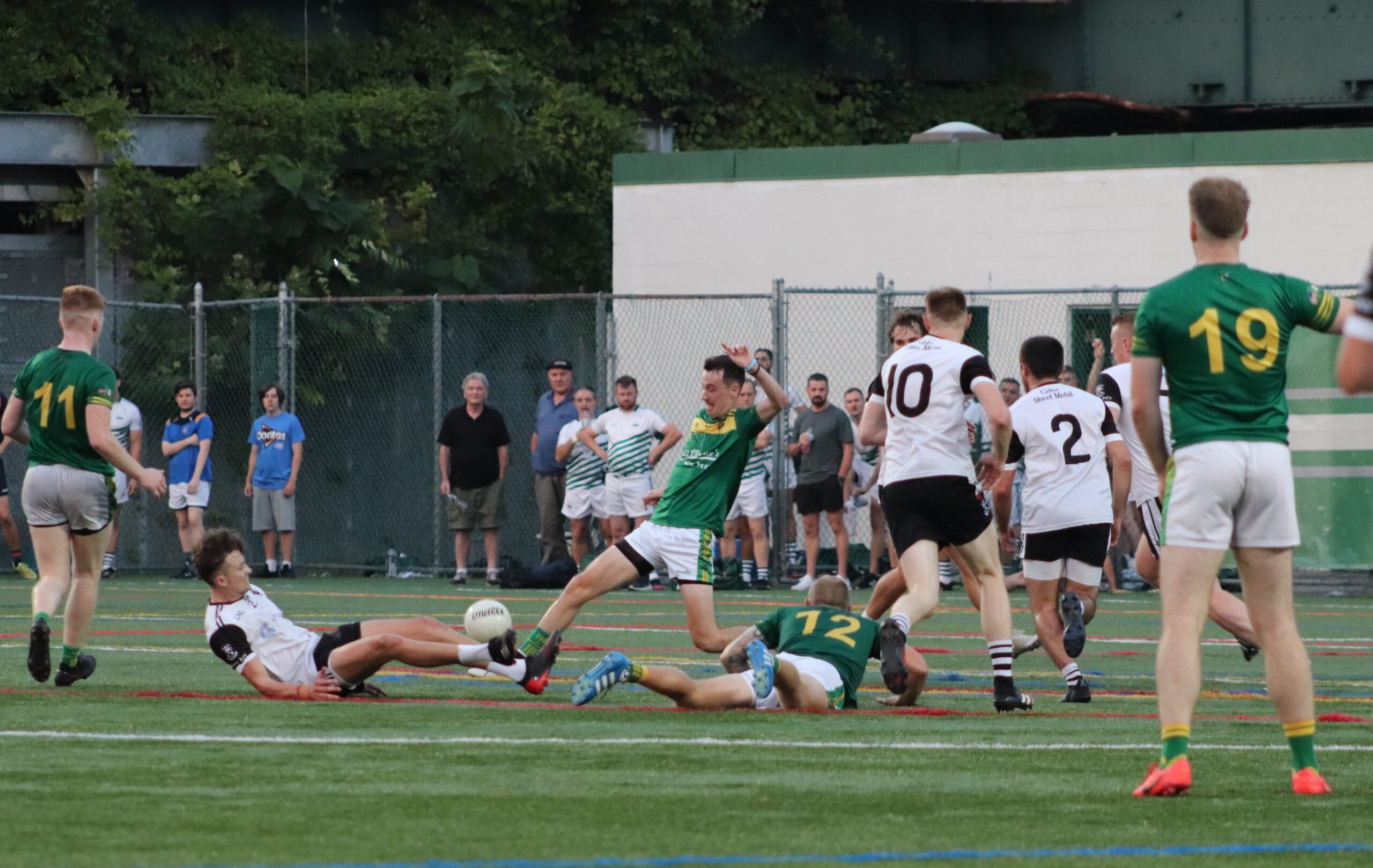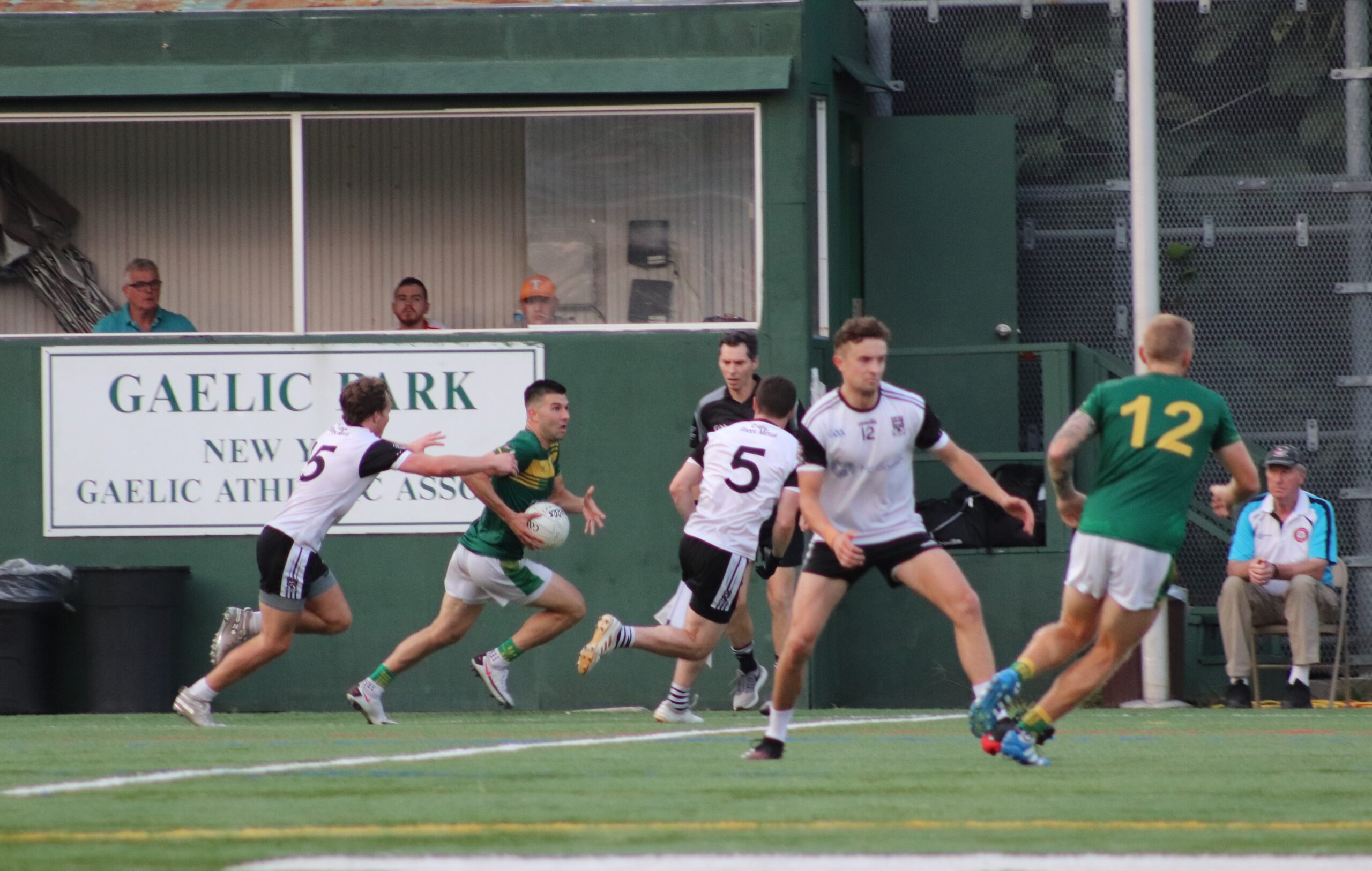 Barnabas netted for a second time but referee John Fitzpatrick – officiating his tenth New York senior final – adjudged the number 11 had hand-passed the ball into the goal.
Nevertheless, Barnabas introduced the experienced Luke Kelly who made an immediate impact in helping Barnabas get over the line. The Offaly man picked up the ball 40 meters out on the left-hand side before racing into the box and smartly fisting over.
Kelly – who was completing a double having also won the Intermediate championship with Westmeath last month – then teed up Caolin Mathers who slotted over to nudge Barnabas ahead by four with five minutes remaining on the clock. Kelly was the only non-American-born player for St. Barnabas.
As Sligo threw the kitchen sink at it, the injured Glynn returned to the game but their effort petered out when midfielder Ger McCullagh was red-carded for striking Conor Mathers.
Barnabas saw out the remaining few minutes comfortably then with Tiarnan Mathers pointing twice more.
"We knew we had the fitness and we knew we had the panel of players," Brosnan said.
"I can't emphasize the bench enough. Coming off the bench you need 20, 23, 24 players just to win games today."
Having also scooped league honors earlier this season, St. Barnabas have solidified themselves as the current New York kingpins and their success appears to be only beginning.
Asked if we will see Barnabas dominating senior football in the Big Apple for the next 10 years, captain Cole answered, "that's the plan!"
"We hope to stay winning for a long time."
Read More: Rampant Westmeath Win First-Ever New York Intermediate Football Championship
St. Barnabas: B Cole; P Cronin; J Boyle; D Curran; F Cole; K Rafferty; R Kerley; S Monaghan; C Rafferty; Conor Mathers; T Mathers; S Reilly; M Brosnan; C Hogan; T Fitzmaurice. Subs: C Bennett; C Doherty; L Kelly; G Kennedy; Caolin Mathers.
Scorers for St. Barnabas: Conor Mathers (1-2), M Brosnan (0-5), S Reilly (0-3) T Mathers (0-2), T Fitzmaurice (0-1), R Kerley (0-1) L Kelly (0-1).
Sligo: V Cadden; M Diskin; P Kelly; S Queenan; D Rooney; J Davis; C Keane; B Glynn; G McCullagh; T Donnelly; D McCabe; H O'Connor; M Lenaghan; J Glynn, T O'Riordan. Subs: B Power; D McConnon; N McDonagh; TJ O'Sullivan.
Scorers for Sligo: J Glynn (1-2), T Donnelly (0-4), C Keane (0-1), D McConnan (0-1), M Lenaghan (0-1)
Referee: J Fitzpatrick (New York)
Attendance: 1,500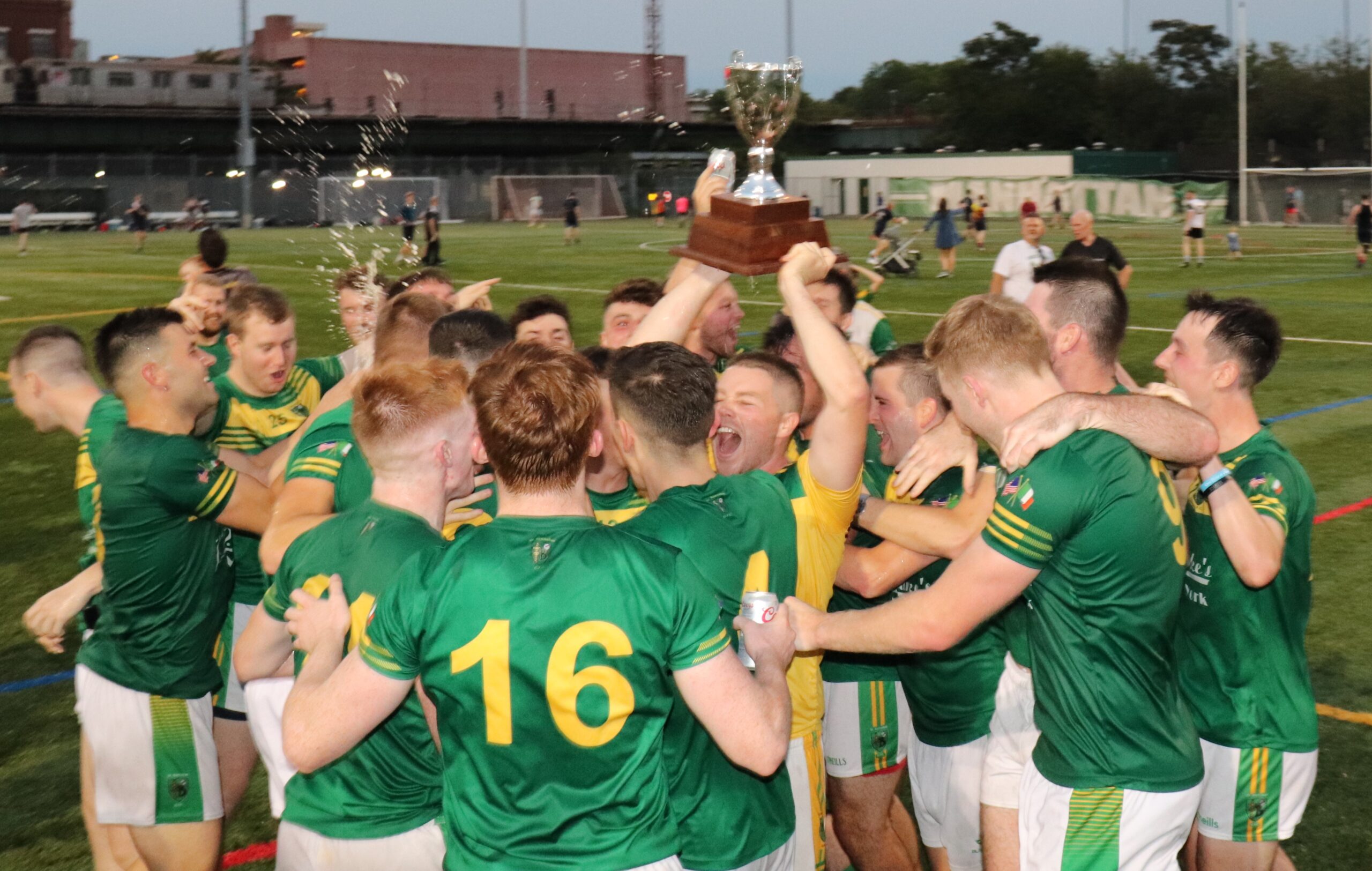 View this post on Instagram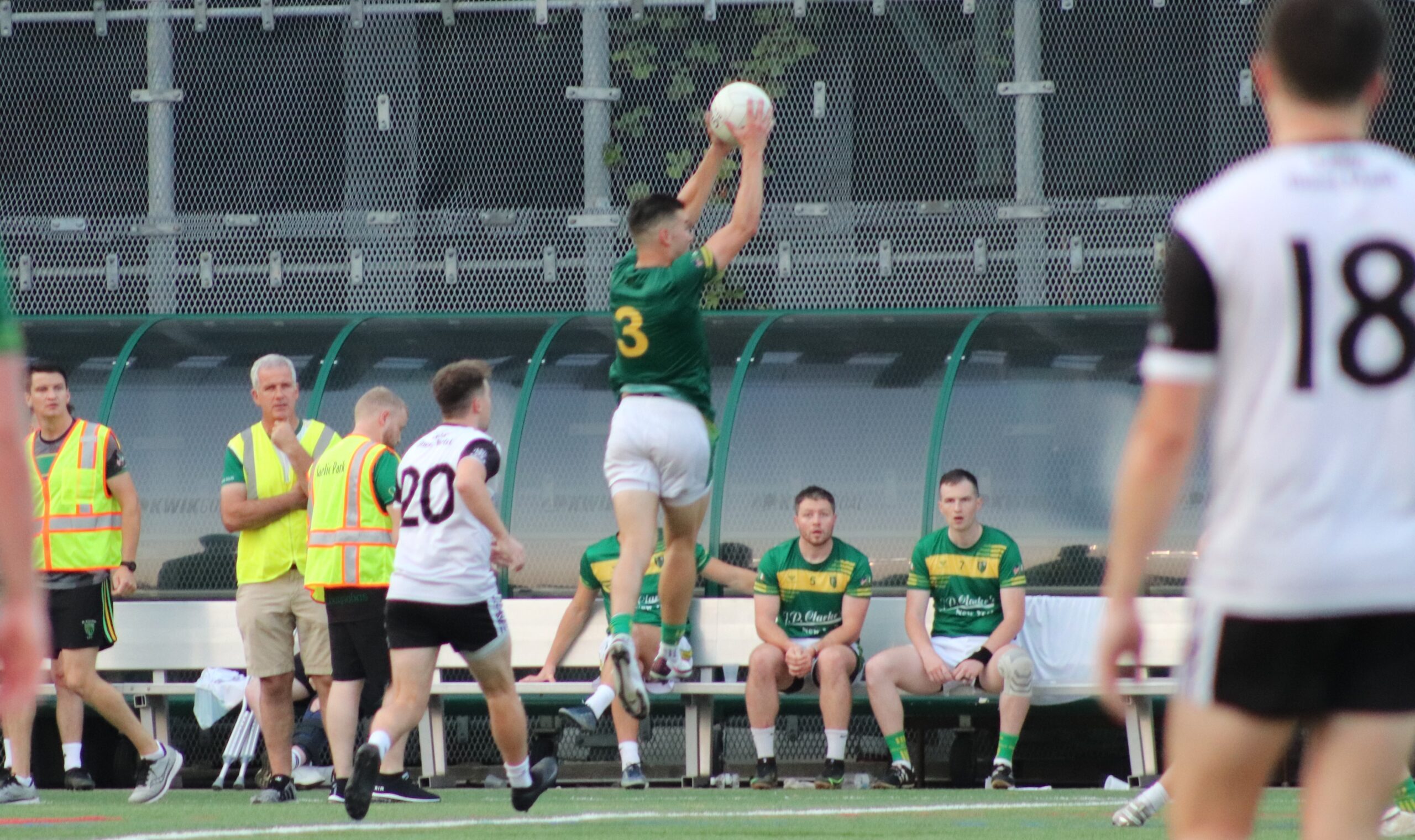 Watch the 2021 New York Senior Football Final