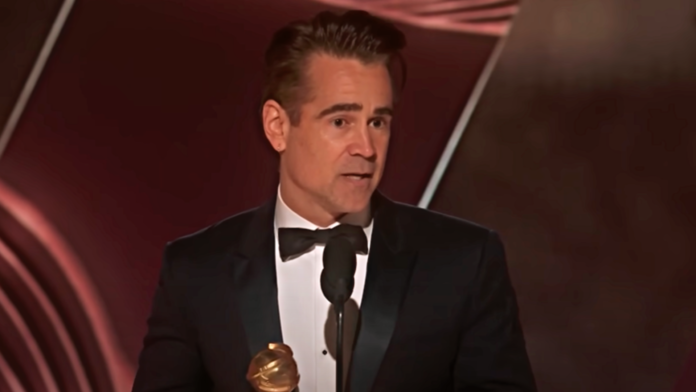 Jan. 11, 2023 By Brandon O'Neill
Irish eyes were smiling last night as the Irish-made film 'The Banshees of Inisherin' scooped three Golden Globe Awards in Beverly Hills.
Colin Farrell scooped the award for Best Actor in a Motion Picture – Musical or Comedy – for his role in the dark comedy where he starred alongside fellow Dublin-born actor Brendan Gleeson.
The duo plays as lifelong friends whose friendship awkwardly falls apart.
Farrell thanked director Martin McDonagh for "changing" his life during an emotional acceptance speech, and for bringing him and Gleeson together again. McDonagh also directed the cult hit In Bruges, released in 2009.
Farrell also picked up the Golden Globe award for Best Actor for his role in In Bruges.
 'The Banshees of Inisherin also won Best Screenplay for a Motion Picture and Best Picture, Musical or Comedy at last night's glitzy award ceremony.
"Martin McDonagh, I owe you so much man," Farrell said.
"14 years ago, you put me working with Brendon Gleeson, my dance partner, and you changed the trajectory of my life forever in ways that I begrudgingly will be grateful to you for the rest of my days," he said.
"To work on this film, I never expect films to work or to find an audience and when they do, it's shocking to me and so, I'm so horrified by what's happened around Banshees over the last couple of months – in a thrilling kind of way.
"Brendan, I just I love you so much. I love you so much. To get to cohabitate this creative space with you every day. All I did when I came to work every day was aspire to be your equal. I'm not saying I even got there, but the aspiration kept me going and I thank you for that for the rest of my days.
"Also Kerry, to finally see the world after 20 years of acting – you can forget that piano – to finally see the world after 20 years of acting find your work now, you're extraordinary," he added.
"Barry [Keoghan], when you're sharing a house with an actor you're working with, a word of advice Barry, don't eat his crunchy cornflakes and leave him with no breakfast in the morning. Okay, you should never send a man to work in an empty belly.
"I want to thank Sheila Flittin who played our banshee. I want to thank the cast and the crew and the locals of Inis Mór and Achill Island, that brought us in and there was lines blurred between all of us. There was just one big family for the betterment of all of our souls on that experience.
"And lastly, Jenny the donkey and she's having an early retirement… And my kids at home are watching this James and Henry, the loves of my life, I love you so much."