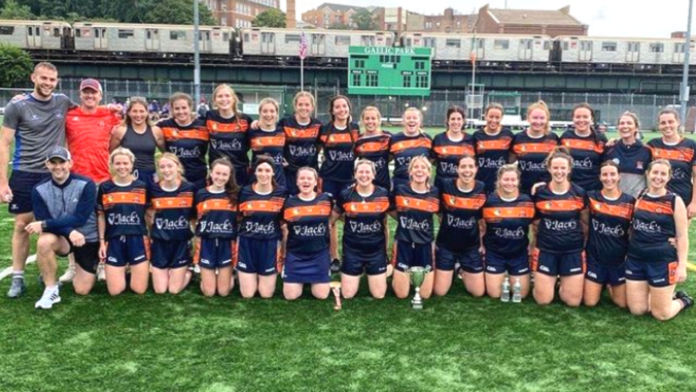 Aug. 8, 2021 By Amy Brett
Annie Moore's 2-6 Liberty Gael's 2-5 
A nail-biting last quarter in the Junior Camogie Final Sunday saw Annie Moore's edge past Liberty Gaels to win their first-ever New York county title.
In what turned out to be a fight to the end of the clock, the Bronx-based side held on by the narrowest of margins at a rain-soaked Gaelic Park to deny the Gaels a famous four-in-a-row.
The standard of camogie on display was as high as ever despite the wet and wintery conditions which would be more common in the homeland than a game in New York in August.
The Moore's girls led the entire game, with the halftime score standing at 2-1 to 0-2 after goals from Laura Wynne and Aisling Daly. Anna O'Kane added a point from a long-range free, while Dublin duo Una O'Brien and captain Sue Horan registered a point apiece each for the Gaels.
However, the scoreline did not represent the ferocious battle that was being fought on the field with both defenses being put under tremendous pressure. Allie Kelly and Courtney "Colo" Taskowitz put in superb performances for the Gaels in defense, while Aine Kearney was the stand-out player for Annie Moore's.
Read More: Dargan Hat-Trick Seals NY Senior County for Kerry/Donegal
After the break, Moore's added another three points and with 13 minutes remaining on the clock, the score stood at 2-4 to 0-2 and it looked like Moore's were going to run away with the show.
A point from O'Brien and two points from Fianna Ni Bhrian caused a stir in their Gaels' teammates and only a few minutes later a lovely pass in from Trisha Hogan to Ni Bhrian saw the Waterford native tear up the left-hand side of the field and slot the small ball into the top right corner of the net.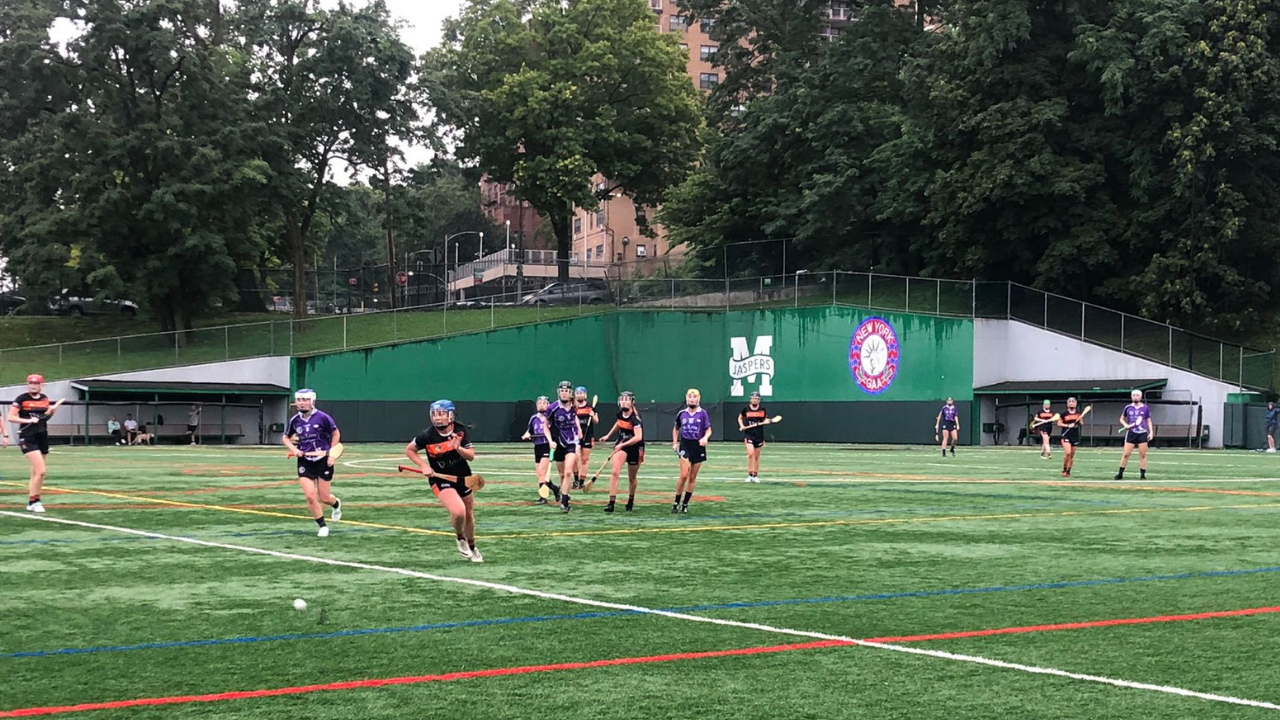 Daly responded with two points from dead balls giving Moore's a four-point cushion – and bringing her free-scoring tally to 1-5 for the day.
But then O'Brien rocked Moore's by somehow finding the back of the net from a 30-yard free with only 90 seconds left on the clock to set up a pulsating finish.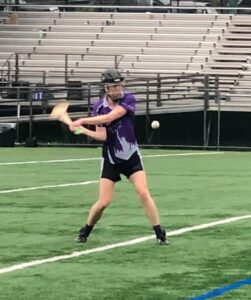 However, Liberty Gael's couldn't find an equalizer and the Annie Moore's scores in the first half were ultimately enough to carry them to victory.
Annie Moore's captain Sara Roche accepted the cup in what was a historic moment for the club which was established in 2018.
Roche, for her own part, put in a gallant performance tracking back and attacking with purpose from start to finish. She was also on the winning Kerry/Donegal Senior Ladies team last weekend, ending her 2021 season with a remarkable double.
Brenda Crowe and Deidre McGuire were also in flying form for the Moore's girls, with Michelle Hackett, Una O'Brien and Colo Taskowitz putting their bodies on the line for Liberty Gaels.
PODCAST: New York GAA County Board Chairperson Joan Henchy
Both teams travel to Boston in a few weeks' time to compete at the National American Championship and likely clash again in the competition in what is sure to be another close game.
Paperwork issues on the Gaels' end meant the loss of Jessica Potterton and Corrine McConville for the New York final.
However, both players are expected to be back for the National American Championship and would be two players to watch.
Annie Moore's backroom team includes Galway All-Ireland-winning hurler Johnny Glynn who plays with Sligo NY and Hoboken, Tom Brett of Sligo NY and Michael Sheedy of Tipperary NY and Cork NY.
Watch the 2021 New York Junior Camogie Final below recorded by FNB VIDEOGRAPHY