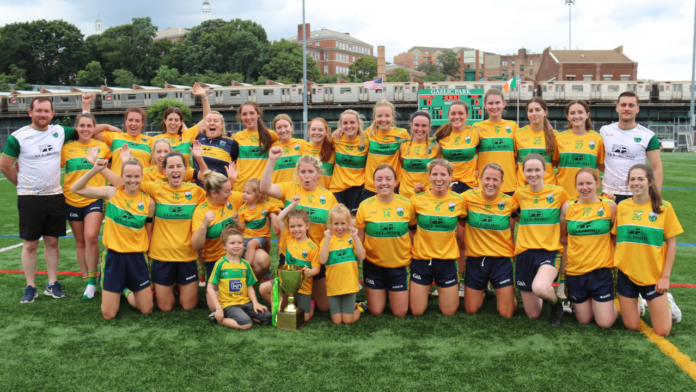 Aug. 5, 2021 By Amy Brett
Kerry/Donegal 4-9 Na Fianna 0-5
A hat-trick by sharpshooter Marie Dargan helped Kerry/Donegal secure the New York Ladies Senior Football Championship title over Na Fianna at Gaelic Park Sunday. 
Dargan netted her three-goal salvo in the second quarter of the county final to see Kerry/Donegal crowned Sean Flaherty Cup champions for the first time since 2016.
Kerry/Donegal justified their tags as hot favorites coming into this clash having won every game in the round-robin format of this year's championship before carrying their dominant form through into the knock-out stages.
Na Fianna did their part in making this an enjoyable contest for spectators – as well as online viewers – but the accuracy and experience of the Kerry/Donegal ladies sealed the deal on the day.
The game started out tit-for-tat with the sides being just two points apiece at the first water break. Na Fianna captain Brianna Tierney slotted over two converted frees while Kelly Keating and Marie Dargan marked their names for Kerry/Donegal.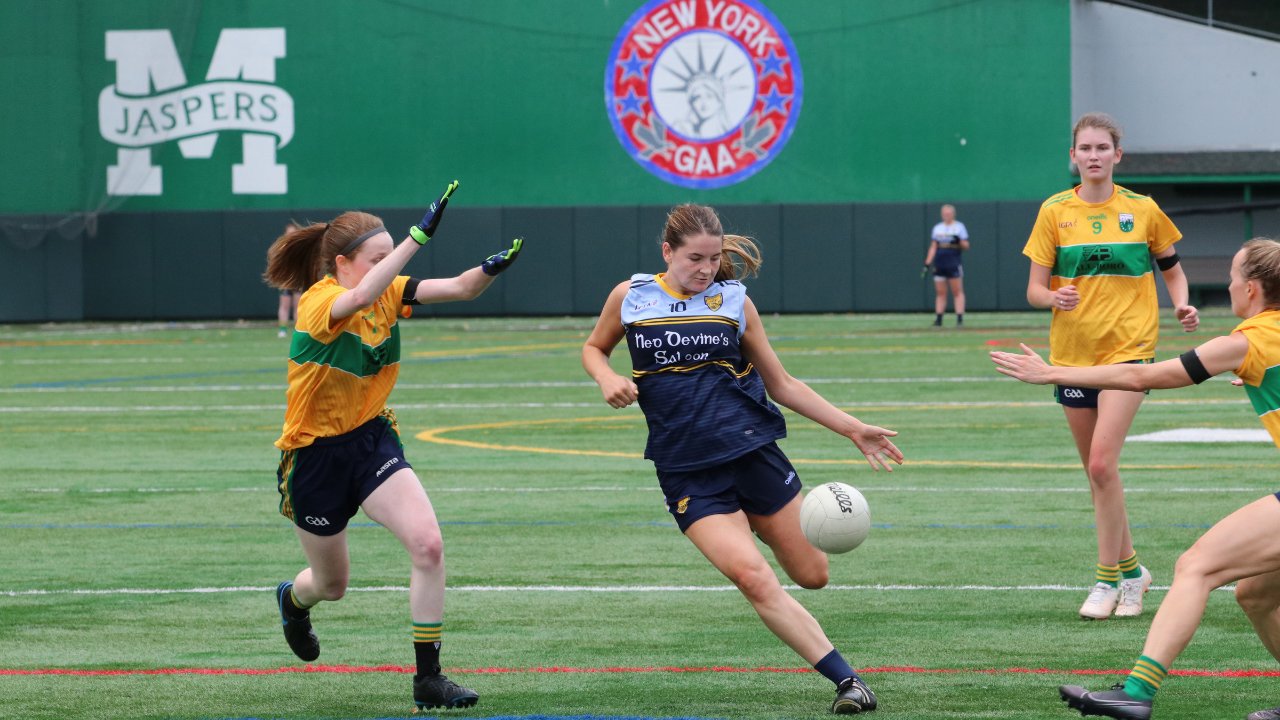 For the majority of the first half Na Fianna seemed to be the more comfortable of the two teams winning possession at both ends of the field. Stephanie Tierney and Mary McGinn were outstanding in the backline.
However, as anyone who has played Kerry/Donegal knows, experience is on their side and once they settled into their regular groove there was no turning back.
Nevertheless, the Kerry/Donegal camp had a major scare 10 minutes before halftime when Dargan went down with a hamstring injury. However, the magical hands of Sinead Burns went to work and Dargan was soon back up and running.
Kerry/Donegal was then awarded a penalty after Courtney Traynor was hauled down in the box and Dargan stepped up to convert the subsequent spot-kick fighting through her injury.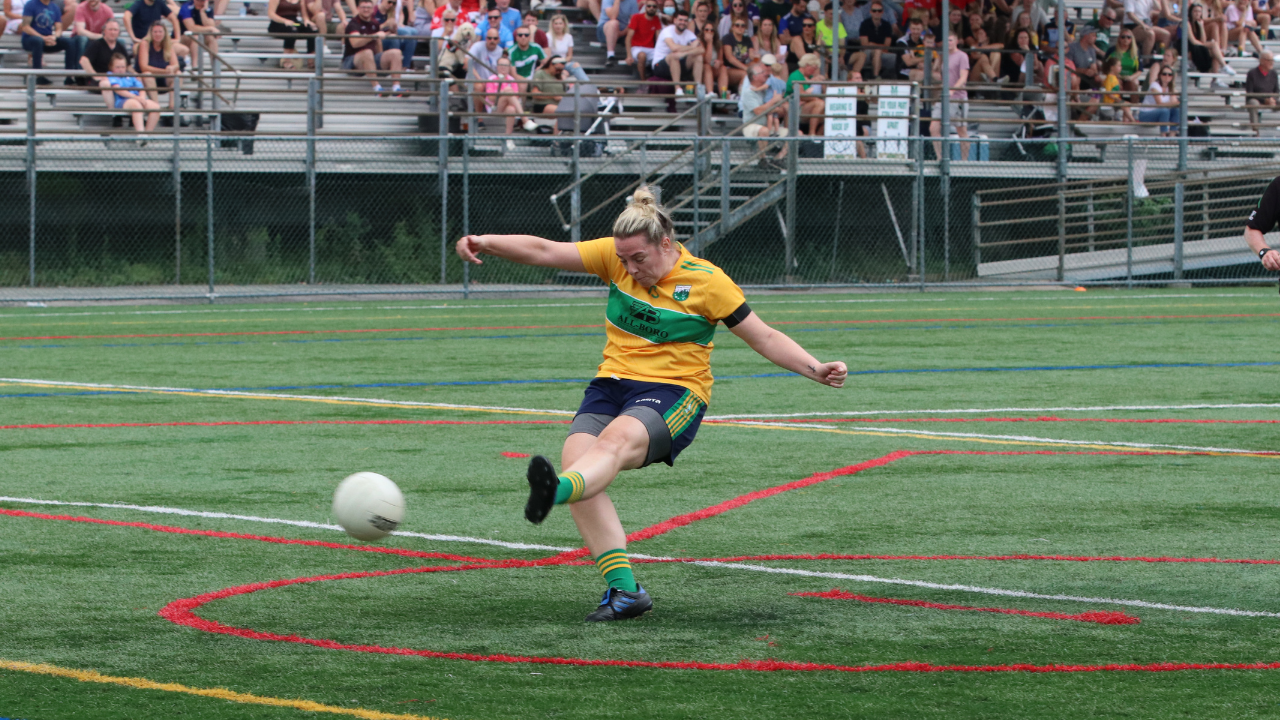 Three minutes later Dargan was back moving at full tilt tormenting the Na Fianna defense. She slotted her second goal into the left corner of the net and then added a point before rattling the net again with an absolute bullet of a strike leaving the score at halftime of 3-3 to 0-2.
The Na Fianna team never once gave up, with powerful performances from Madison Donohue, Gemma Mooney and Orla Gormely. But the confidence from the Dargan goals for Kerry/Donegal meant the comeback never materialized.
Lauren Rodican, Lily Sheehan and Traynor never gave the Na Fianna defense a minutes peace, despite the gallant efforts of Mary McGinn and Megan O'Connor when she was introduced in the second half.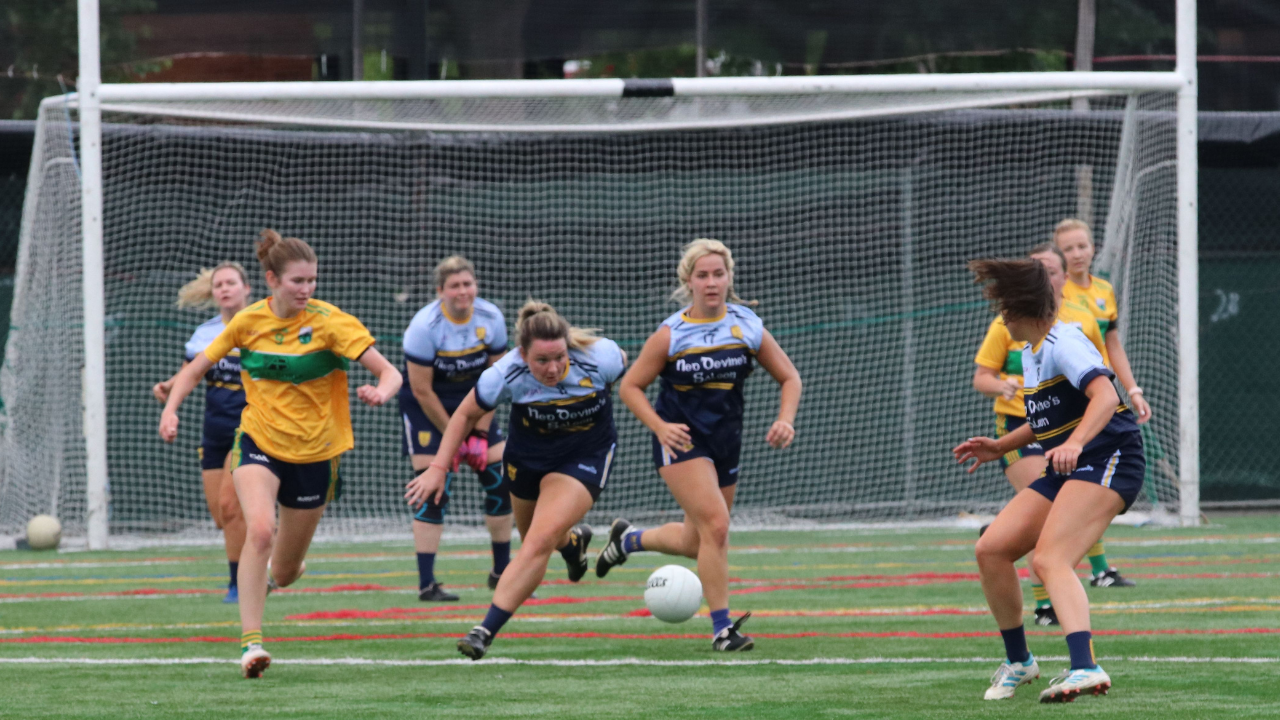 A beautiful point, quite possibly the point of the game, kicked by Kelly McCormack of Na Fianna was followed by a Sinéad McGorty point – rewarding her for some trojan work.
However, that wasn't enough to muster a fightback as Kerry/Donegal notched a fourth goal courtesy of super sub-Loretta Cunningham. Traynor went on a spectacular solo run from the sideline before flicking the ball into the box and Cunningham was well positioned to palm the ball into the empty net.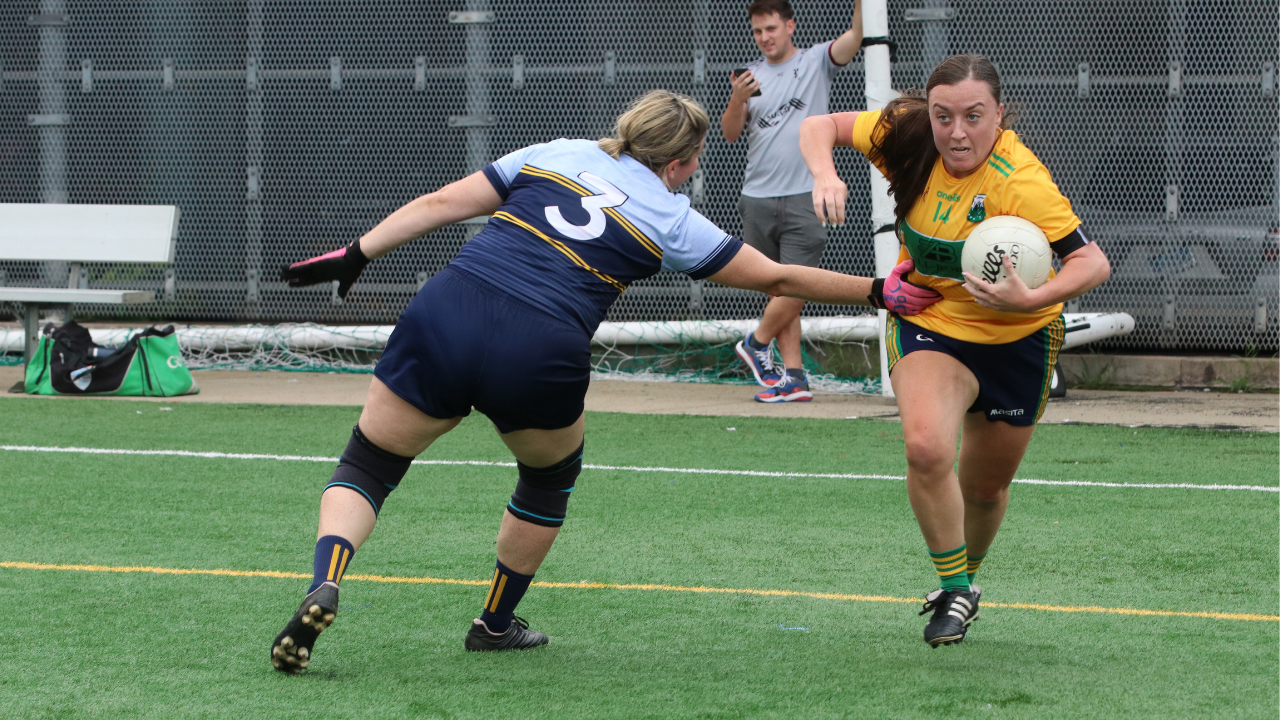 Grainne Lavery of Na Fianna had an outstanding second half, bagging herself a point, but points from Kerry/Donegal's Rodican, Megan Fitzpatrick, Traynor, Linda Callan and a second for Dargan and Keating left the full-time score at 4-9 to 0-5 to Kerry/Donegal.
Special mentions for Aoife Mahers, Michelle Dowd and Laura Wyrne from Kerry/Donegal for powerful displays of football, while Sinead McGourty, Claire Browne and Maggie Murray deserve serious recognition from Na Fianna.
A well-fought battle between the two teams without a doubt and the game was a lot closer than the final scoreline
While experience won this battle, Na Fianna has a young and powerful team and will surely be back at the business end of next year's championship.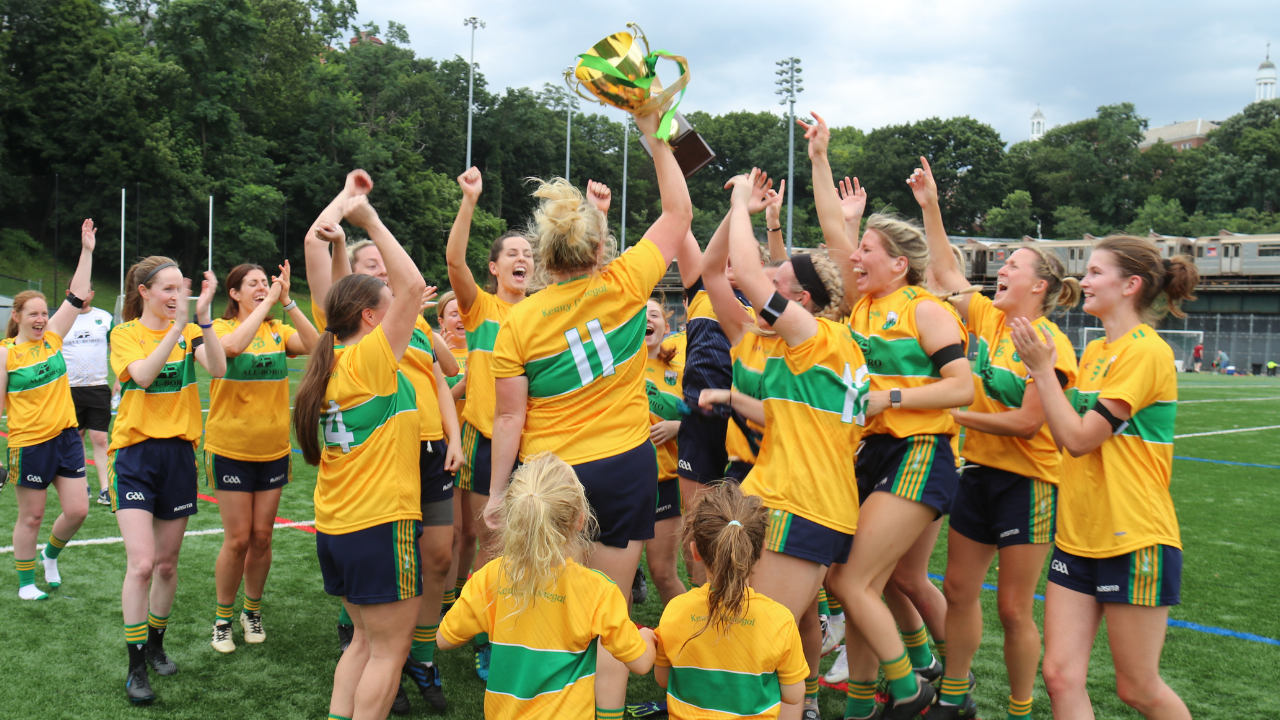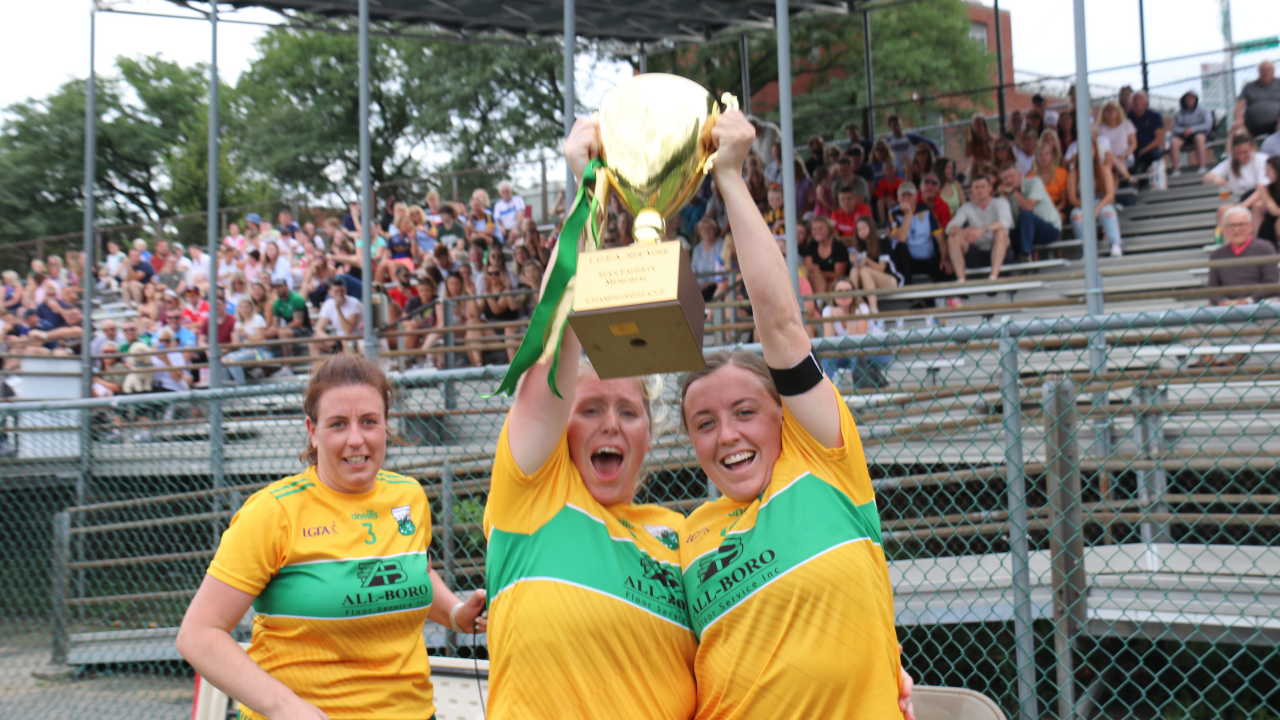 Watch the New York Ladies Senior Football Championship Final 
Photos of the New York Ladies Senior Football Championship Final