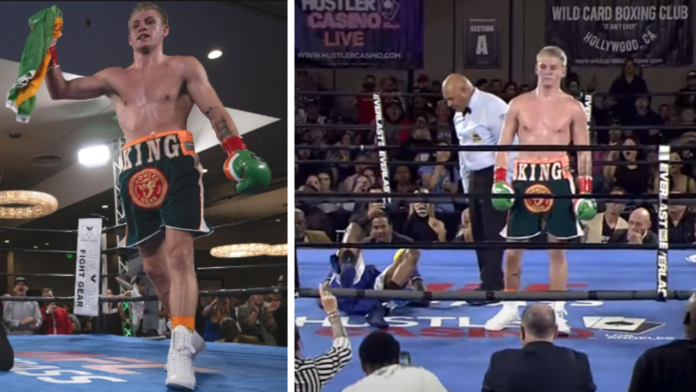 Nov. 5 2022 By Brandon O'Neill
Cork fighter Callum 'King' Walsh' is continuing his steady ascendency in the pro ranks stateside with an impressive knockout win over Delen Parsley in California Thursday.
Walsh, fighting southpaw, knocked Parsley to the floor in every round before finishing the job in the fourth with a devasting left hand.
The 21-year-old Irishman was in total control of the New Yorker with better feet and neat combinations during the light middleweight bout.
But it was Walsh's trademark power that finished the deal and a thunderous left that was too much for Parsley, who fell flat on his back and the referee immediately called a halt to proceedings.
The win on the UFC Fight Pass main event takes his pro fight record to 5-0.
"I hate going the distance, I'm in here to knock people out," Walsh said afterward.
"I'm in here to give entertainment to the fans… I'm here to give them a knockout and that's what I [was] doing tonight, I was getting the knockout."
Walsh is trained by Freddie Roach.
Read More: UFC Boss Dana White Heaps Praise on Irish Boxer After Devastating KO Win in California
WATCH: Callum Walsh vs. Delen Parsley
View this post on Instagram