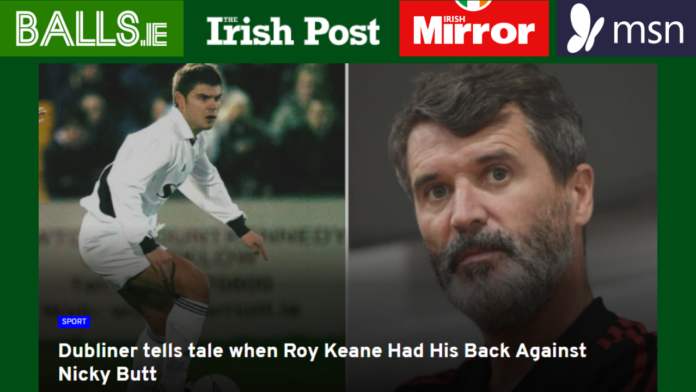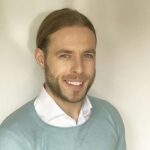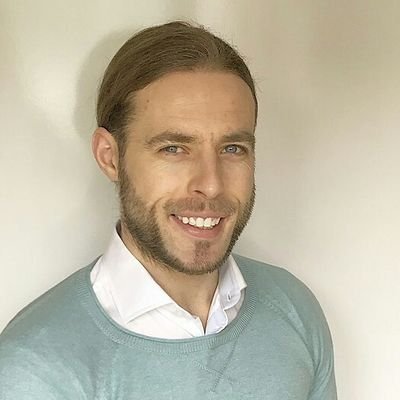 Jan. 4, 2021 By Michael Dorgan 
The Long Hall Podcast is in the news again!
A brilliant story taken from our episode with former Manchester United and Republic of Ireland youth player Kevin Grogan featured widely across a number of leading news websites last week.
Grogan, who is now based in New York, was on The Long Hall Podcast last year and detailed his move to Manchester United in the 1990s at the age of 15. The Dublin-native was also part of the Irish team that won the Under 16 European Championships in 1998 under Brian Kerr.
A story about Grogan — involving Roy Keane and Nicky Butt — taken from that episode featured on the Irish Mirror, the Irish Post, Balls.ie and MSN.com last week.
Grogan describes how fellow Irishman Roy Keane stood up for him during a training ground incident with England's Nicky Butt.
"The first day, I trained with the youths, the second with the reserves, the third day I was with the first team," Grogan said on The Long Hall Podcast.
"At the start of training, you'd do a bit of keep-ball. We were doing one-touch, piggy in the middle.
"I just remember Nicky Butt absolutely pinging the ball at me. It was impossible for me to control it with one touch. It bounced off me. I went to go into the middle to grab the bib.
"Roy Keane stepped in and said to Nicky Butt, 'Don't ever do that to him again.' He told me, 'Do not take that bib.'
"It was nice to have someone like that having your back," Grogan said.
"I met [Keane] in the car park that day again. He asked if I needed a lift. I said I was fine because I was going with John O'Shea.
"People have this perception of him but he was great fun around the training ground. [High] standards, yes, demanding, yes. He was a decent guy."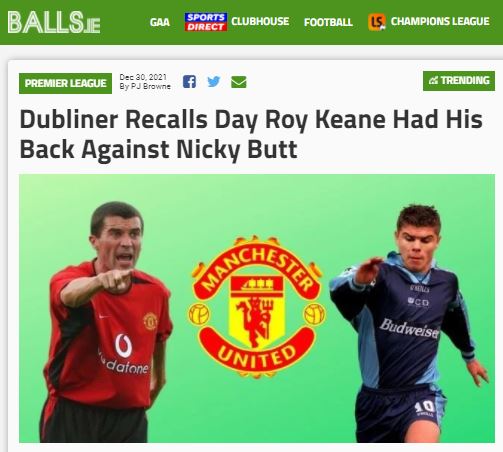 The publications also delved into Grogan's comments on the podcast where he described his fondness for Sir Alex Ferguson.
"He had this amazing knack of remembering names, whether it was schoolboy players at 8, 9, 10, 11 or parents or staff," Grogan said regarding Ferguson.
"He just knew everyone's name. It was a massive trait because it made everyone feel part of it."
PODCAST: The Long Hall Bar Reopens for First Time Since the Pandemic
Grogan also told a hilarious story on the show involving Ferguson and Keane.
"I remember one time Alex Ferguson stopping our training session with the youth team. He brought us over to the first team, just to talk us through why these players are in the first team.
"The first thing he said was, 'Look at Roy Keane. He never gives the ball away. He's a percentage player.'"
"Literally the first time Roy Keane got the ball, he gave it away. Everyone just started laughing," Grogan said.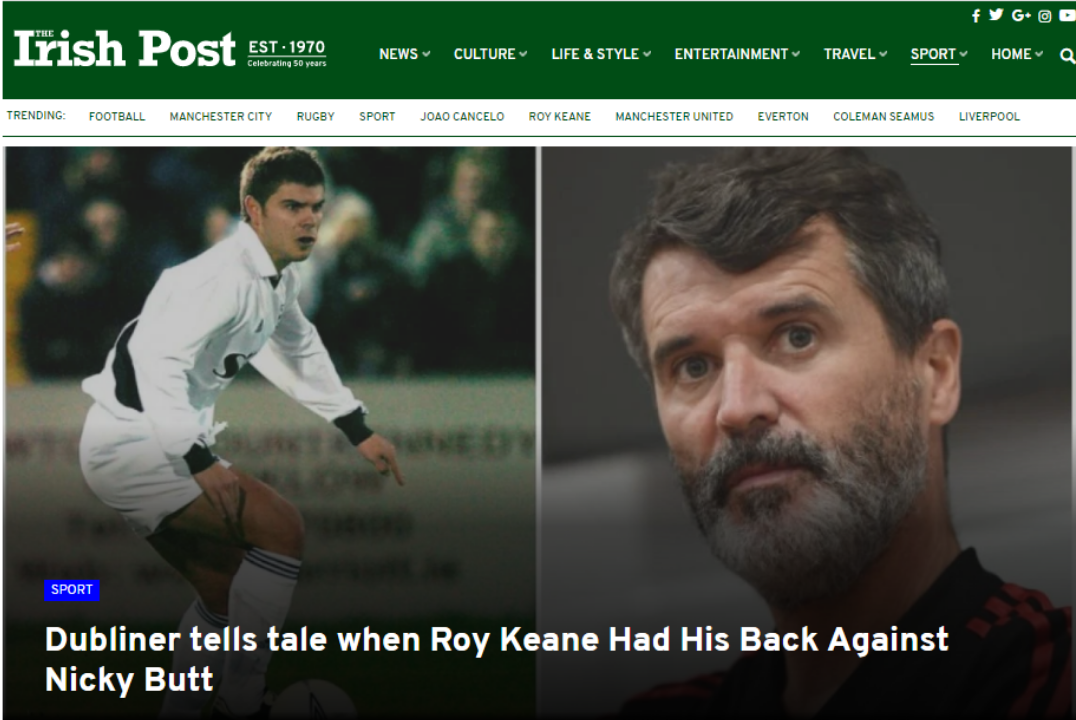 Grogan was destined for a bright future with Man United but was plagued by a pelvic injury – which ultimately cut his career short and forced him to leave the club a few years later. He underwent a number of surgeries and attempted comebacks with UCD, Milwall and St. Patrick's Athletic before calling time on his short career.
In the podcast, Grogan talks to us about his time at United, his injury setbacks and the mental struggles of dealing with those disappointments.
Grogan moved to America when he was 27 and carved out a very successful career in coaching and in the business side of the game in New York where he now runs his own private consultancy company called Kevin Grogan Soccer.
It is not the first time episodes from The Long Hall Podcast have made news headlines on top news websites.
Our podcast with New York Chair Joan Henchy regarding her dissatisfaction with Irish clubs and organizations fundraising in the Big Apple featured in the Irish Examiner, as did our podcast with former Kerry County Board GAA chairman Pat 'The Bag' O'Sullivan where he painted a bleak future for Gaelic Games in the Empire County.
Watch or listen to our podcast with Kevin Grogan below.