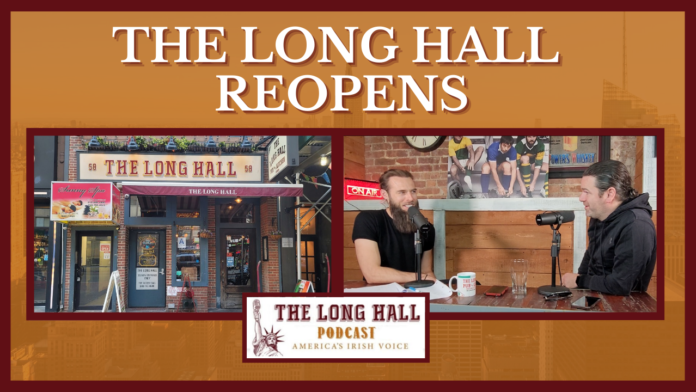 Michael and Johnny are back inside New York's GAA Headquarters for the first time in 20 months to talk everything about The Long Hall reopening after the lockdown and the state of New York's hospitality sector battling the economic downturn.
Johnny delves into how the shutdown has affected the bar industry, inflation, problems getting staff, PPP government loans rent prices and more.
He also gives an insight into how he and The Long Hall co-owner Cathal Clarke are managing both The Long Hall and the Westbury which they were initially supposed to open the week of the first lockdown.
The lads of course own The Westbury with Conor Moore aka Conor Sketches. We get great responses from our bar-themed podcasts and because there is so much to cover we will do a follow-up in a few weeks so if you have any questions leave us a comment on social media.
This is a great listen and Johnny reveals everything from the concept behind The Long Hall and how they set it up to the secret behind the bars best tasting Guinness and curry chips.
All of our podcasts are up here on the website — which reached a significant milestone this year – by reporting on every New York GAA adult championship final in both men and women codes.
If you like what you hear be sure to rate the podcast and share it with your friends.
Let us know what you think, by leaving us a comment on Facebook, Instagram and Twitter.
Follow Michael @michaeljdorgan
Follow Johnny @johnny_long_hall
Follow The Long Hall – @the_long_hall_
The Long Hall Pub & Grocery is located at 58 East 34th Street.
00:00 Intro
2:25 Start
7:11 Recap on The Long Hall Closing Due to Pandemic
8:12 Difficulties Getting Staff
13:26 Why has there been a big mentality shift with workers?
14:55 Why Johnny has to close The Long Hall twice a week
16:03 Rent payments with The Long Hall and Westbury during Covid
23:30 When did The Westbury open and how has business been?
28:28 Crime in New York City
31:02 How will they manage both the Long Hall and the Westbury going forward?
34:21 Effects of inflation on the New York bar industry
36:42 PPP money 47:03 What was The Long Hall before they took it over?
51:16 Who owns The Long Hall?
52:57 How much initial investment to renovate the space?
56:32 Top spots to visit in Manhattan?
57:29 Advice for someone looking to open a bar in New York
1:00:50 What was the initial concept behind The Long Hall?
1:07:48 The Long Hall's Guinness
1:09:57 The Long Hall's Curry Fries
1:14:27 Friday Nights in The Long Hall
1:15:54 What is New York like at Christmas for the Irish?
1:16:57 What are your tourist spots for Xmas in New York?
1:19:31 Paddy Greene Promoter