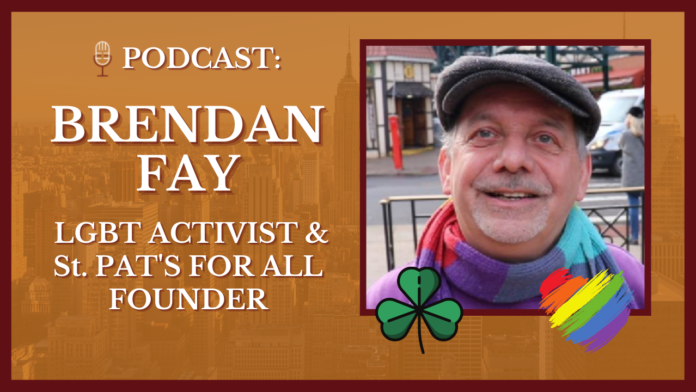 On this week's podcast, Michael speaks to Brendan Fay, a decades-long LGBT activist, filmmaker, public speaker and founder of the hugely popular St. Pat's For All Parade which takes place every year in Sunnyside and Woodside in Queens.
Brendan was born in Co Kildare and grew up in Drogheda.
He moved to New York in the 1980s – mainly because he felt it was easier for him to come out as a gay man.
However, Brendan soon found out that America too had its own problems with discrimination, which motivated him to join the movement for L G B T rights, same-sex civil marriage, AIDS awareness and human rights.
In the late 1990s, Brendan, a proud Irish man, was arrested several times for attempting to march with a gay rights group at the Fifth Avenue St. Patrick's Day parade.
In response, he then decided to form his own St. Patrick's Day parade in Queens that would be welcome to people all backgrounds and sexual orientation – hence the name St Pats For All.
The parade has become a massive event in Queens and appears to be getting bigger every year.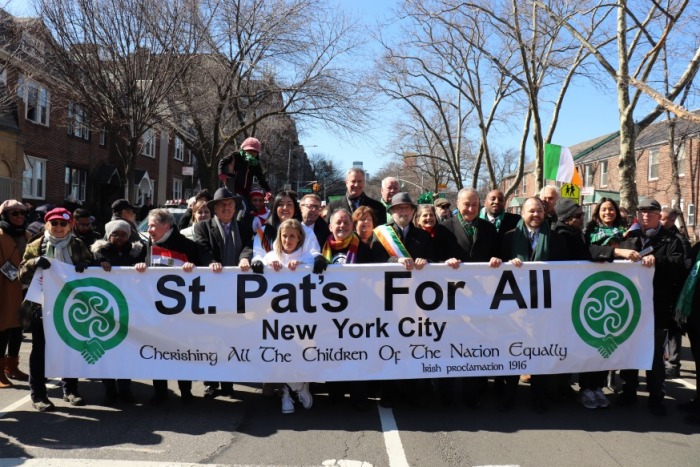 In this year's parade, which was held last Sunday, nearly two dozen politicians and city officials marched including Senator Chuck Schumer, and other city and state lawmakers.
In 2016, Brendan's LGBT group — the Lavender and Green Alliance became the first LGBT group to march in the St Patrick's Day Parade in Fifth Avenue parade.
Michael spoke to Brendan after the St Pats for All Parade Sunday and he looks back on his life, his struggles coming out and how he established the parade.
It's a truly inspirational interview.
Read More: Thousands Flock to Woodside and Sunnyside in Queens for St. Pats For All Parade
It was the first time Brendan wasn't involved in organizing the event having stepped down as co-chair.
Brendan's website is brendanfay.net where you can find out more about Brendan's journey, his work and his documentary films.