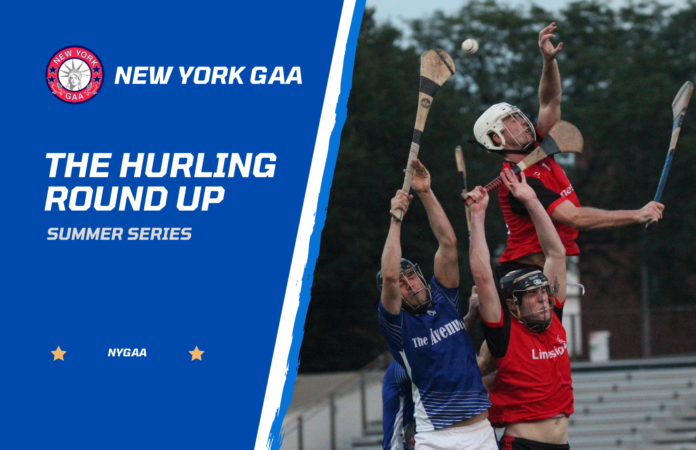 Aug. 10 2022 — via New York GAA App
Hoboken v WaterfordNY
NY Senior Hurling Championship – 5th of August 2022 (6.30pm)
Heading into the final round of group games all teams held their faith in their own hands. In the first game of a double header weekend, the team with the most momentum WaterfordNY had an opportunity to put themselves straight into a final as they took on Hoboken looking to do the same.
In a game where both teams were missing key players, none more so than Hoboken net minder Cillian McNamara who was absent and as important for Waterford, sanction Sean Duffin who had returned home early to fulfill club commitments in Antrim.
As the ball was thrown in by Chris Dalton all of that was forgotten as both teams went hammer and tongs at each other to claim the ultimate prize. Inside 5 minutes Hoboken looked the stronger as they began the game with 3 unanswered points, 2 from corner forward Niall Coen and another from Luke O'Connor. Waterford though would eventually get themselves into the game with some lovely interplay around the middle third between Jason Donohue, Cormac Condon, and Darren Donohue and eventually got themselves on the scoreboard through Paddy Commins and a lovely taken point from Condon shooting into the town end goal.
Waterford continued to add pressure and added a goal before the water break after a long ball ended up in the net. Hoboken to their credit did respond, tagging on 3 more points before the brief stoppage. (Waterford 1-03 – Hoboken 0-6 points WB).
After the H2O break, the teams returned to the field and finished out the first half score for score with very little given from either set of players. Aiden Organ and Deaglan Murphy added points for Waterford as did the Fahey duo for Hoboken Enda and Declan. The teams would reach halftime with only a point separating them Waterford 1-08 – Hoboken 0-10.
As the second half began you could see both teams didn't want to leave anything on the field, a full effort was required if a victory was to be achieved. Waterford probably had the higher energy levels and hit the ground running with a few nice taken points but Hoboken would again answer with a goal and a point of their own putting them in the lead again for the first time since the 5th minute of the first half.\
Read More: New York GAA Hurling Roundup: Round 5
It really was a ding-dong battle from there on, both sides fought for every ball, and Chris Dalton in the middle had it all to do to keep tempers dampened and keep control of the game.
As the game went on it seemed as though the Deise boys weren't about to give in and even after the setback of the goal managed to pop over 5 points before the 2nd half-water break to regain their lead. Hoboken at this point looked like they had run out of steam and potentially Waterford would canter home from here.
A silly position to take because as we all know Hoboken is rarely beat until the final whistle goes and they showed it again as they rallied late putting 1-03 on the board to close the gap once again.
But this game was all about the boys in blue, Waterford weathered the Hoboken storm and added 4 points of their own (Murphy, Donohue, Commins) and see off a mighty effort by a gallant Hoboken side. The sides finished Waterford 1-21 to Hoboken 2-15.
Waterford now advances to the NY Senior Hurling Final on August 21st as they firmly place themselves as hot favorites to capture the Mick Flannery Cup for the first time in many years. With strong performances all over the field throughout the season, the team will surely feel that 2022 is their year to capitalize on their efforts.
Adding the Murphy brothers, the Donohue's, getting Lar McDonald back on the field, and having Lynch and Organ in top form, will surely please the management as they prepare for 2 weeks' time.
Hoboken Guards – Paul Loughnane, Gary Bennett, Paul Kileen, Harry O'Connor, James Rodgers, Stephen McAfee, Eoin Kiely, Declan Fahey, Brendan Furlong, Conor Ryan, Luke O'Connor, Dara Walsh, Niall Coen, Jack Morrissey, Enda Fahey. Subs – Maurice Sweeney, William Maloney, Mark Keane, Paul Gordan and Mark Scanlon.
WaterfordNY – Ronan Callanan, Emmet Hunter, James Breen, Keelan Hickey, James Bermingham, Lar McDonald, Darren O'Donohue, Jason O'Donohue, Deaglan Murphy, Daire Murphy, Paddy Commins, Cormac Condon, Aidan Organ, Conor Lynch, Johnny Power.
———————————————————————————————————————
TipperaryNY v WestmeathNY
NY Senior Hurling Championship – 6th of August 2022 (6.30pm)
Knock-out championship hurling is what everyone craves when they begin any season and this game provided just that as both teams needed to win to advance to the Senior Hurling Semi-Final. Tipperary was dealt a blow overnight as the word filtered through from home about the untimely passing of Tipperary (& Clonoulty) Senior Hurler Dilion Quirke.
Tipperary marked the occasion by wearing black armbands and holding a minute's silence before the game. A nice touch by Tipperary and NYGAA combined.
Aside from the usual Gaelic Park delay (usually 25-30minutes) the game got going at a frantic pace with both sides needing to win and the impetuous was evident. Tipperary with a bit between their teeth struck first after James McNaughton was taken down, Mikey Sheedy slotted the first of many frees to set Tipperary on their way. Westmeath responded with a sharpshooter of their own in Dave Mangan who hardly missed a free all day, and opened his account after just 90 seconds on the clock.
Tipperary began to get to grips with the game and really played it on their terms adding more scores from play and tagging on further frees again by Sheedy. Westmeath though hadn't fought to get themselves into this position just to lie down and Luke Prendergast epitomized that by landing two lovely points from play inside the first 10 minutes.
Read More: New York GAA Hurling Roundup: Week 3
John O'Neill and again Mikey Sheedy would add to the Tipperary lead who were put into good scoring positions by their defense led by Mark Ellis, Darragh Hynes, and Henry Keyes. Westmeath continued to rally with some fine performances from Brian McPartland around the back and the ever-dangerous Dave Mangan upfront. Tipperary would hit for a goal and add on several more points before halftime as the scoreline read TipperaryNY 1-13 – WestmeathNY 0-10 at the interval.
The second half didn't really live up to the expectation as TipperaryNY controlled the game and took some fine scores from distance. Westmeath did add a goal through Eamonn Brennan late on after some confusion around the Tipperary backline but it was nothing more than a consolation score at that point. Darragh Peters, Sheedy, McDermott, and O'Neill all got in on the scoreboard late and saw out the game comfortably in the end with a scoreline of Tipperary 1-26 to Westmeath 1-14.
As Tipperary advance to the Semi-Final to play Hoboken next weekend, perhaps there will be more questions than answers after their up and down season to date. After starting the season well, they stumbled to 3rd place and will count themselves lucky to have another chance to keep their hopes of retaining their title alive. Westmeath on the other hand will be pleased with a strong showing in their first year back up senior and hopefully can build on that success for next year to compete again in the senior ranks.
TipperaryNY – Tommy Kavanagh, Johnny Burns, Henry Keyes, Bryan Power, Frankie Kennedy, Mark Ellis, Darragh Hynes, Gearoid Kennedy, Darragh Peters, James McNaughton, Michael Sheedy, Ducky Pond, Sean Elliott, John O'Neill, Karl McDermott. Subs – Liam Donovan, Padraig Gill, James Woods, Nick Kervick
WestmeathNY – Dan Morton, Brandon Hickey, Brian McPartland, Alan Sherlock, Gary Corless, Peter Hatzer, Liam Butler, Ger McPartland, Jack Martin, Luke Prendergast, Dave Mangan, Eamon Brennan, Karl Behan, Sean Garvey, Josh Dennahey. Subs – Sean Stones, Dan Salmon, Brain O'Leary, Evan Curley, Aidan Long, Sean Dunican
Hoboken Guards will now take on TipperaryNY in the NY Senior Hurling Semi-Final on the 14th of August in Gaelic Park at 2.30 p.m.
https://gaanewyork.com/fixtures