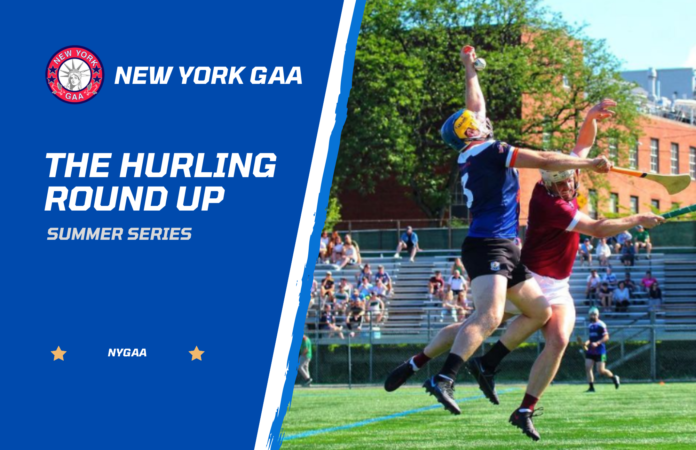 July 9, 2022 via the NYGAA App
Hoboken Guards v Waterford NY | Senior Hurling Championship
Saturday evening at Gaelic Park was a perfect backdrop to a well-attended 3rd Rd game of the New York Senior Hurling Championship between Hoboken Guards and Waterford NY.
On paper, the teams looked strong with Hoboken adding summer sanctions Luke O'Connor, Conor Ryan, and Niall Coen, all of who had only arrived in the last number of days. Waterford could again rely on the likes of James Bermingham, and brothers Daire and Deaglan Murphy who all had strong performances the last day out against Tipperary NY.
The early going was mostly all Hoboken, O'Connor slotting over multiple place balls and also hitting the back of the Waterford NY net within the first 10 minutes. Waterford NY found themselves 5/6/7 points down before the game really took any life.
A major missing piece for the Deise boys was James Breen who was representing New York in the Junior All Ireland in Croke Park the following day, and his presence at Full Back meant Waterford had to reshuffle and put sanction, Sean Duffin, back into the Full back line which they ultimately paid the price for as the game went on. Paddy Commins at full-forward for Waterford got to the pitch of the game early on and was really the main focus of all Waterford attacks.
Hoboken held a handsome 8-point lead at the break with Harry O'Connor, and Stephen McAfee well on top at the back giving Waterford NY very little chance to claw back the deficit. Strong second-half performances from Conor Ryan at right-half forward, Robert Frayne, and their reliable keeper Paul Loughnane meant that Waterford NY had little to no chance of getting back into the game.
Waterford NY created numerous scoring chances in the second half both from play and placed balls but unfortunately were not able to capitalize and eventually ended up on the wrong side of a 3-22 to 18 final score line.
Hoboken was missing numerous starters including Johnny Glynn, Cillian McNamara, Brian Glynn, Dara Walsh, and Eamonn Glynn and so it seems they have built a strong home base in the off-season to complement the talent they have had here for the past number of years.
Waterford will be disappointed not to perform up to the standard they would have expected having added a number of full transfers this year and good performances in earlier games. That being said they were reduced to 14 men halfway through the second half and Commins had to be replaced due to injury so plenty to work on for the Deise men.
Teams
Waterford NY– Eanna Slattery, Oisin Brophy, Lar McDonald, Darren O Donaghue, James Bermingham, Sean Duffin, Conor Higgins, Jason O Donaghue, Deaglan Murphy, Dylan Mulligan, Paddy Commins, Cormac Condon, Aidan Organ, Daire Murphy, Conor Lynch
Hoboken Guards – Paul Loughnane, Harry O'Connor, James Rodger, Gary Bennett, Mark Scanlon, Stephen McAfee, Eoin Kiely, Brendan Furlong, Cathal Egan, Niall Coen, Luke O'Connor, Conor Ryan, Robert Frayne, Paul Gordan, Jack Morrissey.
---
Sunday 10th of July – 3 pm
Tipperary NY v Westmeath NY | Senior Hurling Championship
Gaelic Park can be a challenging venue to play at in any weather but at 95/96 degree heat can be a whole different ball game. Tipperary NY came into the game as probably the most unknown team given that they have had so much turnover since winning the championship in 2021.
For this R3 game, Tipperary NY could finally add their 3 sanctions from Antrim in James McNaughton, Keelan Molloy, and Sean Elliot to the fold in an effort to retain their title. Westmeath NY coming into the game had put up some strong performances in previous weeks having led both Waterford NY and Hoboken at halftime but failing to convert to a full-time victory, they were eager to perform. Westmeath was going to be without their tallies man Ger McPartland who was away for the weekend and no doubt would have impacted the game and was a major loss for the maroons heading into the game.
Westmeath NY had the better of the opening exchanges and took an early lead through full-forward Kevin Kirwan and wing forward Luke Prendergast who found the posts with ease leaving the Tipperary NY defenders out on their feet.
Tipperary NY got to grips with the pace of the game and managed to pull back a well-needed goal by James McNaughton and points by Michael Sheedy both from play and frees. Just before the whistle blew for halftime David Pond hit the net after a well-worked play by the Tipperary attackers who now seemed to have their tails up.
Westmeath NY wasn't about to throw in the towel after having such a good opening 10 minutes and rallied late and continued to keep the pressure on Tipperary and the sides went in with only 1 point separating them after 30 minutes of heavy going.
As expected Tipperary NY came out with a bit between their teeth in the opening few minutes of the second half. Points from McNaughton and Molloy put Tipperary back in the driving seat. Due to the conditions and tactics played by Westmeath NY in the second half, both teams seemed to pick up a lot of loose ball around the middle third as both teams implemented a sweeper with Declan McGrath for Tipperary NY being most influential, intercepting many of the Westmeath NY attacking plays and sending the ball right back to where it came from.
The major thorn in the side for Tipperary throughout was full forward Kevin Kirwan who battled with Tipperary NY full-back Henry Keyes for the hour, with some of the exchanges resembling rugby or UFC at times but referee Eanna Slattery dealt with everything as best he could and I think both sides will feel equally treated.
Strong performances from Brian McPartland at right half back and Dave Mangan at center forward will give Westmeath NY plenty to look forward to in the remaining games.
The game finished with Tipperary NY winning 3-18 to Westmeath 2-18 after a solid hour of hard, tough, clean hurling that was enjoyed by all in attendance.
Teams
Tipperary NY – Keith Robinson, Bryan Power, Henry Keyes, Johnny Burns, Frankie Kennedy, Mark Ellis, Darragh Hynes, Declan McGrath, Keelan Molloy, Tommy Kavanagh, Karl McDermott, James McNaughton, Darragh Peters, Mikey Sheedy, Sean Elliot.
Westmeath NY – Daniel Motram, Brandon Hickey, Alan Sherlock, Evan Curley, Brian McPartland, Peter Hatzer, Gary Corless, Ultan O'Connor, Karl Behan, Luke Prendergast, Dave Mangan, Eamon Brennan, Sean McCabe, Kevin Kirwan, Sean Stones
---
The New York Senior Hurling Championship is well poised to produce a number of strong games in July and August. With all teams now at full strength after the July 1st deadline, teams will be jockeying for position to finish as high as possible in the table and qualify for playoffs.
New York Senior Hurling Championship Table
Team W L D
Hoboken 2 1 0
Tipperary 2 0 1
Waterford 1 1 1
Westmeath 0 3 0