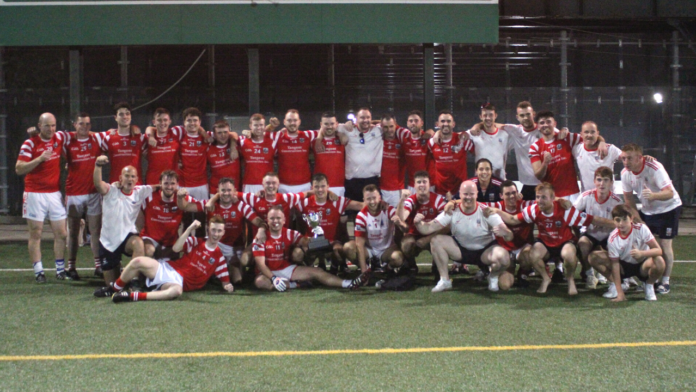 New York Junior A County Football Final
Cork 1-12, St. Barnabas 1-10
Oct. 6, 2021 By Michael Dorgan at Gaelic Park
They left it late – in more ways than one – but Cork NY claimed an elusive first championship title in 66 years Saturday with a dramatic win in the New York Junior A County Football Final.
Having played second fiddle for most of the game, it was the experience and leadership of veterans like Ger McCullagh, Alan Rafferty and Sean McNamee who ultimately helped the Rebels get over the line against a talented young St Barnabas side – many of whom had won senior honors just a few weeks earlier.
Trailing by six points with 20 minutes remaining – and with just three points on the scoreboard – Cork intercepted a short Barnabas kick out before McCullagh skipped past his man on the edge of the box and rifled a shot into the net to begin the red's revival.
A Walsh point soon reduced the gap to two and then Barnabas stretched the lead to four after a series of sendings off – two for the Bronx men and one for the Rebels.
But Cork found another gear in the home straight and peppered Barnabas with six unanswered points to power over the line to victory.
"We were confident in our own ability in the last 15 or 20 minutes," said Cork co-manager Lorcan Grall afterward.
"I think there was a great mix of youth and experience there," said Grall, who shares managerial duties with Johnny Glynn, Laurence Kennedy and Padraig McGourty.
Read More: St. Barnabas Claim Historic Back-to-Back New York Senior Football Titles
The chances of a Cork victory, however, looked bleak before McCullagh's strike.
Despite possession being evenly split, Barnabas controlled the game from the off going three points ahead in the opening few minutes thanks to points from Shane Hennessy, Tiarnan Mathers and Mikey Brosnan before McCullagh registered Cork's first score after 11 minutes.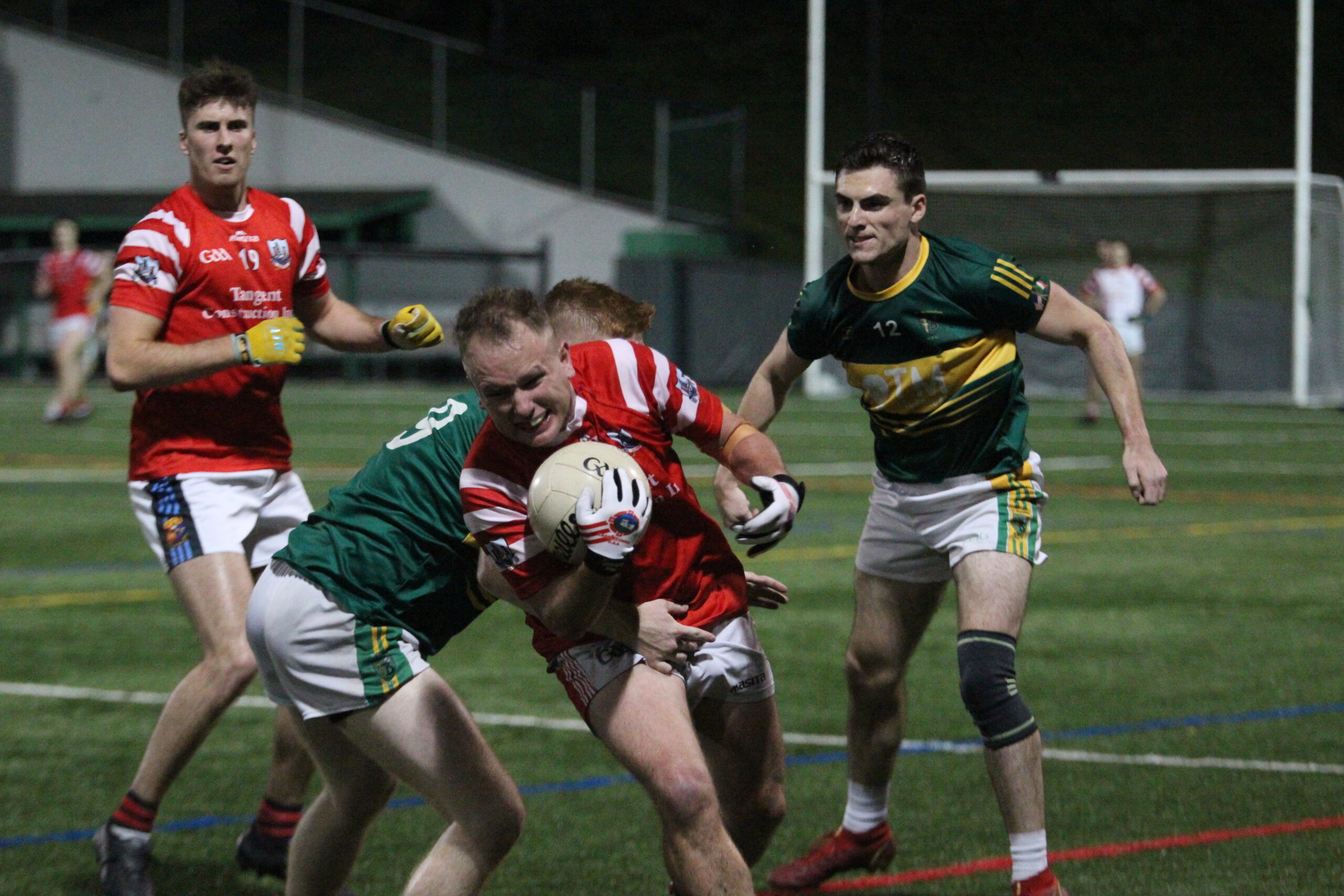 Niall Judge dropped back into the defense to effectively soak up some pressure yet Cork seemed to exert copious amounts of energy working the ball up near the Barnabas goal and then lost it at vital moments.
Cork's use of the long ball into full-forward Pa Sheehan caused plenty of problems for the Barnabas defense but ultimately not much came of it. The big man's tussle with full back Paidi Mathers was fascinating to watch.
Barnabas on the other hand was full of running with Shane Hennesy along with midfield duo Tiarnan Mathers and Shane Brosnan playing plenty of ball while the team's kick passing also impressed.
Full forward Ray O'Connor and halfback Sean Liddy slotted over after the water break before Mikey Brosnan extended the lead to 6-3 at halftime.
Read More: Manhattan Gaels Win Inaugural New York "Novice" Football Championship
Barnabas took over where they left off after hydration with Norney, Shane Brosnan and Tiarnan Mathers extending the lead to 9-3 and a Barnabas win seemed inevitable until the Cork fateful were on their feet after McCullagh's goal.
It appeared to give the team a belief and conviction they had been missing up until that point. Walsh reduced the gap to two before Mikey Brosnan pointed to steady the Barnabas ship.
Lively corner-forward Ahearne reduced it to two again before a big skirmish in front of the Barnabas dugout saw Norney and Conor Hunter given their marching orders. A minute later Barnabas substitute Liam Rafferty was also shown red for an apparent off the ball incident.
Ahearne pointed again before Mikey Brosnan found the net for Barnabas with a well-worked team goal to stretch their lead to four with seven minutes remaining.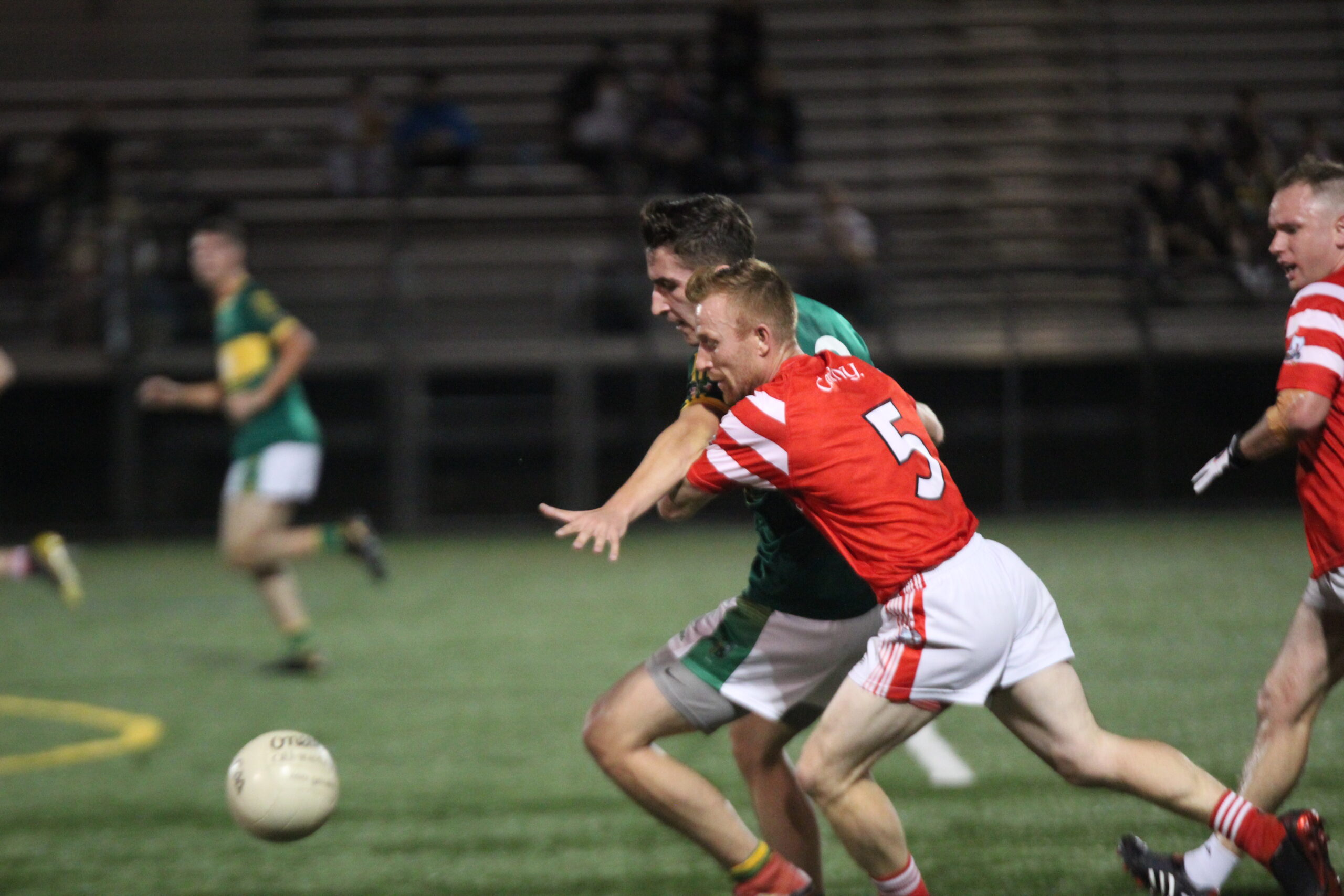 But Barnabas couldn't finish the job and were steamrolled by a relentless Cork side who pressured their kick out and defended like dogs in the backline.
With the bit between their teeth, Walsh and Rafferty took hold at midfield while the injection of pace by substitute Tom Joe O'Sullivan cut open the Barnabas defense as Cork blitzed the Bronx men with six unanswered points – courtesy of Ahearne, Walsh, McNamee, Andrew Burke and a brace by man of the match McCullagh.
The Rebel roar at the full-time buzzer embodied how much it meant to the club who boasted 10 native Cork men on the panel.
Donal Casey, Stephen Hanley, Anthony Hanley and John Lavin are Bantry Blues men, while Darragh Whooly and Eoghan O Dwyer are from Muintir Bhaire (Sheep's Head).
Tom Joe O Sullivan is from Adrigole, Gary Lowney and Chris Shea are from Urhan while Sean Moynihan is from Ballyvourney.
Commenting on ending the Cork drought, Grall said it meant a great deal for all everyone associated with the club.
"That win was for the players and management obviously but also for all the people who put in the effort over the years too," Grall said.
"It was a collective win for everybody… it's just brilliant, it's unreal.
Post Match Interview: Cork Manager Lorcan Grall
Cork: D. Casey (capt.); S. Hanley, W. Purcell, S. Tierney; C. Hunter, M. Sheedy; Andrew Burke; A. Rafferty, D. Walsh; M. Sheedy, N. Judge, G. McCullagh; P. Glynn, P. Sheehan, C. Ahearne.
Subs: G. Lowney, T.J. O'Sullivan, P. O'Connor, A. Hanley, E. O'Dwyer,
S. Moynihan, J. Lavin.
Scorers fo: G. McCullagh (1-4), C. Ahearne (0-3) D. Walsh (0-2) M. Sheedy (0-1), A. Burke (0-1), M. Sheedy (0-1)
St. Barnabas: Jack Dennis; D. Curran, P. Mathers, P. Cronin; Caolin Mathers, K. Rafferty, S. Liddy; S. Brosnan, T. Mathers; F. Cole, S. Hennessy, Conor Mathers; M. Brosnan, R. O'Connor, D. Norney.
Subs: M. McMorrow, I. Kavanagh, L. Deane, L. Rafferty, P. McGrinder, B Coen, J. Clarke.
Scorers: M. Brosnan (1-3), T. Mathers (0-2), S. Brosnan (0-1), D. Norney (0-1), S. Liddy (0-1), R. O'Connor (0-1), S. Hennesy (0-1)
Referee: Peter McCormack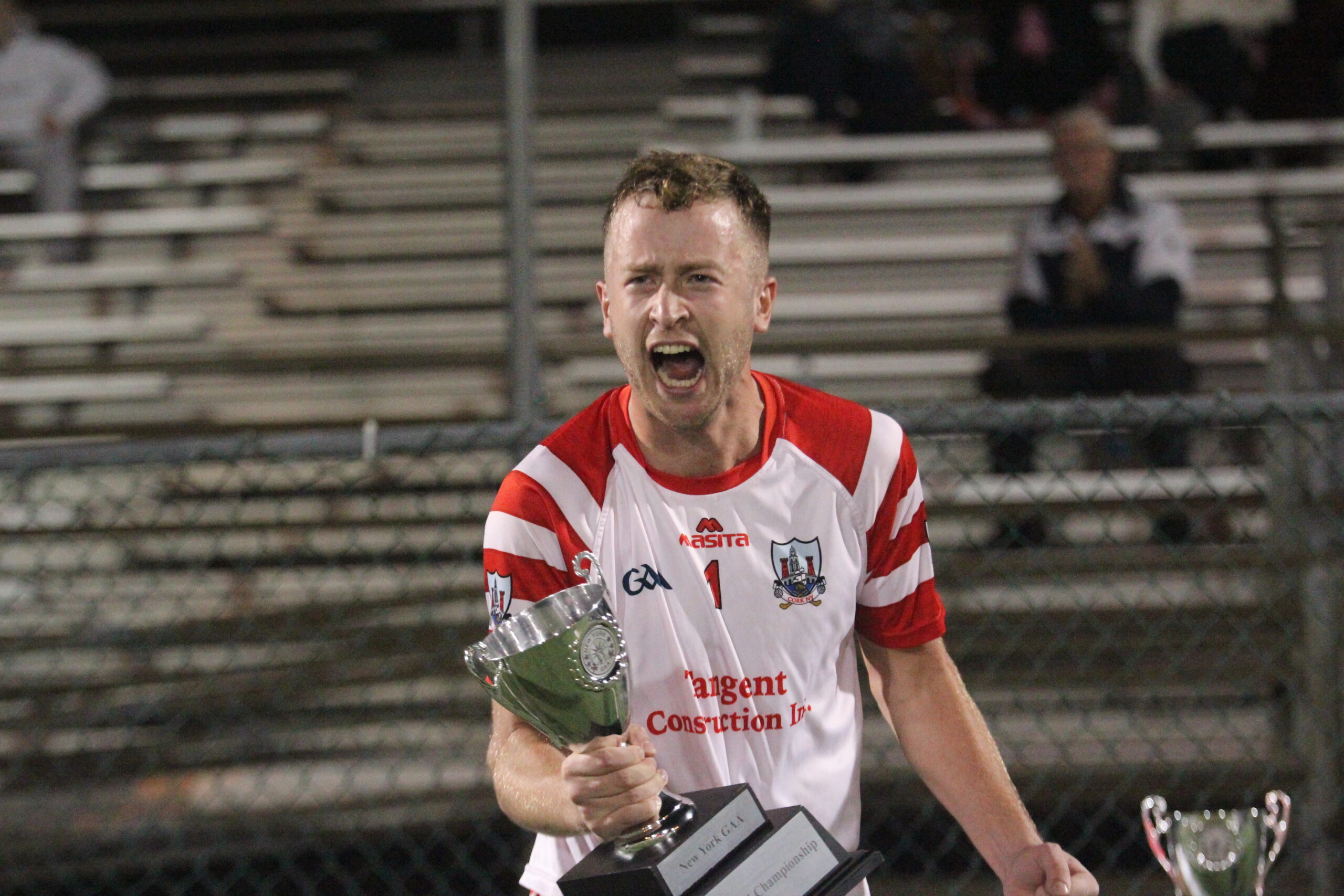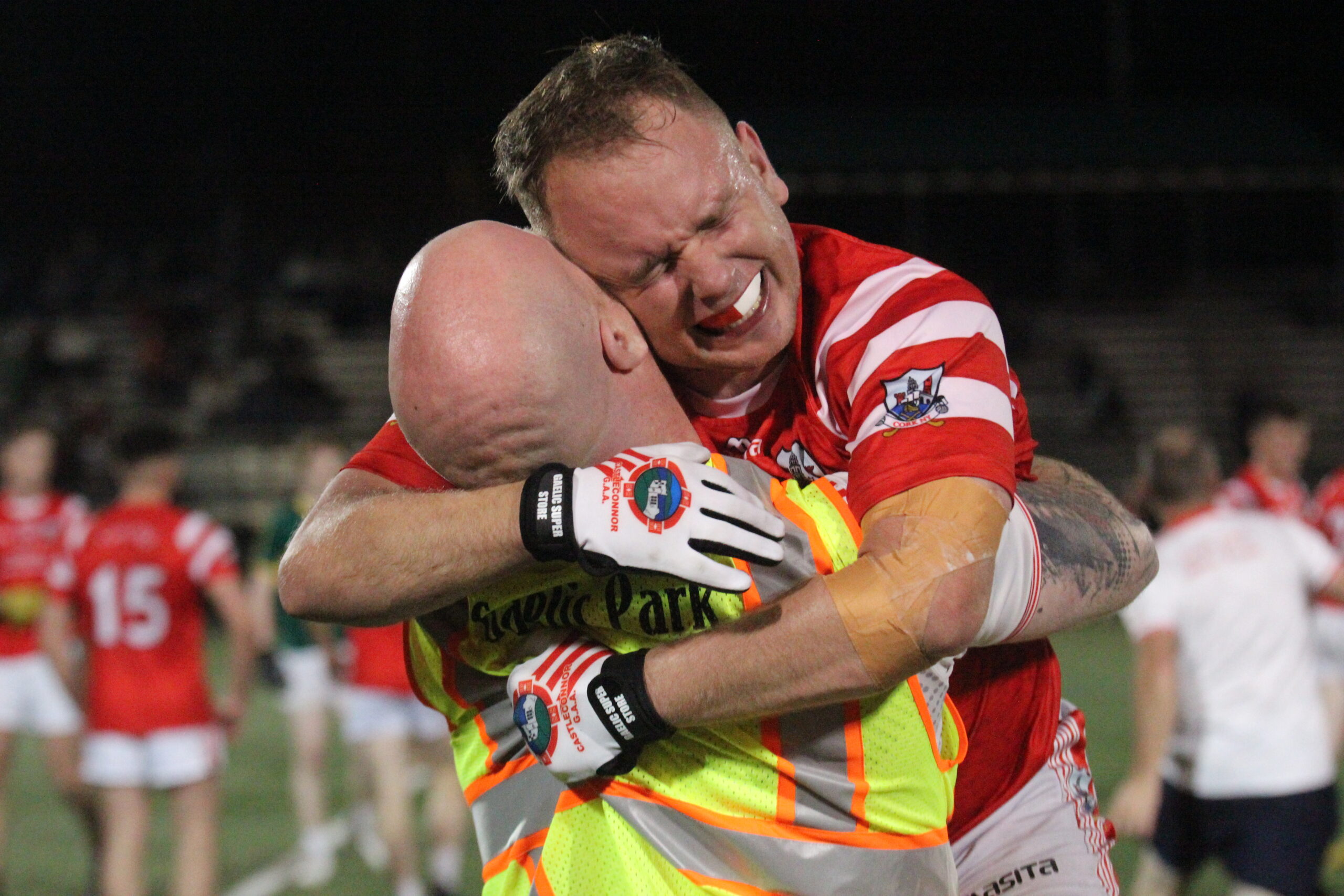 Watch the 2021 New York Junior A Football Final
Commentary by The Long Hall Podcast host Michael Dorgan and Liam Birmingham
View this post on Instagram