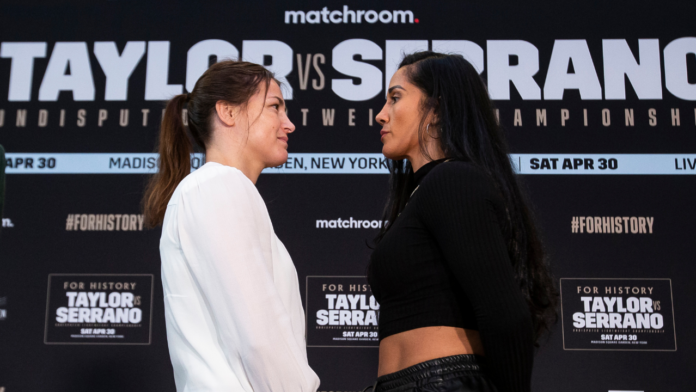 "We expect to fill up the Garden completely." – Eddie Hearn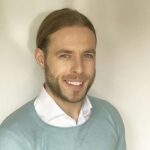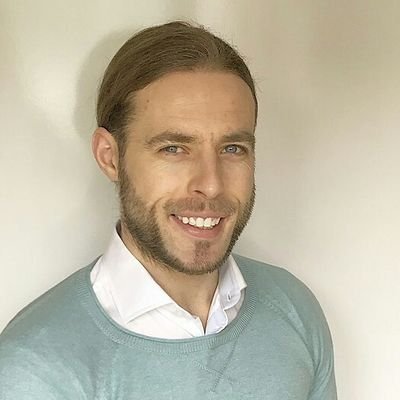 Feb. 2, 2022 By Michael Dorgan
Katie Taylor and Amanda Serrano had their first official staredown at Madison Square Garden Wednesday ahead of their highly anticipated clash on April 30.
The pair posed for photographs after the top table talks had concluded and then faced eachother down flanked by their respective promoters – Matchroom's Eddie Hearn in the Taylor camp while Jake Paul with team Serrano.
Despite some animosity between the camps – dating back to when Taylor defeated Serrano's sister Cindy in 2018 – there were no sparks between the pair.
Serrano, dressed in all black, muffled something to Taylor who responded with a simple "Yeah."
Then Paul, the YouTube star turned nascent boxer clapped and shouted "Let's go!"
The bout — where Irish icon Taylor (20-0 6 KOs) will put all of her lightweight belts on the line for the sixth time in her career — will be the first female professional boxing match to headline the Garden and is touted as being the biggest women's boxing fight of all time.
It could potentially be the biggest fight of the year – male or female.
"I've had my eyes on Amanda Serrano and this is a fight I've been looking forward to for quite some time now," Taylor said at the presser. 
  "This is history right here and all of our hard work is going to be paid off."   "I think that this fight is the most exciting fight in the sport, not just female boxing. This really is the best fight in boxing right now.   "We are both great champions, she has a great record and she's a great fighter. We have seen the likes of McCaskill and others; but I want to be the best fighter."
WE CANNOT WAIT FOR THIS ONE ?#TaylorSerrano@jakepaul | @MostVpromotions pic.twitter.com/q71TfAqC7j

— DAZN Boxing (@DAZNBoxing) February 2, 2022
Taylor, 35, is coming off the back of a few underwhelming performances by her high standards, but it is safe to assume she will seriously up the ante for this fight which has been years in the making.
Team Taylor tried hard to lock down Serrano into a bout after Taylor brushed aside Serrano's sister Cindy in 2018 – saying she was dodging the Irish Olympic gold medalist. Serano's camp maintained she was not being offered enough cash.
Serrano will earn somewhere in the region of a million dollars with Taylor cashing a higher paycheck for being the reigning champion – and arguably the bigger draw.
Read More: Katie Taylor Remains Undisputed World Champion After Hard-Fought Win
The bout appeared to be a done deal before COVID hit and threw a major spanner in the works before contracts were officially announced last week.
But Serrano (42-1-1 30 KOs), a seven-weight World champion said the time is now right for this landmark event.
"I have to thank my coach for not accepting the first couple fights. He knew what I was worth and now we are working with MVP," Serrano said. 
  "No time is better than right now… Women, we are changing the sport. I am honored to share the ring with Katie Taylor.   "I don't need to talk bad about any of my opponents. I do all of my talking inside the ring."   "13 years, I've been professional and every other day I have wanted to quit… never did I imagine making the money I have today. I mean, headlining MSG, like what?"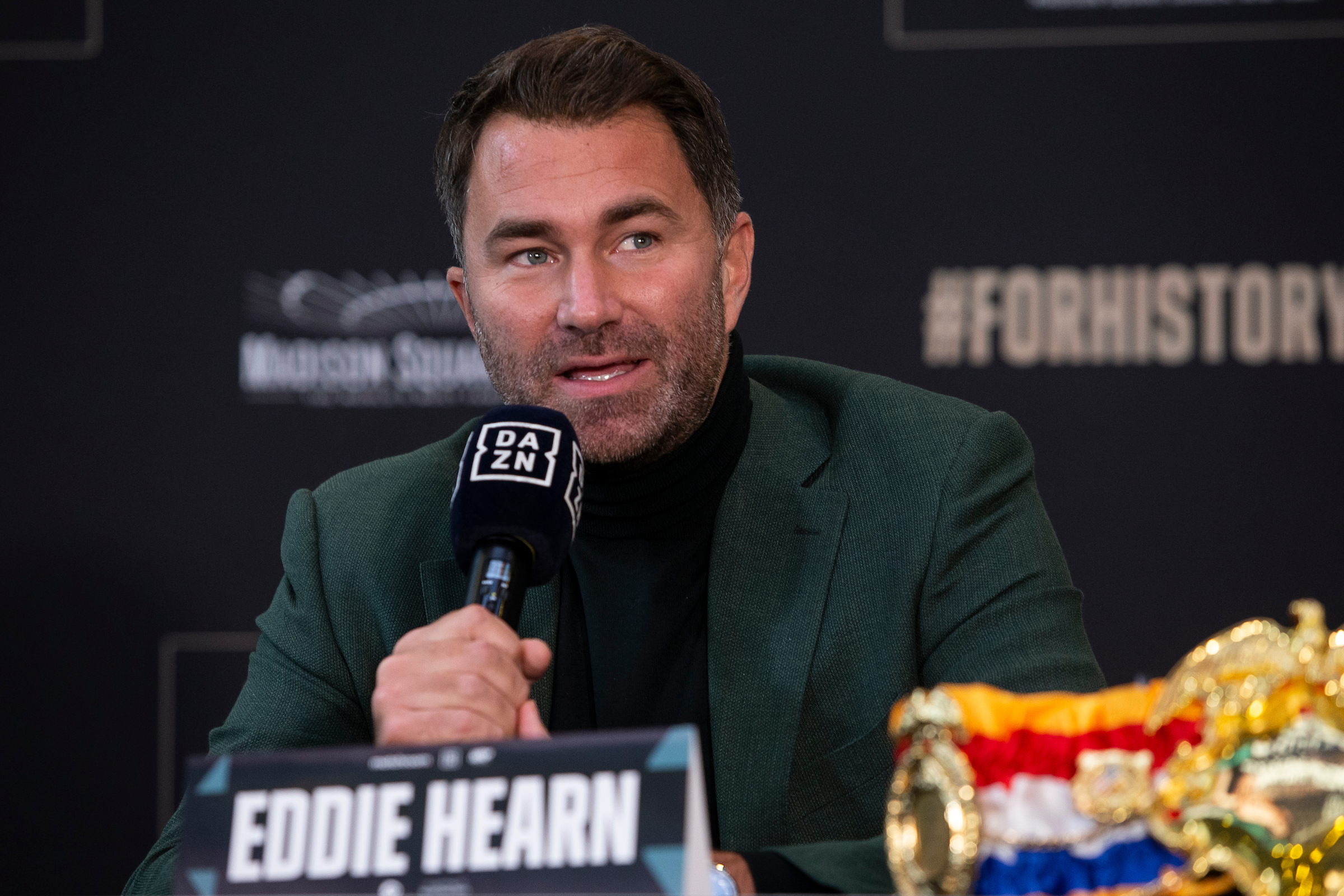 Matchroom promoter Eddie Hearn said he expects the 20,000 seat stadium to sell out for the mouthwatering clash.
"This is going to be not just the biggest female fights of all time, but one of the biggest fights of all time," Hearn said.
"Katie Taylor is a huge draw in Ireland and the UK, Amanda here in the US, both women have headlined on major events around the world.  
  "We expect to fill up the Garden completely."
Presale tickets go on sale at noon ET on Feb. 3, with general sales at noon ET on Feb. 4 – tickets start at $56 (plus fees)