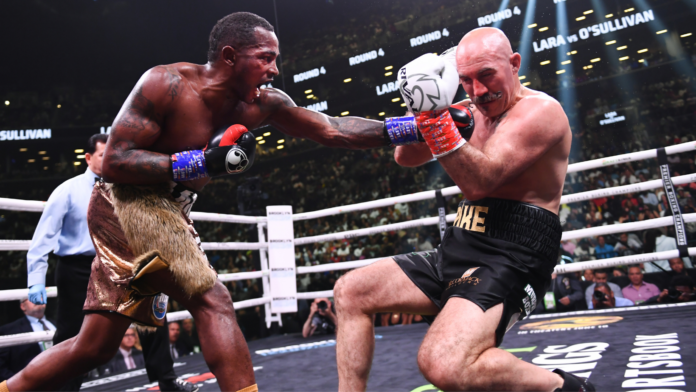 May 30, 2022 By Michael Dorgan 
County Cork's Gary Spike O'Sullivan put on a gutsy performance but ultimately came up short in his bid to become Ireland's oldest boxing world champion Saturday.
The 37-year-old Mahon man was stopped by Cuban American Erislandy Lara in the eight-round to retain his WBA regular middleweight title at the Mayweather Promotions event. The fight was the co-main event of the Gervonta Davis-Rolando Romero pay-per-view card.
Lara dictated the fight from start to finish, taking the opening three rounds with some heavy left hands while O'Sullivan worked the body of Lara.
O'Sullivan upped the ante in the fourth but throw a few wild punches before Lara landed a heavy left hook on the Celtic Rebel. O'Sullivan fell backward — almost in slow motion — and Lara followed up with another left as O'Sullivan was on his way down.
O'Sullivan bravely rose to his feet to meet the count before the bell. He was eating punches in round 5 but amazingly kept moving forward.
Lara just pipped round 6 and O'Sullivan was competitive too in round 7 before the Irishman's number was finally up in 8.
O'Sullivan swallowed a huge left forcing him to backpedal and then Lara moved in for the kill shot, landing another left before the ref stepped in.
"He was a tough boxer, too.," Lara said afterward.
"I'm a smart boxer, a slick boxer, that's what I did tonight. I waited until he attacked and then I did what I had to do to win the fight."
"I saw the opening, he was leaving himself open and that's when the left came in and knocked him down. I saw in the eighth round he didn't have any more power and that's when I stepped up and showed my power."
PODCAST: "Katie Taylor is Absolutely NUTS!" Gavan Casey Reviews the Taylor v Serrano Fight at MSG Last Night
FIGHT'S OVER 💥@Laraboxing stops O'Sullivan in round 8 to retain his WBA middleweight title 🏆#LaraOSullivan #DavisRomero pic.twitter.com/0c8u5KasrI

— SHOWTIME Boxing (@ShowtimeBoxing) May 29, 2022
Despite the loss, Gary O'Sullivan is a warrior @ShowtimeBoxing pic.twitter.com/eJGYX3JnsR

— CBS Sports (@CBSSports) May 29, 2022
Spike's record now stands at 31 professional wins from 36 bouts with 21 knockouts.
It is unclear what the future holds for O'Sullivan, he has been waiting for a high profile fight at light-middleweight – one weight class down from middleweight — which he considers his optimum fighting weight.
Lara, 39, a southpaw, is known as a gifted technician and has had an illustrious career – losing only three times with one of those being a split decision against boxing's hottest property Canelo Alvarez. He is a short-priced favorite to beat O'Sullivan.
According to Irish-Boxing.com, Matchroom Boxing promoter Eddie Hearn is eyeing up a fight for O'Sullivan versus Belfats's Caomhim Agyarko.
Speaking during an Instagram live Hearn revealed: "I want Spike O'Sullivan, he put up a great fight at the weekend against [Erislandy Lara]."
"Caoimhin Agyarko against Spike O'Sullivan, let's get it!"
Agyarko recently said he would be interested in the bout, suggesting it would be ideal for the undercard of the rumored Katie Taylor homecoming.
"I'd like to fight Spike O'Sullivan in Croke Park if the Katie fight happens," Agyarko told Seconds Out.
"Everyone always says about the domestic scene. I'm an Irish fighter domestically Irish speaks to me. Luke Keeler, Jason Quigley, Spike O'Sullivan speak to me."
WATCH: Thomas "The Kid" O'Toole Extends Unbeaten Record to 4-0 With Emphatic TKO in Massachusetts