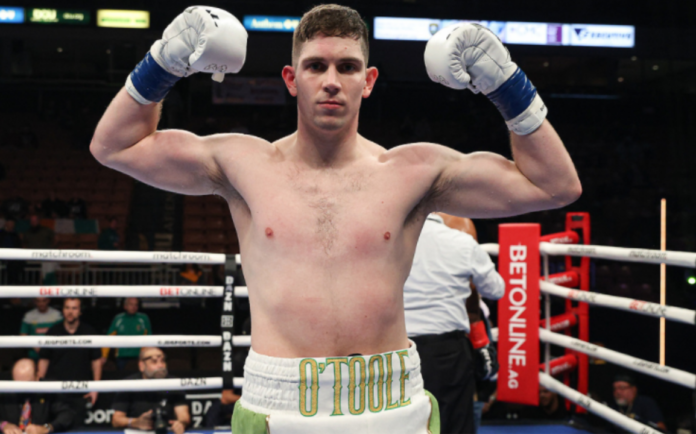 May 18, 2022 By Michael Dorgan
Galway boxer Thomas "The Kid" O'Toole extended his professional record to 4-0 Saturday with a dominant dispatching of American Tahlik Taylor in Massachusetts.
The 24-year-old light heavyweight made short work of Taylor who was considered a significant step up in class for the powerful southpaw.
But Taylor, 27, barely landed a punch and was on the canvas multiple times in Round 2 and didn't come out of his corner for round 3.
O'Toole, mentored by Ryan Roach, was easily on top on the opening round and upped the tempo in the second catching Taylor with a power-packed shot to the gut.
He followed up with an uppercut to the head which rocked Taylor and then he caught the American with a clubbing left. Taylor hit the mat clutching the back of his head before making it back to his feet.
Taylor was back on the canvas soon after — swallowing a crushing left uppercut from O'Toole that landed right on the sweet spot.
PODCAST: "Katie Taylor is Absolutely NUTS!" Gavan Casey Reviews the Taylor v Serrano Fight at MSG Last Night
With Taylor unsteady on his feet — and swinging wildly — O'Toole went for the finish.
An O'Toole right appeared to catch Taylor on the back of the head and he fell to all fours.
O'Toole moved ominously after the count catching Taylor with a thunderous overhand left that blew him backward.
The pair were clinching in the middle just before the bell when Taylor suddenly dropped to the mat.
He made it back up yet again but didn't return for the third round giving the Connemara man an emphatic victory.
"Another fight another win," O'Toole posted to Instagram after the win.
"This has been a ridiculously difficult fight week but me and my team came through it all and got the job done."
"A big thank you to everyone for the support, onto the next one."
View this post on Instagram