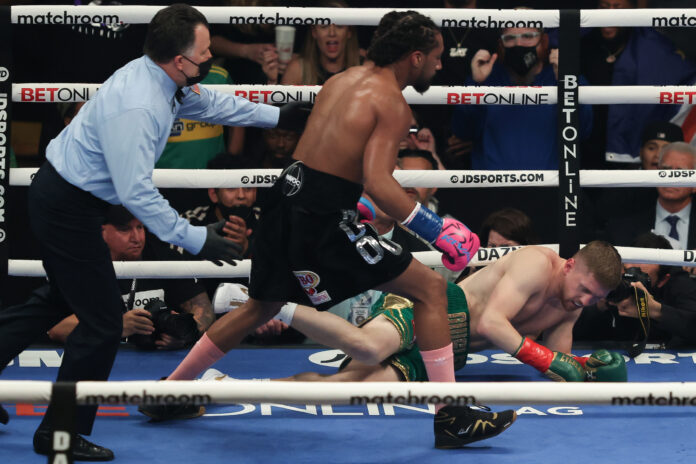 Irish boxer Jason Quigley suffered a comprehensive defeat in his world title bout with WBO middleweight champion Demetrius "Boo Boo" Andrade Friday.
The Donegal man was outclassed by a far superior opponent at the SNHU Arena in New Hampshire and found himself on the deck three times in the space of a few short minutes.
Andrade started with his customary fire, and a blistering attack punctuated with a flash right hook at the end of the first round floored a stunned Quigley. He beat the count but the writing appeared to be on the wall.
"Boo Boo" resumed his onslaught in round 2 and he drilled Quigley with a fierce left hand which again sent Quigley to the canvas.
The Ballybofey native bravely rose to his feet but Andrade continued to dole out the punishment before referee Mercante Jr called a halt to proceedings after 2.24 of round two. His record drops to 19-2(14KOs).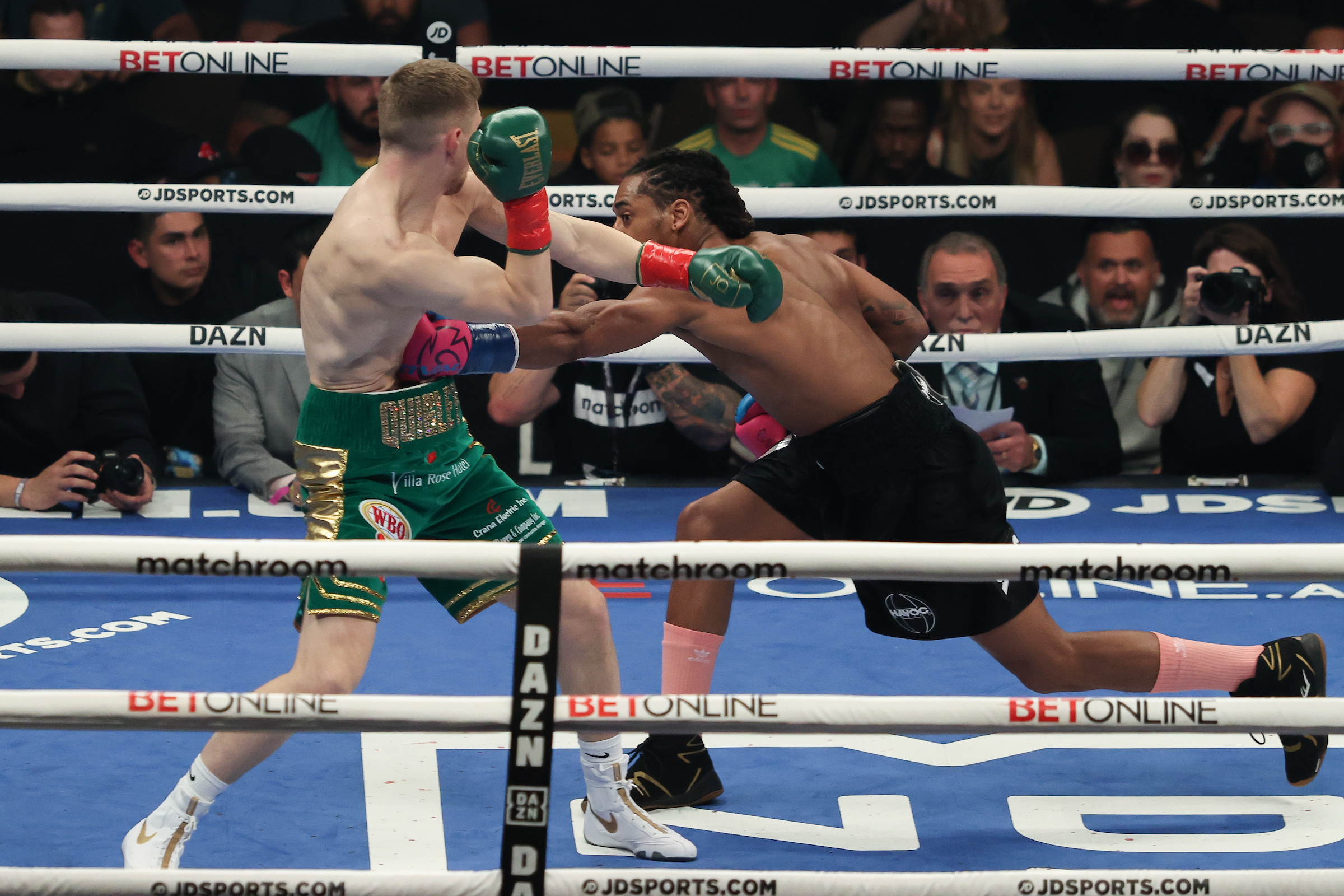 Andrade delivered a thrilling display of power, spite and precision – which he's been told to do in order to land the big fights he craves. 
  "I did what I said I would do, I looked good and felt good," Andrade said afterward.
"I delivered a message tonight – what's next and who's next?
  "I'm 31-0, Olympian and World champion, so what more do I need to do?"
There was better news for the Irish earlier on the card as Connemara man Thomas "The Kid" O'Toole delivered a stunning knockout over Mark Malone from Texas.
The impressive performance takes his light-heavyweight record to 2-0.
"I was meant to graduate from college today and when I got the call for this, you can't turn it down", the 2019 Irish Elite champion said afterward.
"For the last four years I've been thinking about my college graduation. I couldn't wait to celebrate it but being invited to the biggest stage in boxing was amazing. I'm happy to be here."
"I hit him with an overhand left and I saw I wobbled him. So I got him in the corner and then caught him with the same punch, and that was that!"
Galways's Thomas O'Toole was supposed to be graduating college today.

Instead, he's in New Hampshire nearly taking the heads off fellas. (Thankfully opponent Mark Malone, who was nearly 12lbs heavier, is okay).

Former Elite champ O'Toole now 2-0(2KOs). pic.twitter.com/Qw1HAlGCw8

— Gavan Casey (@GavanCasey) November 19, 2021