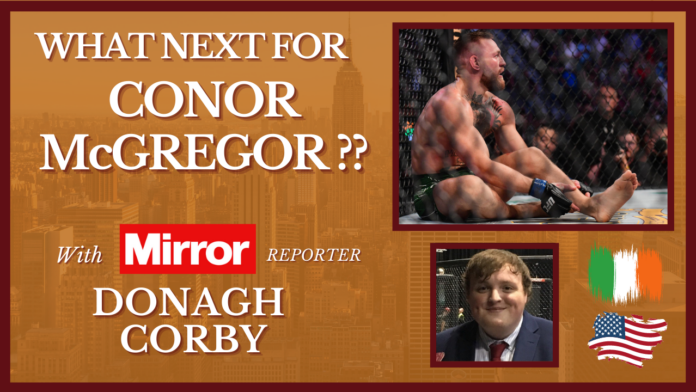 Conor McGregor was carried out of the T-Mobile arena in a stretcher last weekend after breaking his shin in his defeat to Dustin Poirier.
The horrific leg break has raised questions about McGregor's future in the UFC in America.
Can he make a full recovery? Can he ever return to the top of his game and if so, who are his likely opponents?
Donagh Corby, a combat sports reporter with The UK and Irish Mirror, is back on the show this week and delves into these questions and reviews McGregor's performance on the night.
We also again take a look at McGregor's reputation after he threw more insults at Poirier's wife in the post-fight interview and Michael asks Donagh if Joe Rogan was right to conduct the interview given McGregor's distressed state.
You can follow Donagh's top-class reporting and analysis on Twitter via @donaghcorby_ that's DONAGH CORBY_
And don't forget to check out our updated website www.thelonghallpodcast.com for the latest Irish American sports news stories including New York GAA match reports.
All of our podcasts are up on the site too.
If you would like to suggest a story or submit one yourself please DM us on social media.
Podcast Rundown
·       Fight review
·       Was McGregor's hiatus the reason he lost and a bad decision?
·       Did McGregor look sharp?
·       Did Poirier cause the leg break?
·       McGregor Poirier wife comments
·       McGregor Reputation – Is McGregor beyond criticism?
·       Who will McGregor fight next?
·       Wilder v Fury