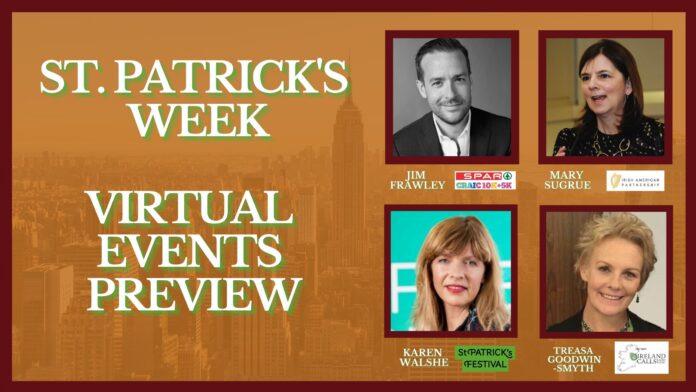 While the New York City parade is canceled again this year there is a huge uptake in the Spar Craic 10k and 5k virtual run that is being held in partnership with the Irish Echo Jim Frawley, one of the run's New York Ambassadors is here to give us a preview of that event and how you can take part.
Then Michael dials in with Dublin where Karen Walshe gives us a rundown of a new dedicated online television channel that has been setup for St. Patrick's week called St. Patrick's Festival TV – or SPF TV.
Karen is the artistic director of the channel which is currently playing round the clock Irish music, poetry, short films and just about everything that can be artistically created for St. Patrick's Day!
Next, Michael heads to Boston to Mary Sugrue who is the Chief Executive of the Irish American Partnership – the partnership connects Irish and Irish American communities through education and community programs in Ireland.
Their St Patrick's virtual celebration takes place Monday evening, the 15th of March at 6 pm and will feature An Taoiseach Micheal Martin, President Micheal D Higgins, actor Cillian Murphy and lots lots more.
Lastly, we collaborate with Treasa Goodwin-Smyth who is the presenter of The Ireland Calls Radio show. Treasa interviewed New York City Parade Chairman Sean Lane on her show last week and Sean gave Treasa a rundown on some of the virtual events the parade is hosting this year. Treasa lends us that segment of her radio show.
As mentioned in the podcast here is a link to the New York Times article about the potential sale of the American Irish Historial Society Building.
Let us know what you think, by leaving us a comment on Facebook, Instagram or Twitter.
Feel free to rate, review and share the podcast, this will help us get even more podcasts to you in the future.