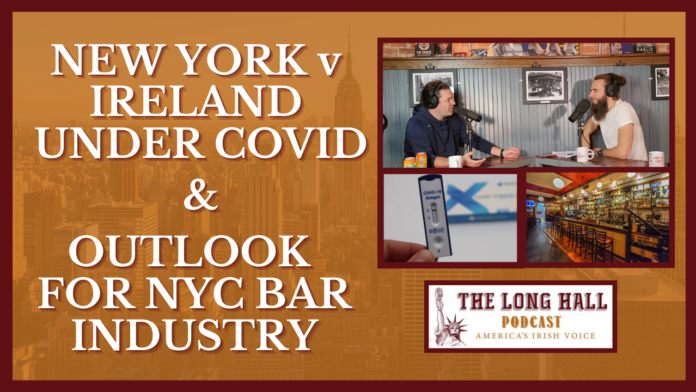 Feb. 6, 2022
In this week's podcast, we compare how Ireland and New York dealt with the Omicron surge over Christmas.
Johnny traveled back to Ireland for Christmas and he shares his thoughts on the 8 p.m. closing time, the stress people were under to get negative tests for flying and the general attitude people had to the virus and restrictions.
We also compare the bar and hospitality scene between New York and Ireland — while Johnny gives his predictions for the industry over the next couple of months.
We also touch on crime rates in the city now that Mayor Adams has taken over from Bill de Blasio and how crime impacts businesses here.
With regards to the COVID discussion, our timing was impeccable for this one as Ireland lifted restrictions immediately after we recorded the podcast but we still think the section is very insightful.
Keep an eye out for next week's podcast where we look ahead to the major sports events this year while Johnny gives us an insight into his time traveling on tour with golfer Shane Lowry last year.
PODCAST: Meath GAA Football Legend Graham Geraghty
Hit that subscribes button to get instantly notified about a new podcast release!
On Instagram:
The Long Hall Podcast @thelonghallpodcast
Michael Dorgan – @michaeljdorgan
Johnny Kennedy – @johnnu_long_hall
00:00 – Intro
05:21 – Travel Requirements Ireland US
07:07 – Stress of Being at Home Under COVID
08:33 – Johnny's 2 takeaways from Trip to Ireland
15:05 – Irish People's mindset to COVID
16:14 – Johnny's take on 8 p.m. closing time
21:10 – COVID and NYC Bars
24:01 – Why aren't Irish bar owners up in arms?
27:39 – How did New York bars fare over Christmas 2021?
30:54 – The Long Hall v The Westbury over Christmas?
36:41 – Will New York Bars Get Another Bailout?
#thelonghall #thelonghallpub #thelonghallpodcast #podcast #barindustry #newyork #newyorkpodcast #irishbar #irishbars #covid #irelandundercovid