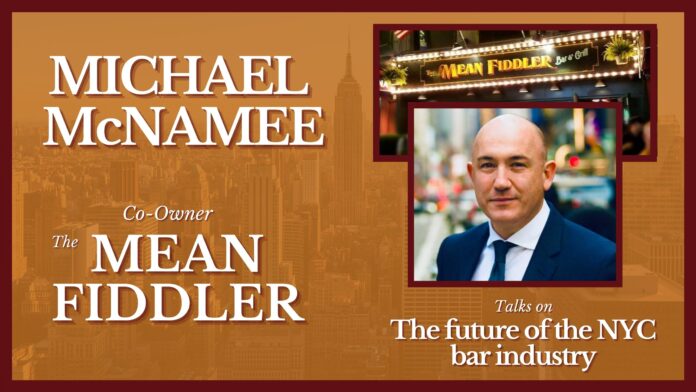 On this week's podcast we speak to Michael McNamee, the co-owner of the iconic Mean Fiddler Bar on Times Square that closed last year.
The bar had become a popular haunt for tourists and Irish people living in New York because of its late bar disco theme, loose atmosphere and Irish hospitality.
Michael and his brother Patrick closed the bar because the landlord was demanding full rent be made throughout the lockdown.
He talks to us in-depth about the saga and exclusively reveals that they are back in talks with the landlord and the bar might be reopening soon!!
Michael, who is affectionately known as Macker, chats to us openly about the ups and downs of bar ownership, his perseverance in turning the Mean Fiddler into a top Irish bar and the lessons he has learned about business and money.
The Dublin native looks back on the hardship bar owners and employees faced over the last year due to COVID and gives us his thoughts on the future of New York City's bar industry.
While Michael is synonymous with his ownership of The Mean Fiddler, his first-ever bar, he also co-owns five other bars in the city, The Three Monkeys, Tanner Smiths, Dutch Fred's, Vida Verde and Haswells Greens.
Let us know what you think, by leaving us a comment on Facebook, Instagram or Twitter.
Feel free to rate, review and share the podcast, this will help us get even more podcasts to you in the future.
Follow Michael on Instagram here.
#podcast #thelonghallpodcast #michaeldorgan #newyork #irishbar #irishinnewyork #nyc #thelonghall