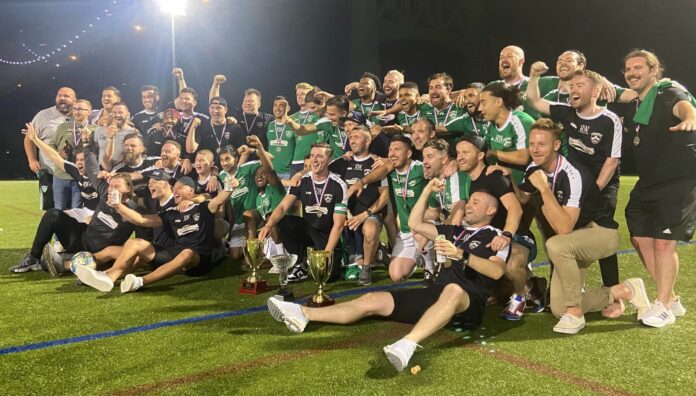 New York Shamrocks Soccer Club clinched the double last weekend with league title wins for both the first team and reserve side.
The first team topped the Cosmopolitan Soccer league First Division Sunday by comfortably defeating NY Greek American 5-0 at Randall's Island.
New York Shamrocks went the entire season undefeated with 18 wins and four draws.
The reserves were crowned champions of the CSL Reserve Championship two weeks previously and both teams celebrated in unison at Randall's Island Sunday.
The double titles capped off a remarkable season for the club which was celebrating its 60th season competing.
The club was established by Irish immigrants in Queens in the 1960s.
Sunday's league title win for the First Team also gives Paddy Geraghty's team the opportunity to earn promotion into the Eastern Premier Soccer League's Metropolitan Conference.
As a feeder league, the top CSL champion has an opportunity to play against the Garden State Soccer League Super Division champion for the chance to go up, according to the CSL website.
The GSSL season has not been completed, meaning the winners nor runner-up have decided if they wish to seek promotion.
Should no top GSSL team want to go up, the Shamrocks will earn a direct promotion into the EPSL while New York Athletic Club returns to CSL Division 1 after being relegated.