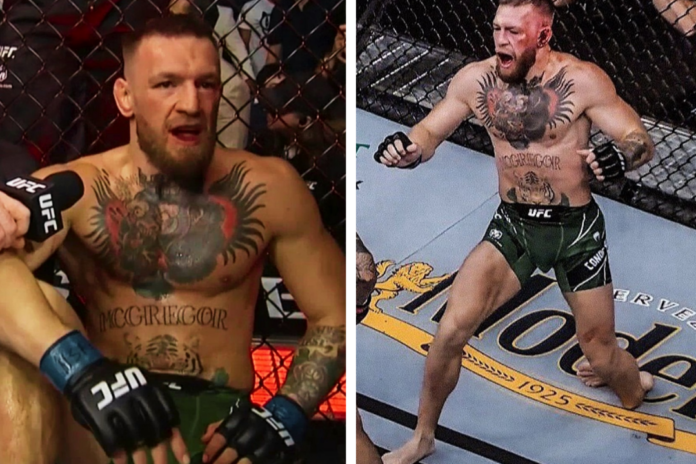 July 11, 2021 By Michael Dorgan
Conor McGregor suffered a broken shin and was defeated for a second time by Dustin Poirier in a remarkable contest at UFC 264 in Las Vegas Saturday.
McGregor horrifically twisted his left foot with seconds to go in the opening round sending him backwards and collapsing to the mat.
Poirier then pounced and attacked him with a flurry of punches before the buzzer rang out.
As McGregor crouched against the fence, referee Herb Dean turned and called the lightweight bout.
The official result was a Poirier win by TKO on a doctor's stoppage. McGregor was carried out of the octagon by stretcher and transported to hospital – an ironic twist given that the Dublin man had prophesized in the build-up that it would be Poirier who would be requiring a stretcher.
McGregor fractured his lower tibia and will have surgery Sunday morning, UFC President Dana White said afterward.
The clash was touted as the final chapter to settle a highly anticipated trilogy but in the end it raised even more questions than it answered.
The finish left the sold-out crowd of 20,062 unfulfilled disappointed. There was a mixture of boos and cheers when Poirier's name was announced as the winner.
"Everybody booing, you can kiss my whole a–h—-," Poirier said in his postfight interview.
"I beat the guy."
Poirier said that he hurt McGregor's ankle on a checked kick that weakened the leg leading to it buckle at the end of the first round.
McGregor denied the claim and fired back while sitting up against the cage with Joe Rogan.
"This is not over," McGregor said, and made a gun signal to Poirier's head.
Poirier took the first round as was clearly on top.  McGregor landed some hard kicks but unsuccessfully tried to get Poirier in the guillotine submission hold on the floor. Poirier slipped out and dominated the Dubliner on the floor – pounding him with a number of punches and elbows.
McGregor withstood the onslaught and was able to rise back up to his feet but was visibly hurt with blood gushing from his left ear.  Both fighters then simultaneously threw missed shots and as McGregor tepped back, his ankle appeared to go from underneath him.
The defeat lets McGregor off the hook in a big way. It paves the way for a fourth edition of the series and provides him with a legitimate excuse to control his own narrative although with Poirier in the ascendancy, many could sense that the writing was on the wall.
The Dublin man turns 33 next week and doubts remain if he can ever return to the lofty heights that saw him hold two world titles in 2016.
He has just one victory in his past four MMA fights and one win in his past five fights overall.
White said Poirier will fight for the UFC lightweight title next against reigning champion Charles Oliveira.
Update: On Sunday McGregor posted a picture of himself to social media showing him being carried out of the arena on a stretcher followed by a quote made famous by Tony Montant in the movie Scarface: "You need people like me."
View this post on Instagram
#mcgregor #mcgregorpoirier #ConorMcGregor #ufc #ufc264