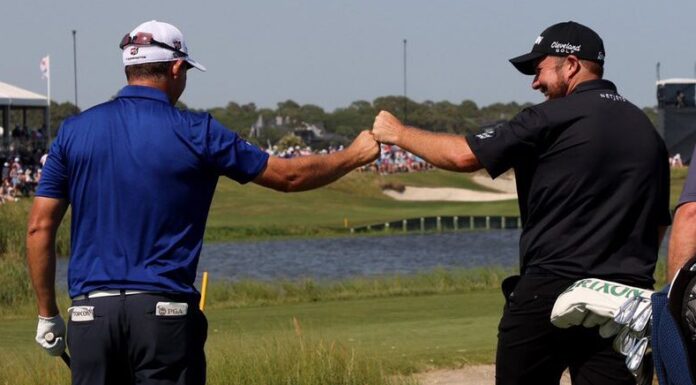 May 23, 2021 By Michael Dorgan
The Irish tricolor was flying high at South Carolina Sunday as Irish golfers Shane Lowry and Padraig Harrington both finished in the top 5 at the PGA Championship.
The pair capped off an impressive week at the Ocean Course in Kiawah Island having both carded a 2-under par for the tournament – just four shots behind winner Phil Mickelson who became the oldest major champion at age 50.
Lowry and Harrington were paired together for the final round and both finished tied fourth.
Harrington's place atop the leaderboard came as a surprise to most golfing enthusiasts as the Dubliner had not finished in the top 10 of a major tournament in nearly 10 years. In fact, it was Harrington's first top-10 on the PGA Tour since the 2016 Sentry Tournament of Champions in Hawaii.
"For today, at least, I'm back to being a golfer," said the 49-year-old, whose final round 69 at also earned him a ticket back to the Masters in 2022. His last appearance at Augusta was six years ago.
"That was probably my most enjoyable round of golf I've had in a long time," beamed Harrington afterwards.
"It's amazing when you play with a friend, it definitely helped both of us relax and both of us played really well. We both could've been quite a few shots better."
Harrington, who will turn 50 in August, had an eagle, three birdies, and two bogeys in a front-nine 33. With another birdie on the par-3 14th hole, he climbed as high as tied third in the leaderboard – leaving him to bemoan the strokes he threw away on his back nine Friday.
"I'll rue a little bit later on. I'll sit down and go,' there's no doubt I left three or four shots out there. I was a little bit jittery on the greens.
"But yeah, it was nice. It's been a long time since I've been interviewed and been asked about my golf rather than the Ryder Cup."
The 2021 European Ryder Cup captain has a busy schedule ahead this year but insisted he wouldn't be tempted to play on the team if his good form continues.
"I'm well past that time. I'm too long in the tooth now at this stage, sweating through five rounds of golf and all that goes with it," Harrington said.
"I'm very much dedicated to being the captain. I'm letting other people have their time. I had mine. And you can't do both."
Meanwhile, Offaly man Lowry was pleased with his overall performance and insisted he wants to qualify in his own right for the European Ryder Cup team later this year.
"I'm in the position I'm in and this is another good week towards it," Lowry said afterward.
Lowry made two pars on the front nine with four birdies and three bogeys. He caught up with Harrington with a birdie on the par-5 16th hole.
Lowry missed a six-footer for birdie on 18 while Harrington saved par and with rounds of 3-under 69. They walked off the golf course tied for fifth 5 having started the day tied 23rd at 1-over.
"It's always good to play well in front of him under the gun because I play a lot of golf with him, practice rounds, but for him to see me in the competition was pretty nice as well," Lowry said.
"I've got a lot of golf to play between now and then. Like I said a few weeks ago, there's another two major champions to be crowned the rest of this year. We've got a lot of big tournaments, a lot of good golf to play, and hopefully I can make that team
"Like I always say, I don't just want to make the team, I want to go to Whistling Straits and I want to win the trophy.
"That's where my head is at this year, and I feel like I'd be a great part of the team if I do manage to get on it."