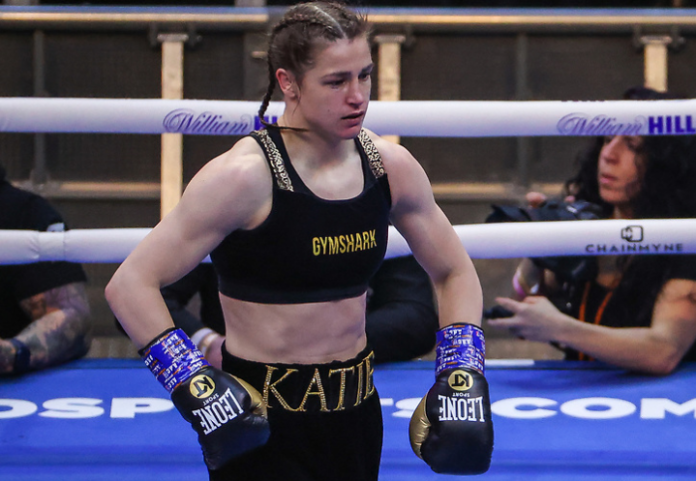 Oct. 30, 2022 Staff Report
Job done.
Katie Taylor successfully defended her world lightweight boxing titles in London Saturday with a decisive unanimous decision victory over Argentina's Karen Elizabeth Carabajal
Taylor showed no ill effects of her hard fought victory against Amanda Serrano in April with a 100-91, 99-91 and 98-92 last night.
Someone's 0 had to go and it never looked like it would be the Irish woman who showed again why she is one of the best fighters of her generation.
It was Carabajal's first fight as a professional outside her native Argentina as well as her first shot at a world title.
Taylor put all her experience to use and showed superior hand speed and footwork. She took really took command of the fight in the home stretch to run out an easy winner.
Taylor reiterated her desire for a much-anticpated rematch versus Amanda Serrano at Croke Park next year and Matchroom promoter Eddie Hearn said he is trying to make the bout happen.
"She [Carabajal] was a tough fighter," Taylor said afterward.
"She boxed very awkward at times but I thought I boxed well tonight and I'm delighted to get another victory.
"We want the fight at Croke Park with 80,000 people, that would be the biggest event in women's boxing history."
As to whether the homecoming bout would materialize, Hearn said: "Ireland has to be next for Katie Taylor. We hope it's Amanda Serrano but it doesn't matter who it is."
Read More: Katie Taylor Defends Undisputed Lightweight Crown in London Saturday
VIDEO: Full Card Highlights | Katie Taylor vs. Karen Carabajal
VIDEO: Katie Taylor calls for Serrano rematch at Croke Park
VIDEO: Katie Taylor Always Rises To The Occasion | Beyond The Bell