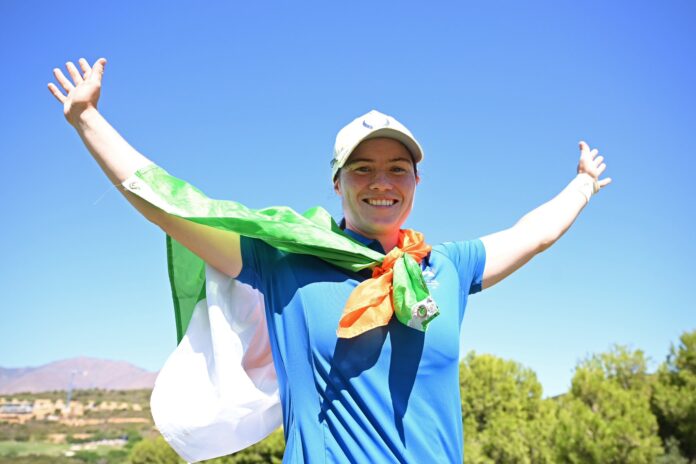 Sept. 25, 2023 Staff Report
Ireland's Leona Maguire was one of the driving forces behind Europe's sensational victory over the USA in the Solheim Cup over the weekend. Europe retained the trophy after a 14-14 draw with the USA at Finca Cortesin in Spain.
The Cavan woman, 28, who also starred in Europe's 2021 victory in the competition, again finished with a winning record, prevailing in three of her matches and losing out in two others.
Maguire won three points from five — with a stunning chip-in birdie on 18 on Day 1 along with a 60-foot eagle two on the par 4 14th some of the highlights of a frantic weekend of nail-biting action.
Europe lost the opening foursomes 4-0 on Friday morning but won both fourball sessions 3-1 to head into the final day deadlocked at 8-8, eventually drawing the tournament and thus retaining the trophy.
"I think we've a team of fighters," the Cavan woman told RTÉ Sport. "We weren't worried, obviously it was a big mountain to climb, but we knew we had the games to pull it off.
"Friday afternoon, the fight that we showed was really important, and we got back into it."
"There were a lot of expectations going in this week to live up to what happened last time," Maguire said.
"The support was phenomenal from all the Irish fans out there and it really gave me the energy to go all five matches.
"I felt like I played some really great golf and pulled off some shots when I really needed to and the team needed me to.
"It's hard to get even half a point in these matches, let alone a full point.
"I don't know if I'll ever again do what I did in Inverness, but I'm very proud of the entire team this week and I'm proud to have played a part in it.
"This is a special week. It brings something a little different out in everybody.
"It was really cool on the 15th green when I finished with all the fans and there were nearly more Irish people here than at Dromoland a few weeks ago (Women's Irish Open), so it was really special."
What a week, what a team ??@SolheimCupEuro
Never gave up ????? pic.twitter.com/fYJ9Daj63y

— Leona Maguire (@leona_maguire) September 24, 2023
Oh baby! ??@leona_maguire holed out on 18 and the crowd went WILD! pic.twitter.com/W4JIdmXuLK

— LPGA (@LPGA) September 22, 2023